Need of the hour: Promote hybrid workplace | Sumit Sabharwal | Vice President – HR | Fujitsu Global Delivery Centers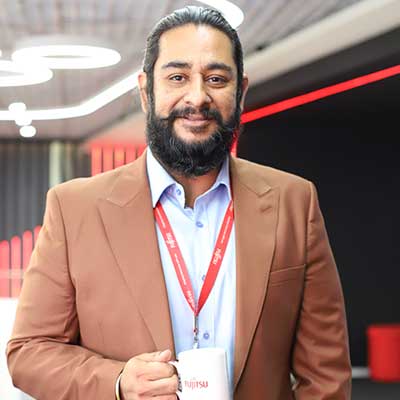 The global pandemic has greatly altered the way we work, for the foreseeable future. While there is a lot of discourse about the "post-pandemic" way forward, the reality is that there is no way for us to know when, or even whether, there will be a definitive end, given the frequent emergence of new COVID-19 variants. Consequently, it is imperative for businesses to align with the new normal of hybrid work as a permanent mode, rather than a temporary adjustment to the pandemic.
With the widespread adoption of hybridity becoming inevitable, work cultures are set to be bolstered in numerous ways:
1. Increased Autonomy & Flexibility:
A hybrid working structure entails restructuring traditional business operations in which employees are encouraged and empowered to fulfill their corporate obligations in a tailored ecosystem that suits them best. In principle, it offers working professionals a win-win deal that does not compromise on independence and flexibility, while maintaining structure and sociability.
2. Ideal Work-life Balance:
Striking the right balance between work and personal time is easy to achieve when you are part of a flexible working system. When employees decide their work schedules, they are left with ample time to attend to personal commitments such as running errands, preparing their child for an upcoming school examination, or accompanying their parents to periodic health checkups. A hybrid system keeps the 'humane' aspect in HR alive by implementing policies that treat employees purely as people, stepping into their shoes, and empathizing with their
grievances.
3. Improved Manager-Employee Relationships:
The flexible nature of a hybrid working model improves manager-employee relationships drastically by affording employees the freedom to balance their professional and personal responsibilities on their own terms. By instilling a sentiment of empowerment, employees gain greater respect for the organization and management, undertaking their tasks with an increased sense of responsibility, devoid of unwarranted scrutiny or constant supervision. The management also benefits from not having to dedicate significant amounts of time to micromanaging their teams or constantly checking on them if they're working, thereby fostering empathy, trust, and solidarity between employees and their managers.
4. Building of a Diverse Workforce:
In a hybrid working model, organizations have the luxury of supplementing their workforce by hiring bright minds, possessing specialized skills in diverse disciplines, from all across the globe. Such organizations usually enjoy a decisive edge over their competitors with the capability of delving into untapped markets while ensuring round-the-clock productivity.
5. Decreased Overhead Costs for Employers:
With fewer on-site employees present at any given time, companies following a hybrid setup can do away with expensive liabilities such as real estate and expansive electricity bills, bringing down expenditures significantly. Companies can reinvest those savings to provide better working facilities for their employees, such as satellite offices, compact workspaces, better internet connectivity, and modular furnishings.
6. Saving Time & Money on Transportation for Employees:
A hybrid workforce can save significant amounts of time and money, with respect to travel, due to their minimal on-site corporate obligations. These precious resources can be utilized to fulfill family obligations, spend time with friends, upskilling/ reskilling themselves or perhaps even pursue a hobby.
Final Thoughts:
A hybrid working model seems to tick most boxes for businesses transitioning into the post-pandemic landscape, gratifying the employees' inherent needs such as autonomy, face-to-face interaction, and optimum flexibility. As discussed earlier, the model also introduces several benefits to a business' work culture and, over time, it is likely to become the preferred arrangement for most organizations worldwide.