Initiative taken by Times Learning during COVID-19 era. An interview with BRILLIAN S. K | SVP & Head – Human Resources | Times Professional Learning a division of Bennett | Coleman & Co Ltd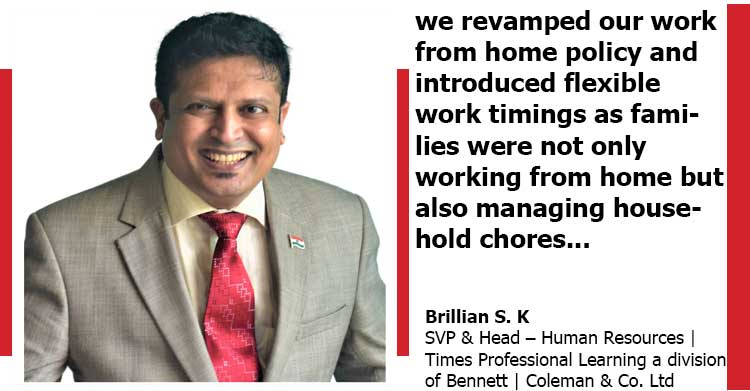 Q1. We are still living in the COVID-19 era. What are the HR Practices you follow to keep employees safe and support their mental health? Any initiative taken by Times Learning for employee health and safety?
HR Practices have changed with the pandemic acting as the driving force. With remote working considered the #NewNormal, we revamped our work from home policy and introduced flexible work timings as families were not only working from home but also managing household chores. This helped them strike a balance in sharing the load with other family members while being productive at work. We put in place a COVID Taskforce to provide support to staff across locations. This task force ensured that all requests were addressed within 4 hours and worked closely with the staff/family member during the tough times. The Government has mandated vaccinations for all above 18 years of age, we proactively ensured our staff and their dependents were vaccinated at various locations. We organised continuous workshops for emotional and mental wellbeing and facilitated confidential counselling sessions for our staff. While we slowly get back to normal, we have ensured 100% compliance to the "Always Wear a Mask", and avoid large gatherings, rules.
Q2. What is your hybrid work strategy? Do you believe the office to be an important hub for collaboration, creativity, and innovation?
We asked our staff to operate from home even before the Government announced a nationwide lockdown. With staff who were now dispersed and working out of anywhere in the country, the need to stay connected became crucial. The connection was established through various engagement activities planned for our staff. With staff wellbeing as our key priority, we conducted a systematic pulse check that helped us understand how we could allay fears associated with the pandemic. Post relaxation of COVID-19 guidelines, we reopened offices in Mumbai and Delhi in June, taking utmost care about staff safety. Currently, we are working in a hybrid mode with staff coming to the office on a roster basis. Based on our interaction with our staff across, we realised that they were missing out on in-person meetings and conversations. Office would continue to be a key for collaboration, creativity, and innovation as the in-person connect and bond plays a crucial role in getting a lot done quickly. The hybrid policy helps us identify and hire talent spread across the nation for roles which can do with remote working.
Q3. What can individuals and organisations do to support Gender Equality?
For organisations, it starts with the messaging. Many consider diversity as a checklist activity and hence fail. Build a culture where respect for individuals is the driving force. Provide opportunities for all without prejudice towards age and gender to build a strong workforce. Welcome people who have been on a sabbatical and provide them with an internal support system, to not just grow but thrive. Create policies that can cut across barriers yet identify special needs and incorporate the necessary changes.
Q4. We are going through adversity, how do ensure learning continuity in uncertain times?
I feel this is probably the best opportunity for everyone to ensure that they upskill themselves. We cannot fight tomorrow's war with yesterday's tools. Organisations should start creating opportunities for staff to learn anytime anywhere. There is a rapid increase in byte-sized learning that helps staff to learn without stress. It is the time to pivot and move towards a more inclusive online learning mode. While no one can take away the high level of engagement of in-person learning, hybrid will be the way to go. Organisations and individuals must adapt to this and be ready to consume content in any form.
Q5. What are the biggest trends emerging in the HR space?
I would say that we as HR professionals need to start thinking about "What next?" Focus on employee wellbeing and mental health will take a front seat. The workplace evolution is a key that many will find interesting. Flexibility in the workplace and work schedules would become the norm as the focus would be "outcomes" only. With AI, ML, and metaverse becoming part of common parlance, HR decision-making and policies should align to ensure right focus on collaboration, data literacy, and curating career experiences.