Empuls by Xoxoday is an all-in-one holistic employee engagement solution | Sumit Khandelwal | CEO Xoxoday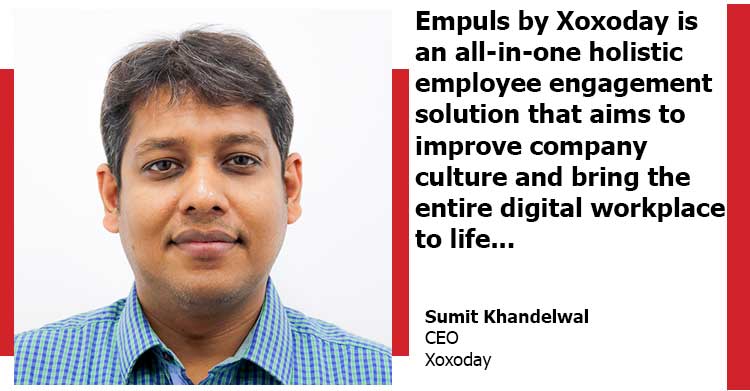 Empuls by Xoxoday is an all-in-one holistic employee engagement solution that aims to improve company culture and bring the entire digital workplace to life. People leaders use Empuls to build a culture of appreciation, bring teams together, eliminate silos, and provide a voice to every employee in the organization. Empuls is a SaaS platform catering to SMBs in the US, Europe, & APAC. The platform provides a seamless employee experience through its integrations with work applications like MS Teams, Slack, Gusto, HRMS, and more.
The salient features of Empuls to build highly engaged, high-performing teams:
I. Centralize internal communications with a social intranet: The social intranet acts as a single hub for employees to connect, communicate and collaborate, whether at home, in the office, or on the go. The social intranet also helps align everyone with company culture by facilitating transparent, consistent, and timely internal communication. It gives employees access to information every day on company news, events, announcements, policy changes, and health updates with the activity feed. The social intranet can also be used to communicate how everyone can contribute positively to company culture, mission, vision, and goals. The social intranet improves collaboration by encouraging people with shared interests to come together, learn and have fun through hobby groups.
II. Conduct surveys to measure employee sentiment with real-time feedback: Empuls helps gauge employee loyalty with the eNPS survey. Organizations can run an eNPS survey, use the details to identify the reasons for employees being promoters or detractors, and take guided action to turn detractors into promoters and loyalists. Empuls also facilitates conducting engagement surveys across four key dimensions to capture overall employee sentiment. Companies can get insights on areas of focus that directly affect employee attrition, productivity, and satisfaction. Empuls provides recommendations to help organizations act quickly to improve engagement. Using Empuls, firms can improve employee experience through lifecycle surveys to get feedback, insights, and
recommendations to improve every stage of an employee's lifecycle, from onboarding to exit.
III. Put recognition at the heart of organizational culture: Using Empuls, it is easy to build a culture of appreciation in an organization through enabling appreciation that is frequent, meaningful, and visible. Empuls also amplifies the visibility for employee recognitions across the organization with 'high-fives,' +1s, emojis, images, GIFs, videos, and comments. Further, Empuls helps configure custom rewards and recognition programs and has multiple types of recognitions. By gamifying the recognition program, Empuls also facilitates higher adoption
of the rewards and recognition programs within an organization. Empuls provides data and insights for organizations to know which awards and recognitions are popular. ROI can be measured too.
IV. Delight employees with meaningful rewards, gifts, and experiences: Empuls can be used to appreciate employees for their good work as it facilitates configurable rewards workflows and rewards automation. Empuls also enables organizations to design a custom catalog to include reward options that reaffirm company values as well as a choice of over 20,000 rewards options that include gifts and experiences.
Business leaders of over 1000 + organizations use Empuls to build a people first culture and keep their employees engaged. Empuls is used by 150,000+ employees across the globe.