Why Organisations need D & I Strategy | Sonica Aron | Founder & Managing Partner | Marching Sheep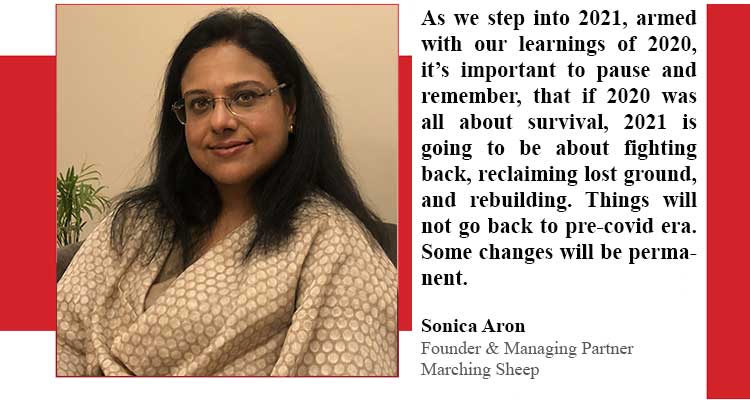 As we step into 2021, armed with our learnings of 2020, it's important to pause and remember, that if 2020 was all about survival, 2021 is going to be about fighting back, reclaiming lost ground, and rebuilding. Things will not go back to pre-covid era. Some changes will be permanent. Many organisations will continue to leverage remote working, adopt hybrid working models, leverage innovation working arrangements with gig workforce. This broadens the narrative of diversity and inclusion significantly.
For the longest time, D&I efforts have been focussed on increasing the participation of women workforce, and that needs to continue. However, with the new ways of working, managers, leaders, HR and organisations as a whole will need to build inclusion keeping in mind multiple dimensions of diversity in their workforce today- gender diversity, generational diversity, life stage diversity, sexual orientation, people with disability, tenure in the organisation, experience and education, diversity in thoughts and way of working, and so on.
It will be imperative that organisations build diversity in their workforce to represent the evolving market place so that they can innovate to meet the needs of the evolving consumer base with relevant products and services, innovate to speed up their processes and way of working. At the same time, simply recruiting members from diverse communities is not enough. Building inclusive cultures, and ensuring that every touch point, along the employee life cycle, from recruitment to exit, the employee experience is inclusive, every employee feels valued and heard, irrespective of age, gender, sexual orientation, physical ability, language or any other difference. For this organisations need to follow a three pronged approach-
Inclusive policies and processes along the employee lifecycle. This will require revisiting all the policies and HR practices, going through them with fine comb and reviewing them under the lens of inclusion. For instance, do your induction forms, or any other forms have the third salutation of Mx? If you are looking at hiring visually impaired candidates, do have appropriate infrastructure in place? Are your career pathing or promotion criterion inclusive and provide equal opportunity to all?
Organisations need to keep in mind that employees have a parallel personal life stage which needs to be kept into cognizance while designing policies. For example- Do your medical policies support employees with ageing parents? Or do your Flexi hour policies support parents who might have children appearing for boards?
Lastly, organisations are but a subunit of the society where social structures and stereotypes still run deep. Organisations can play a big role in mitigating the negative impact of stereotypes and biases and driving societal change by running sensitization sessions, and building inclusion, respect for every individual as a non-negotiable tenet of their culture.
Irrespective of the insecurities and ambiguity that employees might have gone through during the pandemic, today's workforce is discerning and wants to work with employers that are inclusive and value them for their unique contribution. Building a robust diversity and inclusion agenda and systemic implementation will see organisations emerge stronger with sustainable growth, and a workforce that is committed and engaged.