Thought Leadership' in HR Championing practices that can make a difference | Nicolas Dumoulin | Senior Managing Director | Michael Page India & Thailand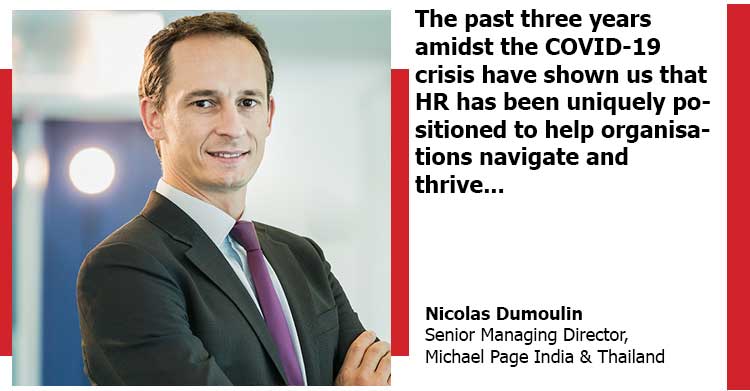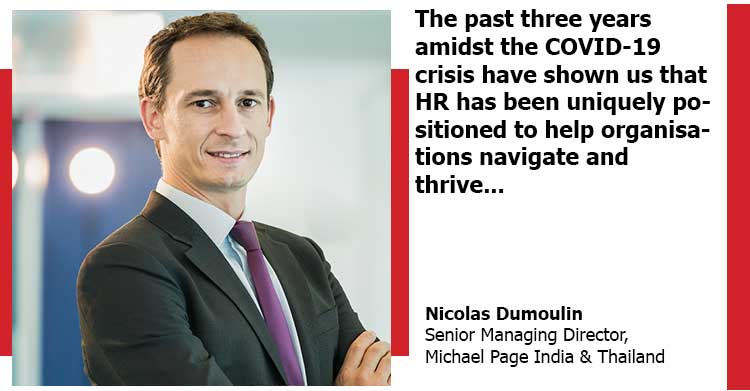 The past three years amidst the COVID-19 crisis have shown us that HR has been uniquely positioned to help organisations navigate and thrive. The pandemic has accelerated the pace of change, forcing companies to adapt to remote work, digitalisation, and hybrid work models. As a result, the role of HR has been profoundly transformed, and the importance of HR in the pandemic era has been accentuated.
The pandemic has presented significant challenges for businesses, including talent shortages and the Great Resignation. To address these challenges, HR leaders need to find ways to support their business leaders by reevaluating processes, redefining business stability, and driving people transformation to strengthen their organisations' ability to support the future of work.
One of the biggest challenges posed by the pandemic is the threat to office culture. Adopting hybrid work and more flexible work arrangements, while vital in the new normal, can be detrimental to creating a collaborative culture, which is vital for employee retention and satisfaction, and organisational success. HR leaders need to focus on employee engagement to mitigate this risk. They need to establish organised and consistent processes that include open dialogue to foster community from a distance.
One area HR can focus on is diversity, equity and inclusion (DE&I). Depending on your company's DE&I policies, HR teams may opt to get employees involved in related committees and programmes to create a more profound sense of purpose and promote further engagement within a company. This is also an opportunity for HR to catalyse purpose within employees. HR can also conduct anonymous employee satisfaction surveys to understand the state of employees' well-being and get their suggestions on internal communications and how best organisations can support them to perform at their best.
Performance review systems or appraisals also need to change to retain talent in a candidate-driven market. Traditional yearly reviews are no longer sufficient, and organisations should replace these with regular reviews. HR should also provide personalised coaching and opportunities for upskilling for all employees. This would reassure employees that the company wants to help them develop their careers and would increase their job satisfaction and engagement.
Many businesses are left with weakened balance sheets due to the impact of COVID-19. As a result, they may have cut costs by decreasing the number of employees, deferring bonuses, or even reducing employee salaries and benefits. While these measures may make sense at the start of the pandemic, they may not work in favour of the company in the long run. If companies are unable to provide high salaries for top talent to join the company, they will lose out in this talent-driven market. Therefore, HR leaders need to evaluate how they can align rewards schemes with employee preferences by permanently implementing personalised, flexible work arrangements to allow employees to work out their preferred hours and arrangements with their immediate supervisor. Companies can also improve health insurance and dental care coverage or add new benefits such as optical care and free health screenings.
Investing in digital HR is another crucial step for HR leaders. The HR industry is radically changing, and moving forward beyond the pandemic, HR needs to look into digital transformation within HR. Digital HR can help to improve process efficiency and effectiveness in recruitment, internal communications, performance management, and people development. This would enable HR to be competitive in a candidate-driven job market. HR leaders must evaluate current processes to analyse what could do better with a digital makeover. This is also an opportunity to engage with employees of all levels to understand their priorities and concerns that may have been blind spots for HR.
Digital HR can come in several forms, including the adoption of new video interviewing platforms to streamline the hiring process, performance management tools to allow managers and employees to receive and share feedback, and employee self-service software to provide a single self-service portal for employees to access information on company benefits, apply for.