Commitment to Safety: Tata Chemicals efforts toward 'zero harm' workplace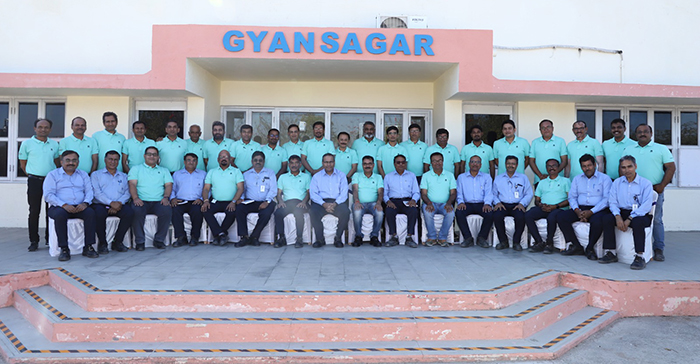 Tata Chemicals Limited has always been committed to the safety and well-being of its workforce, customers, and communities it serves. On World Day for Safety and Health at Work, it is important to recognise the importance of promoting and inculcating a culture of safety and health at work and collaborate to achieve 'Zero Harm', not just within the company but across the industry.
Guided by the Tata Code of Conduct, which has institutionalised safety practices by establishing robust systems and processes, the company has implemented policies and procedures to ensure a safe working environment for its employees. Improving safety performance in a sustained manner continues to be at the top of everyone's mind.
In line with this Tata Chemicals' Safety, Health & Environment (SHE) policy focuses on 'zero harm' and describes actions to influence workplace decisions and guide SHE actions. It is built on the principles of 'prevention, preparedness and response', and is driving operational reliability with Progressive Safety Index (PSI).
During FY 2022-23, Tata Chemicals initiated a Leadership Sensitisation program to reiterate its commitment to safety excellence. The program aimed to enhance the felt leadership skills of the participants with the ultimate objective of accelerating the leadership's efforts toward fostering a positive safety culture in the organisation.
In continuation to the Leadership program "orientation towards safety" done at Senior Leadership level through Cambridge a few year back and Group level Safety sensitization workshop for top Leaders and regional Leaders of five Tata Companies including Tata Chemicals, Motors, Steel, Power and Projects done in 2022-23, a Safety Felt Leadership program was started for middle management at Mithapur. Through this concept, leaders emphasised the importance of a demanding, uncompromising, and ever-improving safety culture. They further established expectations that were clearly and universally understood, accepted, and practised. The premise of this approach was based on the belief that empowering and engaging employees helps improve the Company's SHE performance in all areas. During 2022-23, the company prepared 50 toolbox talks and worked towards benchmarking the various SHE practices across entities.
Tata Chemicals constructed My Safety Gallery at its' Mambattu plant and started customized safety training through KIOSK to sensitize employees to build a positive safety culture. In 2022-23, Tata Chemicals restructured the Community of Practice (COP) on a monthly basis to discuss the implementation of the company's Golden rule of safety and worked to bridge the gaps. To further improve workplace environment a qualitative and quantitative assessment of industrial hygiene was done to know the real-time exposure (if any). Action was taken based on the assessment outcome to bridge the gap.
Tata Chemicals has also initiated the Safety Green Area Project in its Mithapur plant to enhance employee competency for safe working and to review risk assessments. This five-stage process involves, developing program design and selecting teams and areas, identifying change opportunities, creating a plan to reach goals, implementing successful changes on a wider scale and continually assessing results.
In a bid to continue adoption of best practices, the plant has continued implementation of a risk-based Process Safety & Risk Management (PSRM) and entered into Phase IV at Mithapur.
The implementation of PSRM has strengthened the plant's SHE system and improved operational safety. In the Phase-III of continual improvement, the audit score has increased by 27% over the baseline score according to API standard ranking, indicating successful implementation of the system towards enhancing safety and compliance with industry standards.
To ensure site-level Occupational Health and Safety (OHS), the plant has engaged Cross-Functional Teams (CFTs) for implementing safety initiatives through focused interventions. Additionally, joint management-workmen committees have been established with active participation from senior management and workmen to oversee OHS areas. These initiatives demonstrate the plant's commitment to maintaining a safe working environment and involving all stakeholders in achieving this goal. Furthermore, the company's Medical Module has also been successfully implemented for occupational health monitoring.
Unwavering commitment to safety and a strong value system has helped the company grow its operations with the trust and support of its employees. By putting the safety and well-being of its employees first, Tata Chemicals is striving to become a global benchmark for safety.