The pandemic reminded us 'Empathy and Kindness' can go a long way | Soni | Chief Ethics Counsellor| Tata Steel Ltd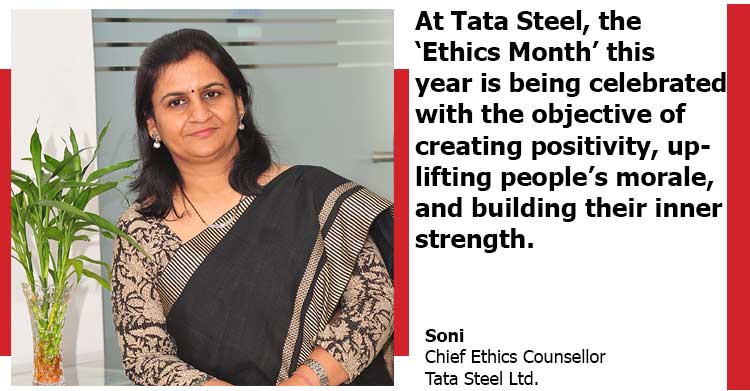 'Ethics' has become more relevant and priceless in the current context, a beacon that continues to lead us into the future. At Tata Steel, we have always remained guided by our fundamental values that is about caring for our people, stakeholders, community and treating them with respect and dignity.
At Tata Steel, the 'Ethics Month' this year is being celebrated with the objective of creating positivity, uplifting people's morale, and building their inner strength. With people stressed out due to professional and personal challenges, it's important that we support each other to tide through these difficult times. Hence the theme this year is "Resilience through empathy and kindness", resonating one of our core values in Tata Code of Conduct (TCOC) – 'Unity', which highlights the imperative of cultivating a caring and long-term relationship based on trust and mutual respect with our people and partners.
One of the ways of creating value for society is by being part of the solution during both challenging and peaceful times. The founders of Tata Steel (and the Tata Group) had laid a lot of emphasis on serving the society through our business. Jamsetji even went to the extent of saying, "In a free enterprise, the community is not just another stakeholder in business, but, is in fact, the very purpose of its existence." More than a century since his passing away, we continue to build Tata Steel on this foundational idea.
With more than a century history behind it, Tata Steel understands how resilience can be built through empathy and kindness. With operations spread across the globe, the Company has never missed an opportunity to become a pillar of strength for the community that is faced with hardships. Tata Steel has a long history of serving the community during natural or manmade calamities.
We have all individually and collectively suffered some loss during the last 15-odd months. But it is also true that it would have been lot worse had we not found the resilience to fight it through. A lot of that resilience came from our ability to empathise and show kindness to the less fortunate. Like prayer, resilience too gets stronger when we come together. Despite the unprecedented challenges we faced, particularly during the second wave, we have managed to hold our head above water because of our collective resilience. What many of us did during the pandemic to help those who were affected or more vulnerable broadly falls under the category of what we at Tata Steel consider as ethical behaviour. It is intrinsic to our business and has been part of our legacy since inception.
Since March 2020, Tata Steel Foundation's response to COVID-19 pandemic has reached out to more than 1.6 million people across the country. Since the beginning, we took a multi-pronged approach to mitigate the impact of the pandemic. We repurposed our existing hospitals and created new facilities to treat Covid-19 patients. From vaccination and information drives to creating new livelihood opportunities for the economically affected community members and reaching out to people with medical & sustenance supplies and counselling support, our efforts and collective resolve helped to navigate the unprecedented crisis.
The Tata Steel group was at the forefront in supplying Liquid Medical Oxygen to various States to save precious human lives. Supporting each other during challenging times built a spirit that further motivated us to extend the kindness to the families of the employees who lost their lives during the pandemic. Tata Steel will stand by them and will hold the contributions of the departed in highest regard, forever.
At the end of the day, what really saw us through one of the most challenging times in our recent history was the resilience we built through kindness and empathy. We believe this understanding also comes from a fundamental belief that our business is an integral part of the larger community and vice versa.