The pandemic hit the world – COVID -19 | Sajid Patel | AVP HR – Head L&D | Datamatics Global Services Limited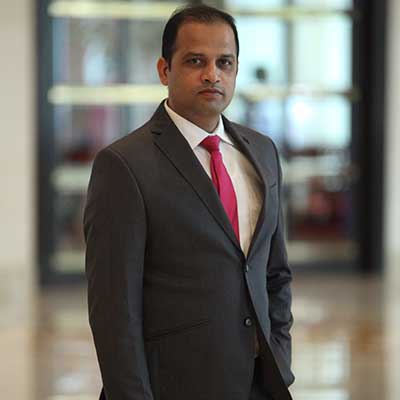 Who thought that WE in the 21st century, with the latest technology at our fingertips would face the current COVID-19 pandemic? The novel COVID -19 that made a tiny appearance at the end of 2019 is now literally the talk of the town. Besides the fear for our lives, our country has registered a 7 year low GDP growth rate of 4.7 in Sept to Dec 2019, when corona hit the world's economy. The problem is bigger for India particularly as the pandemic hit the world when India was already in a prolonged phase of an economic slowdown. This has impacted various industries from aviation, local businesses, the education sector, even the stock market with the Sensex losing around 10000+ points in 2 weeks' time. Mostly all the sectors and industries whose livelihood thrives on mass gatherings have come to an abrupt halt overnight.
To curb the spread, the Government has suggested Work from Home (WFH), and religiously corporates have adopted to ensure employee safety. WFH provides us with a gift of additional time in our hands due to limited travel. Let's look at this Lockdown as a blessing instead of a boon. Let's not surrender ourselves to our televisions or should I say Netflix and chill for our millennials, let's go one step further, let's cultivate a habit of Continuous Learning. Using today's online learning tool, the learning is not restricted to the classroom and the sources of learning are not just limited to work. We can finally get down to reading a new book, learning a new language which we were planning or even upskilling ourselves by doing the course which we promised ourselves. So now that we have the time lets learn to appreciate it and use it optimally and spare some time for personal growth and development. This helps us to keep our stress levels in check during the COVID-19 situation and allows us to hone our skills and bring to light the hidden talent that we possess.
The current situation has taught us to pause our fast pace life and start looking around and appreciating the little things of life – like the new poetry that our children learned, the new dish our spouse cooked, the new friend circle our elderly parents have made or even the fact that we should start maintaining a work-life balance. It is nature's way of asking us to start living in the real world and understanding that all our relationships personal or formal are lacking the human touch as technology has totally taken over.
Amidst this chaos let's look at the bigger picture, suddenly no one is interested in communal riots, caste, etc. No cross border terrorism which proves that our situations and existence is so fragile. Let us all come together to fight this new enemy.
I urge you all to keep safe and follow the guidelines as prescribed to you. I would like to end this by quoting the Lyrics of a famous Michel Jackson Song – "Heal the world, Make it a better place, for you and for me and the entire human race".
Let's strive to sharpen our minds and during these difficult times let's not forget our blessings.