The Optimum Mindset of Our Augmented World | Udit Joshi | Guest Writer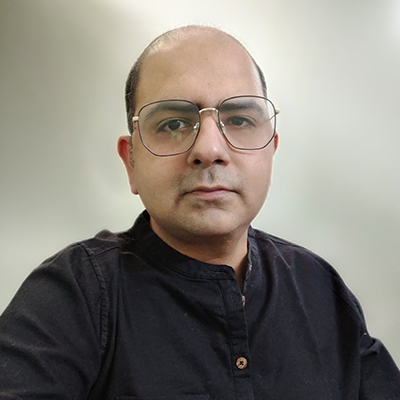 The way we approach our work, how we view the world, and the person we aspire to become are all influenced by our mindset. It is evident in the way we think, act, and the outcomes that follow. Our lives have picked up an exciting pace. We have found more opportunities and more technology to play with and imbibe. The channels of communication have immensely increased, and so has the pace of our lives and the actions we take. Yet, while trudging through with a daily cadence, there may be a sudden bump, a speed breaker, so to speak. Do you also, at times, get affected by the actions and behaviour of people around you? Do you think interacting with some people is harder than dealing
with others? However, we do it out of our duty, necessity, or to finish the work.
The way we approach our work, how we view the world, and the person we aspire to become are all influenced by our mindset. It is evident in the way we think, act, and the outcomes that follow. Contrarily, the viewpoints of others whom we do not perceive to be aligned to our thinking are not incorrect. The difference is in how they prioritise and weigh the many criteria and aspects of their lives. Do not be alarmed, dear readers; we have only discovered a simple example of a mindset-mismatch.
All dating and matrimony websites employ algorithms that matches mindset. After all, it is their business model to connect like-minded individuals. We do, nevertheless, have the freedom and luxury to work around it in our own lives. It becomes serious for a results driven organisation because it is essential that team members have the same outlook and motivations. In an organisational setup, a team with the same mindset is valued in a forward-thinking organisation for unidirectional growth that is both optimal and fast.
Everyone at Workplace-2022 is an Owner
Which course of a three-course meal should be the priority for maximum gastronomic satisfaction? The dessert, the appetisers, and the main meal all received an equal number of votes during a town hall in a service company. Very few people say that each course of the meal is equally significant. Of course, the management recognised them for more important roles.
Similar to this, each link in the chain plays a crucial role in maintaining the health of the entire ecosystem. The ideal system is one that gives teams more freedom and responsibility to make decisions for their network of teams, as this increases revenue.
Managing poorly with micromanagement
Although most of the time it also results in poor management, many organisations have the belief that micromanagement is the only way to guarantee production. The era of remote employment has even emphasised corporate dictatorship. It makes it clear that you don't believe in your personnel. People who believe they are continuously being watched perform worse, according to psychology.
Think Slow, Act Fast
This age-old saying, which has been attributed to numerous civilizations, is utterly relevant today. Your business is in danger whenever a choice is made based only on an assumption. Every decision must be supported by research, information, trends, and data. We are fortunate to have an abundance of informational resources at our disposal. We can support our instincts and make sure-fire decisions by using Marketing Intelligence tools such as Meltwater, Talkwalker and Google Trends. For those of us in public relations, content marketing, and journalism, it is important to use digital tools. Utilising tools such as Quillbot, Hemingway Editor, and AI Writer are some that help one research, write, repurpose, and even analyse content so that our speed is phenomenal during the act. The power of Artificial Intelligence in 2022 is the biggest pivot that we have today.
To Perform or to Learn?
It is more crucial to ask the proper questions during the interview to enable you to make an informed choice. Most applicants arrive with a plan and the conviction that they can learn in an organisation. Nope! This mentality is incorrect. Since we are unable to do everything ourselves, we hire someone to do it for us and pay them for the finest outcomes. You shouldn't anticipate an appraisal evaluation if your mindset is one of learning.
Take Radical Transparency to Heart
Radical transparency refers to the idea that management should share the executive's vision and objectives. It is an open organisational strategy where we play to everyone's strengths while working together to improve the deficiencies. It completely transforms our long-term success, discipline, and daily operational style. It fosters a culture where individuals can freely express their opinions, participate in the think tank, and come up with brilliant ideas. Therefore, radical transparency creates a motivation for the teams to value progress and
merit.
Mind Your Language
We try not to utilise the term "hope" in our spoken or written communications, starting with ourselves and our staff. We use the words "believe" and "trust" instead. We educate our brains to utilise strong and positive phrases since language is how we think and communicate. We ask our employees to be mindful of the language they use while speaking and writing since it helps us develop the proper mindset and mentality.
The aforementioned ideas regularly and persistently encourage us to "learn to grow" as a team and as individuals in order to broaden our skill set. We maintain a strong sense of confidence and constantly prepare our minds for all the wonderful opportunities that lie ahead, in accordance with Louis Pasteur's renowned adage, "Chance favours only the prepared mind."