The Changing Face of Corporate Social Responsibility | Nimmi Sebastian | Head – Corporate Brand & CSR | TBS & Tesco Bengaluru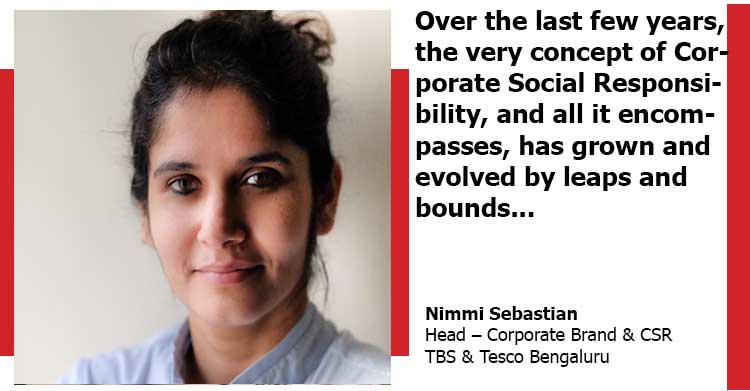 Over the last few years, the very concept of Corporate Social Responsibility, and all it encompasses, has grown and evolved by leaps and bounds. Covid has been a tipping point in many ways, exponentially accelerating what has been a growing movement for some time now, of companies taking on the onus of responsibility for not just their own people, but for society and the planet as a whole.
For years, Edelman's Trust Barometer has tracked what is demanded of brands, most of all, the increasing expectation of social responsibility and how belief-driven buying has inexorably been rising. And they've identified 2021 as a tipping point. Trust, it says, is the new brand equity. Businesses are seen as having the most power to change the future of the planet. And, as the saying goes, with great power comes great responsibility. It's no longer just a financial commitment but a reflection of the values and the culture of an organisation and as organisations it behooves us to live up to the burden of that social expectation and responsibility.
It is no understatement that climate change is the single most burning issue of our times, threatening our planetary future and the hopes and dreams of our children. We at Tesco have realigned our focus to reflect our global commitment to serving our customers, communities, and planet a little better every day. The food sector is responsible for 30% of Greenhouse Gas Emissions and Tesco is more aware than most of the tightrope that humanity walks between production for subsistence and waste. Our global commitment is to reach net zero in our group-wide operations by 2035 and this has become a guiding force for what we stand for as an organisation. On the other hand, retail at its heart, is a local business and the role Tesco plays globally in our communities is vital; whether it's creating jobs, supporting local suppliers, or leading the sustainability agenda.
In keeping with this, we are increasingly taking a more macro view of our goals, while simultaneously seeking ways to build towards it through local communities. One of the recent programmes to have emanated from our shift in strategy is the upskilling of youth from marginalised communities. This seeks to build both capability and capacity in the places that most need it. Another outcome was centred around digital inclusion, which was thrown into stark relief during the pandemic when everything was supposed to go 'remote' almost overnight. A complete lack of both access and knowhow poses grave challenges to people from lower socio-economic backgrounds in this context. Reframing the problem by understanding the difference between 'remote' and 'virtual' helped us address this better and the resulting virtual volunteering programmes we deployed have already been meaningfully impactful. In short, while the demands on CSR itself have escalated radically, the approaches to philanthropy still largely remain traditional, making them ill-equipped to meet them. We need to ensure that the pace of change accelerates rapidly.
In the larger scheme of things however, these are but drops in an ocean. It will take considerably more commitment from organisations across industries and the globe to shift the needle enough to rebalance our planet's scales. Let us hope we have the collective will and determination to do so, and are able to give the next generations the future they deserve.