SpringPeople partners Micro Focus for employee skill development
The partnership aims to enable digital transformation in the post-COVID-19 era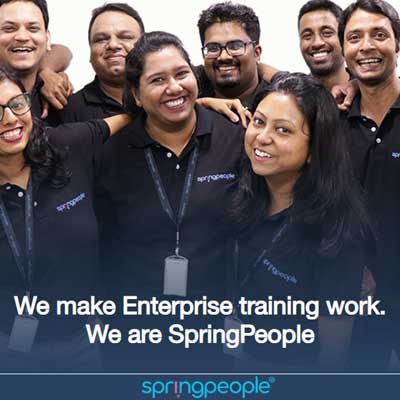 Mangaluru, 29th May 2020: Micro Focus announced its partnership with SpringPeople as an exclusive gold training partner to enable digital transformation in India in the post-COVID-19 era. With this partnership, Micro Focus will benefit from SpringPeople's Indian IT industry reach and wide customer base of over 750 enterprises having more than 250,000 learners, including global organizations such as IBM, Dell, EMC, Capgemini, Infosys, Accenture, Cisco, and Walmart, to name a few.
The partnership will authorise SpringPeople to deliver Micro Focus official training programs on ArcSight, Application Performance Management, Application Performance Testing, and Cloud and Automation Management.
As per the latest industry report published by Microsoft in partnership with International Data Corporation (IDC), digital transformation is set to radically boost India's GDP, adding an estimated US $154 billion and will lead to an annual growth rate of 1 percentage to India's GDP by 2021. There are also reports that confirm that the digital talent gap in India is widening. Against this backdrop, the partnership between SpringPeople and Micro Focus would go a long way in addressing the skills gap prevalent in Indian IT today.
Mangalam Singhania, Country Manager for India and ASEAN Micro Focus Education Services said, "Today, there is an urgent need for organizations to capitalize on the digital transformation underway in India. The first step that should be taken is to equip the workforce in using the latest breakthrough innovation. We have chosen SpringPeople as our exclusive gold training partner in India as SpringPeople has a wide enterprise reach and would thus, be an effective delivery partner of our technologies."
Ravi Kaklasaria, Founder & CEO, SpringPeople said, "The partnership with Micro Focus will equip us with authentic courses and training content. We will be able to offer our customers training in trending technologies and also help us play our part in Micro Focus' mission of unleashing digital transformation in India."
Based in England, Micro Focus is one of the world's ten largest pure-play enterprise software companies. The company is listed on the London Stock Exchange and is well-known in the industry for delivering customer-centric innovation. The company focuses on the four core pillars of digital transformation: Enterprise DevOps, Hybrid IT Management, Security, Risk & Governance and Predictive Analytics.
About SpringPeople:
Founded in 2009 by IIT alumni, SpringPeople – a Thought Leader and pioneer of Enterprise Training 2.0, is today the biggest enterprise IT training provider in India. 250K+ students from 750+ enterprises across India bank on SpringPeople for enterprise enablement, including Fortune 500 giants such as Cisco, Walmart, IBM, GE, HP, Intuit, major IT service companies such as Infosys, TCS, Wipro, Cognizant, Mindtree, Accenture and big brands from e-commerce, travel, hospitality, BFSI, telecom, manufacturing and automation.
In addition, global technology leaders like Red Hat, EMC, VMware, MuleSoft, Elastic, Lightbend, RSA, Axelos, CompTIA etc have chosen SpringPeople as their master certified training partner to deliver their authentic, certified training, to enterprises and IT professionals across India.
Website: https://www.springpeople.com/