Romy Sahay | President HR | DFPCL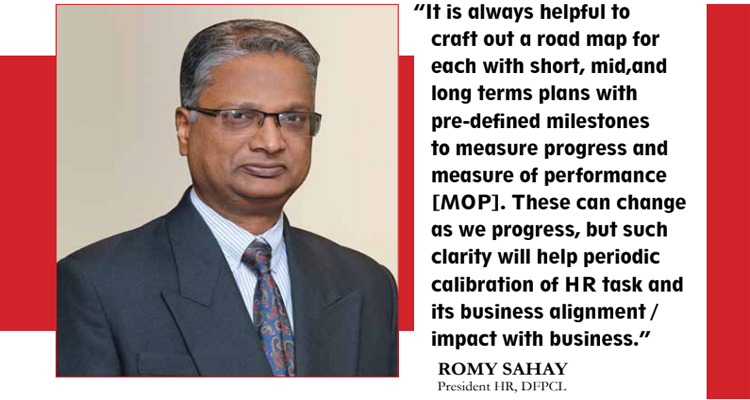 Mr. Romy Sahay has over 28 years of experience in leading HR for multi-units and geographically distributed global workforce. He is currently working as President – Human Resources for Deepak Fertilisers & Petrochemicals Corporation Ltd. He has previously worked with Dr. Reddy's Laboratories Ltd., ITC Infotech India Ltd., ITC Ltd. & TELCO.
He holds a Graduate Degree in Electrical & Electronics Engineering from Birla Institute of Technology, Mesra, and Post-Graduation in Personnel Management & Industrial Relations from XLRI, Jamshedpur.
---
Question: COVID 19 has disrupted every sector. What are some lessons learnt amid the pandemic that you will take ahead with you? How technologies are playing a key role in HR journey?
Post COVID-19, the journey on work front has been of rapid disruptions and digital transformations. These changes are clearly visible on three fronts:
1] Pace of technology adoption in our day to day issues
2] Gamut of technology usage across work and personal front and
3] Increase in usage of AI, smart-things, and contactless interface in routine work
The emerging work norms demands, reorientation to newer norms of collaboration at workplace, ability to connect and engage with employees remotely, ability to manage work with limited or sometimes with no supervision, management of employee life cycle in enhanced virtual connectivity, enhanced employee experience at work, need of wholistic employee well-being, enhanced need of distributed empowerment and management of employee productivity.
Considering the above context, business will be driven by more and more agile engagement models build around pace, innovation, and inclusivity; simplification is likely to take a driving seat and creating experiences will be key to the theme. IT System will not only be used to drive efficiency and effectiveness in workplace but will also need to drive disruptions. Technology adoption will go from a surviving need to a thriving need.
All the above needs tremendous support of IT, as enabler, to make these concepts take shape. In this journey CHRO & CIO will play a key role in terms of reorienting the organization towards right technology selection, its adoption at execution level and realizing planned value creation out of these interventions.
Today many options have emerged and soon HR will emerge as a key customer to IT Team within the organization.
Question: What are the best practices in Creating a High-Performance Culture in any Organization?
There are many lenses through which one can look at performance, however, whichever system one adopts, key to high performance culture is likely to be:
1] Discipline to performance mindset
2] Strong review and governance mechanism
3] Strong linkage of performance with quantifiable targets
4] Striking appropriate balance between Performance [Today] focus and Organization Health [Tomorrow] focus and
5] Encouraging high performance.
As operations are getting compartmentalized and more and more technology are invading the work, skill sharpening and upgradation for employees needs to have a deep linkage with review / appraisal system. Employees need to be made aware of functional and domain capability levels that are expected in their role or are critical for their growth, similarly they also need to be made aware of the downside of not able to scale up to the expectations. This is a long-drawn journey, but a clear shift is seen from "Nice to have training" to "Need to have training" model with measurable ROI at work.
Also, the earlier approach of standardization norm on HR practices are progressively taking a shift and we cannot continue to have one solution fits all approach now. The compensation practices need to be crafted to suit specific business needs. For example, Sales team variable pay should be driven by Sales data linked incentive, more and more versus a traditional general appraisal-based variable pay where sales result is one of the subsets. Periodicity of review and continuous feedback will play key role in ensuring timely alignment and calibration of performance expectations, walk the talk by leaders will drive accepting the right clues and it becoming an integral part of performance culture.
Another emerging practice is to encourage and reward cross functional working. This will help diverse and rich experiences coming together within organization to bring faster changes and innovations with optimum resources. This will also help tap and unleash hidden potential of employees.
There has been a clear shift in enhanced Productivity levels across industries and of late it has seen a substantial increase. The biggest challenge in short term shall be to keep the momentum going and translate these gains into long-term improvements to sustain these levels of performance.
Another key dimension of shaping high performing culture is the Leadership Team and the way they operate. At leadership positions both "what" as well "how" is important for result achievement. A focus on how means a shift toward reviewing how an individual leads himself, how they lead others, how they lead business and how they support various change interventions across organization. These practices have the potential to create a quick cascade impact down the organization hierarchy.
Cumulatively focus on these has the potential to bring multiplier effect and to help build high performance culture.
Question: What is your overall long-term vision and philosophy for the HR task?
HR has to play a role at four different levels:
1] Level 1: Management of organization system, culture, enabling disruptions & transformations through interventions in processes, policies etc.
2] Level 2: Management of Employee life cycle at work
3] Level 3: Driving business impact [efficiency & effectiveness] at work and
4] Level 4: Driving focused change Management interventions.
It is always helpful to craft out a road map for each with short, mid, and long terms plans with pre-defined milestones to measure progress and measure of performance [MOP]. These can change as we progress, but such clarity will help periodic calibration of HR task and its business alignment / impact with business. For example, we are talking about technology disruption in HR workspace. If we craft out HR IT road map for 2-3 years covering complete employee life cycle and need of IT intervention at each life cycle stage, articulate where organization processes touch individuals and what kind of value and experience we want to create at every such interface, define milestones and MOP. Similar approach can be adopted for most of the critical HR processes. I think it will be very satisfying experience apart from creating business impact.
So going forward, HR has to play an increasingly transformational role in areas of productivity improvements, cost leadership, performance enablement, shaping the desired culture, building the future capability, redesigning lean & agile organization, leveraging technology to handle tactical and transactional processes. In simple word, HR needs to play enabler role in helping build organization excellence.