Re-imagining Mental Limits in the Corporate World | Nikhil Raj | Co-Founder | Institute Of Magic and Allied Arts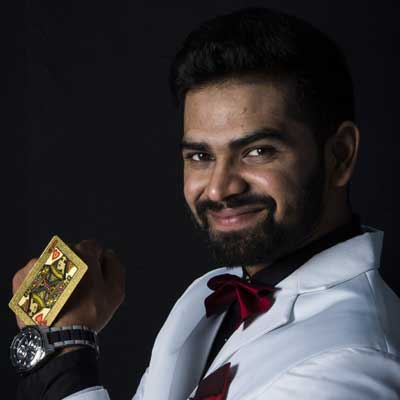 When the pandemic hit, adapting to the 'new normal' was quite the challenge. In the initial few weeks, while most people kept themselves engaged with trending challenges and spent more time with their loved ones, for employees working from home, it has been a different ball game altogether.
The rules of work-life balance for both men and women were being re-written, causing a quick surge in anxiety and stress. Break and work hours were overlapping and mental health slowly began taking a backseat. Organizations soon realized that WFH was not as exciting as depicted on social media. In
order to ensure that the mental health of employees is being taken care of, they went the extra mile to involve their employees in one off engaging activities at first, which then became a routine.
'We' realized the need for uniquely curated employee engagement programs much before the pandemic hit the world and have been providing our services for almost a decade now. So who exactly is 'we'? The Institute of Magic and Allied Arts (registered under Societies Act, 1969) is a premier organization dedicated to the upliftment of magic and magicians. Over the decade, IoMAA has conducted a variety of stage shows, workshops, training sessions and seminars that have been designed keeping in mind the needs of corporates.
Magic is a unique art form. An art form that not only brings with it an element of surprise, triggers people to think, and leaves them feeling elated at the end of the show. It is a vast subject which encompasses various intriguing styles such as Illusions, Mentalism, Conjuring, Close-up and Hypnotism. Each of these styles can be performed individually or in combination to suit the expectations of various kinds of audiences.
Imagine a show that blurs the line between illusion and reality. One that plays with your mind and imagination leaving you in absolute shock and surprise.
From catering to the mental wellbeing of employees to engaging corporate audiences in super entertaining illusion shows, we have it all covered. In order to break the monotony and bust some stress, 'Re-Imagining Mental Limits' – a Virtual Mentalism Show was brought to life. Depending on the theme as well as the kind of event, the show is specially curated to fit every kind of requirement.
You can expect a show that is highly interactive, engaging and packed with comedy. It will be a blend of illusions, conjuring, mentalism as well as street magic.
Age no bar! This show welcomes everyone who wants to be mind-blown, laugh their hearts out and relax.