Leadership in a Disruptive World | Ashwini Moni | Senior People Business Partner | Progress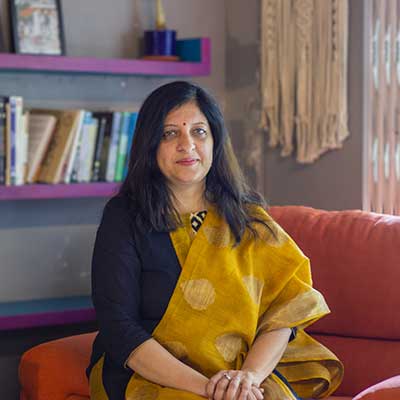 In a career spanning over two decades, I have seen what it means to lead one's team through both opportunities and challenges. Whether you run a small company or the largest conglomerate in the world, whether you sit in the country's highest office or lead just a small group of volunteers, the kind of leader you are and the example that you set matters.
The COVID-19 pandemic acted as a stress test on leaders all over the world. The spotlight was on how they coped with the crisis, led their people through these unprecedented times, and planned for the future. The best example of this would be how New Zealand's Prime Minister Jacinda Ardern and her government handled the pandemic. Her strict measures to control its spread in New Zealand and deal with the economic fallouts have received lots of praise, with Fortune placing her at the top of their recent top 50 list of world's greatest leaders.
While clichéd, change is the only constant. It holds true in every aspect of life, especially now. So, how can leaders keep pace with the changing environment, job market and technology? How can they create sustainable and successful business models that benefit organisations and people? I think no drastic measures and changes are needed. Leaders need to continue doing what they have always been doing, with just a few tweaks.
Inject flexibility into your operations
One way for leaders to survive and thrive in this ever-changing environment is to adapt. An agile mindset will help leaders assess and understand situations quickly, find the right strategies and act. An agile leader must be a risk-taker, able to consider the situation and make a quick decision. A brilliant example of this was the auto industry here in India, which was badly hit due to the pandemic. Sales dropped as no one was interested in buying cars, given the current state of affairs. At this time, instead of shutting down their factories, many of the automobile manufacturers pivoted and started making ventilators, masks and other medical and safety equipment needed in the fight against the pandemic.
Make your communication more effective
Leaders have to be great communicators to connect with their teams and guide them. A continuous and consistent messaging provides stability and engagement. When I think of clear communication, a firm where I worked previously comes to mind. The company had undertaken a large-scale merger and acquisition, and I give full credit for its success to how well each stage of the process was clearly communicated – from what has happened, what is happening and what comes next. This helped the teams understand where the organisation and its people were heading and what was their part of the journey.
Be transparent about your operations
Clear communication creates alignment and trust. The more transparent you are, the better you can convince your team why a particular decision has been made and how it is going to help position the company strategically. Transparency becomes even more essential when leaders need to make some tough decisions. There are always going to be some who would disagree, but as leaders, we still need to be honest and authentic.
Last year, in the midst of the pandemic, Airbnb made the difficult decision to lay off 25 per cent of its employees. In a note co-founder and CEO Brian Chesky shared with the whole company, he frankly discussed the difficult circumstances that led to this decision and outlined the next steps for his team so that they knew what was going to come next.
Have a progressive mindset
A survey found that 69 per cent of Gen Z respondents would "absolutely" be more likely to apply for a job in an ethnically and racially diverse workplace. The new generation that is joining the workforce is more socially aware and prioritises social activism more than the previous generations. Growing up in the Internet age has exposed them to larger socio-economic, cultural and global issues such as diversity, inclusion, sustainability and more. And they would want to work in an office where the leaders believe in the same values and work towards the same goals. They want to see it in practice, not just in preaching. Leaders will need to understand these behaviours and align themselves to this generation. It may take a fair amount of work and a lot of changes to be made in the workplace culture, but in the long run, it will be worth it.
Have a high emotional intelligence quotient (EQ)
EQ has always been an important part of a leader's toolkit, but the past one and a half years has demanded more empathy and understanding. Leaders had to not only navigate this new unpredictable time on their own but also support their teams. Leaders are playing a critical role in helping others get through these times, and this calls for a greater need for self-awareness. And leaders will need to put in the work. In a survey that looked at the future of work post the pandemic, 74 per cent of employees want their managers to demonstrate a leadership style focusing on empathy and a supportive attitude.
Leaders need to stay connected with their employees, from the old guard to the newcomers. A good practice in our company is that our CEO meets all the new hires within the first month of their joining to get to know them personally.
The tech industry is a fast-paced industry, with businesses and technologies evolving almost every day. What was relevant yesterday might not be relevant today, and this volatility is something tech leaders will need to handle. The need to bolster organisational resilience has never been more critical. Leaders will need to rethink their strategies and find new ways to work with their teams to withstand unpredictable threats and emerge stronger.