Holistic L&D – What needs to be considered – Vibhash Naik | Head – Human Resources, Learning & Development | HDFC Life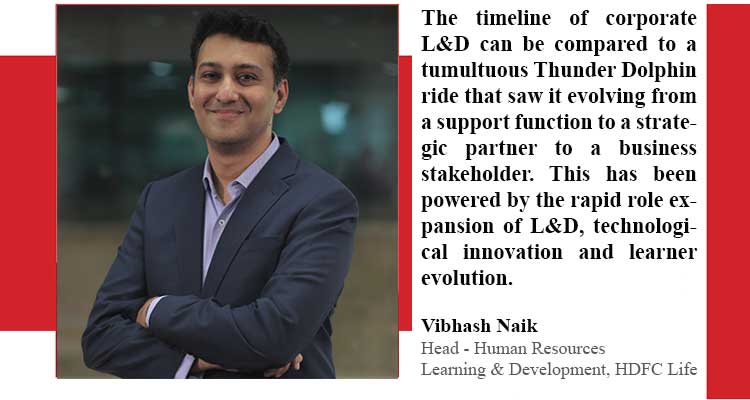 The timeline of corporate L&D can be compared to a tumultuous Thunder Dolphin ride that saw it evolving from a support function to a strategic partner to a business stakeholder. This has been powered by the rapid role expansion of L&D, technological innovation and learner evolution. Moving forward a holistic approach to corporate L&D will be essential.
---
Here's a three-step approach that addresses people, skills, and technology in addition to governance and process.
Step 1: Build a Business-Wise Approach
Reinvent and reposition yourself as a business stakeholder involved in end-to-end operations and as a strategic enabler who attracts, enables, retains, and transforms talent. This philosophy will help actualize the strategic intent of L&D in organizations.
We need to ask ourselves questions such as:
• Where is the value chain in our business?
• How are we connecting learning content and experiences to business outcomes?
• If we need to take risks in business, what are the capabilities needed in our people? What do they need to know to prevent potential loss?
• How can the organization as a whole be ready for a wave of change – that can hit us dramatically?
• What are our respected peers and competitors doing?
Keeping an eye on the organization's business is a large part for L&D to be resilient. True resilience is in translating this understanding into clear action plans. That's where we move into Step 2.
Step 2: Strengthen Fundamental L&D Practices
Surprisingly, many L&D functions still don't have their basic hygiene in order. Essentials and fundamental practices tend to be overlooked.
It is of utmost importance to tightly fix the following:
• Executive sponsorship and co-ownership with business
• Learner-centric design; personalized, at the point of need, and relevant
• Diversity in the learning ecosystem – traditional, digital, mobile, new age, etc.
• Execution with a focus on budget, resources, time, and effectiveness measures
• Integration with relevant talent management practices
Step 3: Boldly invest in critical areas
With the basics in place, L&D leaders can shift focus to top 2 or 3 areas that can help L&D tackle paradigm shifts in our business. This will vary based on the organizational context.
For example, bridge the skill gap within L&D by investing in AI and automation. Skilled L&D employee base is not always the sole solution to talent shortage. Bots can help by providing answers to routine and standard questions. When implemented with thought and clear planning, automation and technology can greatly augment human judgement.
I do believe that we should not limit ourselves to the classic L&D mandate. By embracing the three-step approach, corporate L&D will definitely succeed and see encouraging results.