HEM Agarbatti Celebrates Women Empowerment on Women's Day |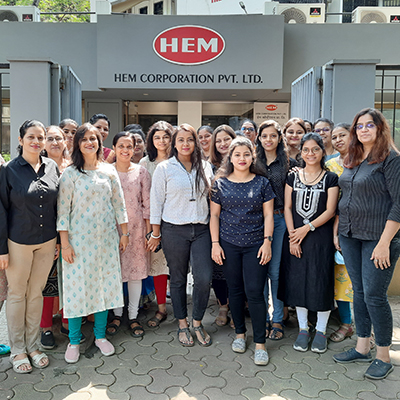 HEM Agarbatti, one of the leading manufacturers and exporters of incense and home aroma products, dedicates this women's day to working women across the country. HEM's 77 percent workforce comprises strong women who work hard to make others' lives fragrant and aromatic. The company has taken multiple initiatives to promote "Gender equality today for a sustainable tomorrow" across their workplace.
HEM supported all its women employees during the pandemic and ensured strong and stable livelihoods, with flexible working arrangements yet prioritizing services. In the recent past, HEM has made many changes at its workstations to smoothen and lighten the day-to-day workflows and ensure that the working environment is comfortable with suitable furniture and fixtures, timely and memorable health check-ups, the introduction of Digital Literacy Programmes, etc. Apart from advanced practices, the company also addresses the day-to-day challenges faced by women. For instance, security is often a significant issue for women while traveling. To address this challenge, HEM provides transit services to all its staff.
HEM Women Transcending Towards Equality
Women at HEM Agarbatti are treated with the same dignity as their male counterparts and encouraged to take leadership roles. They are provided with a conducive atmosphere to explore their potential and thereby meet organizational goals. Most of the departments, including Human Resources, Accounts, R&D, etc., are headed by women, and, currently, the percentage of women Head of Departments stands at 45%.
"We follow the slogan "Gender equality today for a sustainable tomorrow," recognizing the contribution of women and girls around the world, who are leading the charge on climate change adaptation, mitigation, and response, building a more sustainable future for all. Therefore, from the inception of our company, we've always believed in empowering women through employment and have extended the acceptance and recognition they deserve, irrespective of their gender," says Rahul Shah, Business Development head at HEM Corporation Private Limited.
"Our first manufacturing unit was at Mulund, Mumbai, and now we have moved to Bhiwandi, where the major production operations occur. At our Mulund plant, we are continuing to employ women staff. Some female employees at the plant have been working with us for over 2 decades. This is a great source of validation for our women-centric initiatives. Further, to help women employees continue their work during the pandemic, we provided them with raw
materials at their house and made arrangements to collect the final products from them to offer continuity," he adds.
Moving forward, the HEM Corporation plans to continue to empower women through its strong stances on breaking stereotypes and encouraging talent across teams.
About HEM Corporation:
HEM as a brand is known globally for manufacturing and exporting perfumed incense sticks to over 70+ countries across the globe. Founded by three brothers in 1983, HEM has continued to grow in strength and market reach to be ranked as the best agarbatti manufacturing company in India and across the world.
HEM's mission is to create and promote unique perfume and fragrance products that fulfill the requirements of its customers. Their products are made to suit all environments that inspire wellness, peace, and harmony in people's everyday lives.