'Cummins Powers Women' Supports Global Non-profit Rise Up's Program to Strengthen Gender Equity in India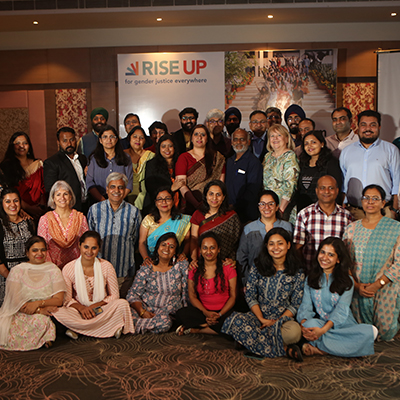 Cummins Powers Women, a landmark community initiative to advance Cummins Inc.'s long-term commitment to the empowerment of women and girls around the world, partnered with global non-profit Rise Up as it launched its third Leadership Accelerator Program to improve the lives of women, girls, and gender-nonconforming people in India. Rise Up works to advance gender equity and justice in education, health, and economic opportunity.
The program was supported by Ashwath Ram, Managing Director, Cummins Group in India; Shveta Arya, Executive Director – Power Systems Business, Cummins India, and Sponsor Cummins Powers Women; Ashish Aggarwal, Chief Administrative Officer, Cummins India, and Catherine Van Way, Head – Government Relations, Cummins Inc.
Hosted in Delhi, the week-long Leadership Accelerator Program was attended by 22 gender equity leaders from non-profit organizations across NCR, selected through a rigorous and competitive application process. The program helped them strengthen their leadership skills, share their diverse expertise, develop their advocacy strategies, and collaborate in their ongoing efforts to help women and girls become agents of social change. As the program graduates move forward with their projects to bolster gender equity in the areas of health, education, and economic opportunity, Rise Up will continue to provide support. Cummins and Rise Up aim to expand the program to other cities throughout India to maximize its impact.
Underlining the need for swift actions to promote gender equity, Shveta Arya, Executive Director – Power Systems Business, Cummins India and Sponsor, Cummins Powers Women said, "Empowering women is key to unlocking India's progress and prosperity. Yet, we are decades away from achieving gender equity. At Cummins Powers Women (CPW), we are focused on supporting initiatives that tackle gender disparities head-on to transform the lives of women and girls. We congratulate the new graduates of Rise Up Leadership Accelerator Program and look forward to working with Rise Up and Rise Up Leaders as they create equal opportunities for women and accelerate progress toward gender equity. At Cummins, we recognize that a more inclusive and diverse world is a better world for everyone."
Vidhu Prabha, Rise Up Country Lead for India said, "Given the social, cultural, religious, and geographic diversity in India, there is tremendous value in Rise Up's commitment to support local non-profit leaders who are best suited to identify the most urgent issues and solutions to achieve systemic change. Our multi-year partnership with Cummins makes this transformational change possible as we work toward greater equity in India and the world."
This year marks the fifth anniversary of the Cummins Powers Women program that has been driving change and empowering women and girls around the world. The program has served more than 27 million girls and women worldwide and invested $23 million in the effort since its inception in 2018. In India, CPW was launched in Mumbai in 2019, and has since then made significant progress in promoting gender equality through 26+ advocacy grants and implementation of four government laws and policies that have impacted over 2.2 million women and girls.