Continental Automotive Announces Change in TCI Leadership for its ADAS and VED Businesses
• Praveen Kumar and Jaidev Venkataraman will interchange their roles and responsibilities to ensure holistic development of safety solutions from TCI
• Praveen Kumar takes over as Head of Engineering, Vehicle Dynamics (VED) business unit
• Jaidev Venkataraman takes over as Head of Engineering – Sensorics, Advanced Driver Assistance Systems (ADAS) business unit
• The leadership changes are effective from 01 August 2021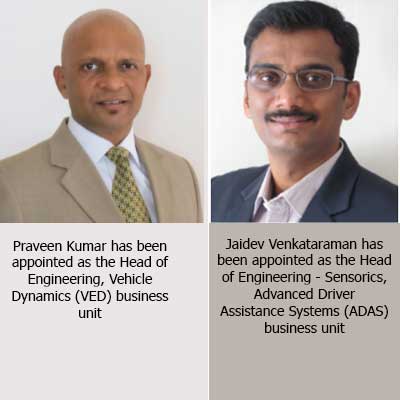 Technology company Continental announced changes in engineering leadership for its ADAS and VED business units (BU) in their in-house R&D center Technical Center India (TCI). Praveen Kumar takes over as the Head of Engineering, VED BU and Jaidev Venkataraman takes over as the Head of Engineering – Sensorics, ADAS BU. They both have interchanged their respective roles.
Continental is at the forefront of developing safety-critical technologies. Praveen Kumar and Jaidev Venkataraman, with extensive R&D experience in ADAS and VED technologies, respectively, will play a critical role in enabling the holistic development of safety technologies from TCI for both global and local markets.
On the leadership changes, Latha Chembrakalam, Head of Technical Center India, said, "The cross-move of both Praveen and Jaidev will further strengthen Continental's competence in developing advance and sophisticated safety technologies. Jaidev and Praveen have contributed immensely to their previous roles, enabling rapid and qualitative growth of the business units.
Under their leadership, several global programs were successfully deployed, and many product innovations were achieved. For example, Praveen was instrumental in developing long range radar for premium passenger cars of Japanese OEMs, camera fusion systems, and vision perception solutions for the front facing camera. While Jaidev was responsible for motorcycle ABS application for Asia hub and establishing software development hub for global OEMs. In their new roles, I am confident that their diverse perspectives and expertise will contribute exceptionally to R&D practices from India."
"We welcome Praveen to the VED team. His experience and expertise in safety systems would be a great asset for us and will contribute remarkably to our growth objectives. I also thank Jaidev under whose leadership the R&D competency and operations grew exponentially and many engineering innovations were attained including developing products for the local market needs including the one-channel ABS. We are in the business of protecting human lives, reducing on-road fatalities, and making roads safer for everyone, regardless of the market, technology, or vehicle class. We are expanding our VED business in India to support the upcoming safety legislation in the country, especially the 2-Wheeler space which is expected to grow substantially." said Krishan Kohli, Head India Market – Hydraulic Brake Systems and Vehicle Dynamics BU.
Speaking on the occasion, Praveen Kumar, Head of Engineering, VED BU, Continental Automotive India, said, "VED business is crucial to Continental's growth in India. Driven by government legislation and consumer awareness, safety products like ABS and ESC are in great demand in the country. I am excited for this next chapter in my career and look forward to continuing to contribute to Continental's Vision Zero."
"Assisted and automated driving is one of the primary growth areas for Continental. We're developing these technologies with a view to zero crashes and zero fatalities on roads. Further, in the coming years, we expect mandates pertaining to ADAS technologies in India, which will be instrumental in driving the demand and enhancing safety standards. Continental is completely poised to fulfill these upcoming demands, and I look forward to contributing to the growing ADAS business in India." said Jaidev Venkataraman, Head of Engineering – Sensorics, ADAS BU, Continental Automotive India.
About Praveen and Jaidev
Praveen has a diverse career spanning close to 30 years across avionics, consumer electronics, and automotive. He has worked through the entire spectrum of engineering, ranging from software development to leading business development. Since joining Continental in 2014, Praveen has made significant contributions to the company's growth. Under his leadership, ADAS BU has set up the engineering center responsible for Continental's ADAS portfolio in the APAC region.
Jaidev has over two decades of experience. In 2007, he joined Continental and since then held various managerial positions in Electronic Brake Systems. He was instrumental in building the R&D team, which handles Indian and Asian OEMs providing active safety solutions such as Anti-lock brake systems, Electronic Stability Control, and other safety functions for passenger vehicles and 2-wheelers.
Reinstating its commitment to 'Vision Zero', Continental ensures a safer world with zero fatalities, zero injuries, and zero crashes. As one of the market leaders in providing technologies and systems to equip millions of vehicles around the globe, Continental is contributing globally to the vision for increasing safety on roads. Both ADAS and VED business units have been instrumental in Continental's journey towards Vision Zero.
Localization
With the 'In the Market, For the Market' approach, Continental is localizing the entire value chain from R&D to design to production according to local customers' requirements. For instance, the one-channel ABS for smaller motorcycles and scooters, based on Continental's proven ABS technology for passenger cars, was developed especially for cost-sensitive markets such as Asia.
Apart from supplying to the local market, the company is also exporting VED components from India to South-East Asia and markets in the ASEAN region. Similarly, Continental has made significant contributions to enhance ADAS expertise in India. For instance, Continental's Technical Center India is one of the company's most significant engineering locations for the ADAS business unit. Continental's engineering team in India is working on many advanced ADAS technologies for both developed and emerging markets.
Continental develops pioneering technologies and services for sustainable and connected mobility of people and their goods. Founded in 1871, the technology company offers safe, efficient, intelligent and affordable solutions for vehicles, machines, traffic and transportation. In 2020, Continental generated sales of €37.7 billion and currently employs around 233,000 people in 58 countries and markets. In 2021, the company celebrates its 150th anniversary.
The company has been present in India for close to 50 years through technology partnerships (Continental Tires since 1974) and joint ventures for its various businesses. Today, the tier 1 automotive supplier, tire manufacturer, and industrial partner operate across India – with about 8000 employees across 13 locations, including eight plants that cater to the Indian market and a Technical Center that supports Continental's
global R&D activities.