CHRO TO CEO – Future Road For Success Story | Raju Foujdar | Global CHRO & Admin | RK Pharma Group of Companies
CHRO TO CEO – FUTURE ROAD FOR SUCCESS STORY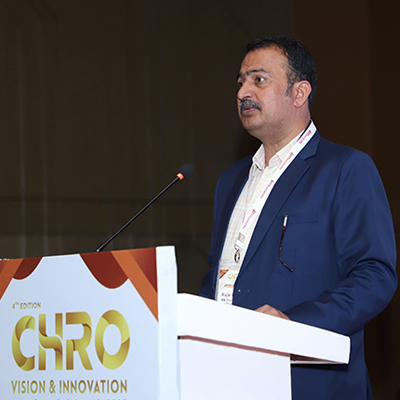 There has always been a burning Debate on the matter that whether the HR Heads/CHROs can be next Gen CEOs. Historically, heads of HR haven't been contenders for the CEO's post as they were perceived to be lacking in financial acumen and business knowledge. CEOs have a personality type that is quite different from those who are in HR by choice and the psychological transition from CEO to HR is the most difficult to make. But, this has been old concept and circumstances are changing very fast.
A People Matters opinion poll of 71 HR heads across the country revealed that only 27 per cent were interested in taking up a business role and about 50 per cent wanted to continue in their HR role. Even more interestingly, only 29 per cent of the respondents served in a non-HR role for more than five years.
HR Leaders instrumental in Uncertain:-
This debate has been put aside after inception of Covid-19, which proved that we live in VUCA World. HR has shown it's true value and contribution to the Business World being Front Runner and leading from the front in such difficult times. "In the last two years when the business was disrupted during the pandemic, HR leaders held the fort to keep the businesses up and running through their exceptional people skills. In the process, CHROs naturally emerged as strong business leaders and played a vital role in effective leadership," says Ashwini Prakash, Managing Partner and Board Director, Singapore and India, at executive search and consulting firm Stanton Chase.
HR Business Partner – helpful in grooming CEO
A research by Korn Ferry, a US-based management consulting firm, cites three aspects for being successful in the CEO's role: Leadership Style (how CEOs behave and want to be perceived in group settings), Thinking Style (how CEOs think and decide) and Emotional Style (how CEOs deal with emotionally-laden situations like managing conflict or taking bold risks).
"CHROs, when embedded deeply into the business over time, become naturally adept at these as they more often must rally people around a cause, resolve interpersonal conflicts, bring out the best in others, and take hard people calls when needed… this is some of what is key for any CEO," says Sandeep Bhalla, Partner & Head Consulting India, Korn Ferry.
Comfort Zone Blockade in journey of CHRO to CEO
HR needs to leave the comfort zone to be success CEO. It is difficult for them to make a case for their selection as CEO successors. As the saying goes, "If you haven't served in the infantry, you will never become a general."
Clearly, a lack of ambition can be a limiting factor insofar as an HR leader can have a fair shot at the CEO role. Thus, a mental shift needs to take place, a reorientation of sorts. "Once this happens, more HR professionals may aspire.
What makes CHRO a great CEO
(a) They are well-versed at putting talent strategy first
HR heads are the only ones familiar with the two most critical aspects of leading a people-first company:
1. sourcing, recruiting & deploying talent, and
2. considering talent during strategic decisions of the organization.
Referring to his two colleagues – Dennis Carey and Ram Charan, Dominic Barton wrote,"In our combined 90 years of advising CEOs (and their Boards), the three of us have never come across a moment like this, when every CEO we work with is asking the same daunting set of questions: Are my company's talent practices still relevant?" How can we recruit, deploy, and develop people to deliver greater value to customers—and do so better than the competition? How can I be sure that I have the right approach to talent—and the right HR— to drive the changes we need to make?"
(b) They build the organisational structure, not just processes
The company board members often overlook discussions about talent. This is because many boards prioritise strategy & compliance above employees. But CHROs lead a talent-first firm and therefore would persuade the board that talent is the source of value and must be at the top of the board's agenda. Likewise, a CEO who is driven by talent will concentrate on two types of "TSR": total shareholder return and Talent, Strategy, and Risk.
(c) CHRO to CEOs: Focus on a future-ready Organisation
Leena Nair, CHRO at Unilever, has recently been announced as the global CEO of the French luxury brand Chanel. Unilever's CEO Alan Jope says, "She (Leena Nair) has played a critical role in building our purpose-led, future-fit organisation, which is now the employer of choice in over 50 countries globally."
(d) They view company culture as a business driver
What is different about the CEOs at talent-driven companies like Apple, Google, Facebook, and Tata Communications? They look at talent considerations as an integral part of every strategic decision.
Among the few HRs who became CEO, Arundhati Bhattacharya, CEO of Salesforce, believes that exposure to the HR function gives C-suite leaders a first-hand sense of what people are going through. "I had a far better idea (as an HR) and grip of the entire workings of various departments."
(e) They define the leadership model & team dynamics
CHRO-CEO are inclined to make sure they have the necessary talent in-house before diving into strategic and financial planning. What is the greatest method to nimbly match the right talent to the right strategic projects? Building agile organisations around empowered teams.
(f) CHRO to CEO — Trendsetters
Mary Barra used 'leadership jiu-jitsu,' as I like to call it, using her profound knowledge of the General Motors to both stimulate & guide the positive energy of her team. She eventually helped the company recover from its public relations disaster (something the company was suffering from) and positioned herself as the respected global automaker's CEO. Barra was later rewarded with another promotion: the combined role of Chairman and CEO.
Mapping Leadership Styles
The researchers analyzed 360-degree assessments of thousands of leaders in six C-suite functions—CEO, CFO, COO, CIO, CHRO, and CMO—in which each executive was ranked on 14 aspects of leadership on a scale from one to seven. The surprising result: The traits of CHROs matched up closely with those of CEOs.
The discovery led Filler and Ulrich to a provocative prescription: More companies should consider CHROs when looking to fill the CEO position
The advice comes with some caveats. First, Filler and Ulrich studied only the best performers, so they're pointing to a small subset of CHROs as having corner-office potential. They don't see a path to the top job among people who have spent their careers in HR; instead, they are touting the prospects of executives who have had broad managerial experience (and P&L responsibility) that includes a developmental stint running the HR department. They emphasize that any CHRO who aspires to become a CEO must demonstrate capabilities in a host of skills required of top leaders. "The challenge for CHROs is to…acquire sufficient technical and financial skills, in early education and in career steps along the way, if succession to CEO is a desired outcome," they write in a white paper about their research. Indeed, some companies, including Zurich Insurance, Nestlé, Philip Morris, and Deutsche Bank, do put high-potential executives through a developmental rotation in a high-level HR job. (For one view on facilitating such developmental opportunities, see "It's Time to Split HR," by Ram Charan, HBR, July–August 2014.)
To be answered in coming times:-
(i) Why was serving as CHRO an important experience?
Leadership is about transforming an institution, and if you want to have a sustainable transformation, you need to develop leaders who will continue the journey after you. HR is an essential part of that kind of generative leadership. My predecessor as CEO had been here for 10 years, and the board was looking for an outsider with this characteristic—the ability to develop people and generate new leaders.
(ii) Should more Boards consider hiring CHROs as CEOs?
Filler and Ulrich highlight two examples of prominent CEOs who had developmental stints in HR earlier in their careers. Mary Barra, the CEO of General Motors, served as the carmaker's vice president of HR for 18 months, and Anne Mulcahy, Xerox's CEO from 2001 to 2009, ran that company's HR operations for several years in the early 1990s. It's no coincidence that both are women: According to the researchers' data, 42% of high-performing CHROs are female—more than double the share in the
In their white paper Ulrich and Filler also report on what CEOs and CHROs have to say about the changing nature of the top HR role. Several CEOs see the CHRO as C-suite consigliere. "It is almost impossible to achieve sustainable success without an outstanding CHRO,"
Over the past 20 years Jim Collins and other management theorists have focused on talent strategy as the prime determinant of corporate success—an idea Collins popularized in phrases such as "Get the right people on the bus" and "First who, then what." In her work recruiting CHROs, Filler has seen a growing recognition that those aphorisms hold true
To Conclude:- CHROs and HR Heads are strong contenders for future CEO Positions. The organizations need to invest on training the untouched parts of CEOs responsibilities like P&L etc. Return on investment (ROI) to develop a CHRO for CEO position will be much beneficial for the organization rather than hiring or having helicopter landing at top.