Building a tech-savvy HR on the way to becoming a future-ready organization | Sakaar Anand | India Country Head and Head of HR | BMC Software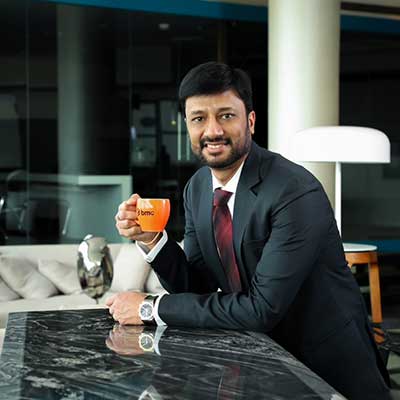 Disruption is happening all around us as we conduct more of our personal and professional business online and move away from traditional, in-person models. The pandemic accelerated this shift across industries and within organizations, too, with external customers and internal customers (employees) demanding more—and more flexible and easy-to-use—digital services.
HR is no different, and as much of the world went remote in 2020, the lessons learned in recruiting, onboarding, training, engaging, and exiting employees through digital tools and channels are now driving change and equipping HR organizations to be future-ready.
McKinsey and Company recently released insights around this idea and identified nine business imperatives it thinks are integral to becoming a future-ready company, advising companies to:
1. Take a stance on purpose
2. Sharpen your value agenda
3. Use culture as your "secret sauce"
4. Radically flatten structure
5. Turbocharge decision-making
6. Treat talent as scarcer than capital
7. Adopt an ecosystem view
8. Build data-rich tech platforms
9. Accelerate learning as an organization
HR has the opportunity to touch on each of these imperatives, setting the tone for potential hires as the first point of engagement, and the last impression when employees leave. To implement future-ready process changes, businesses—and HR—must become tech-savvy, delivering tech-enabled, consumerized employee experiences that then cascade outward to customer experiences.
Attract and hire: Digital channels have created more places to post jobs and recruit candidates
online. Chatbot interactions that engage candidates during the job search can help personalize the application process. There are also more ways for employees to connect, share their experiences, and evangelize their work culture online—social media, blogging, and employee experience surveys—and cultivate a strong internal culture and sense of purpose about the organization.
Post-offer engagement: Once you've made an offer to a prospective employee, go beyond emails and keep communication lines open with apps that automatically push information new hires need to know before their first day.
Onboarding: Acclimating new employees during their first days can be daunting, both for HR and the new hire. Simplify things with digital form fills, virtual, web-based, live orientations, and re-recorded modules that can be consumed at the employee's convenience. Use digital tools to check in regularly and assess their progress, answer questions, and integrate them into the work culture.
Continuous learning: Help employees grow their skill set, gain new competencies, and advance their careers through online learning. Empower managers and employees to track educational activity and job performance with continuous communication tools so that formal reviews are not surprise assessments.
Continuous engagement: Pulse employees at important milestones related to tenure, appraisal, and promotion, etc., and keep a channel open for frequent, "always-on" connects. Use the feedback to make visible, tangible actions, in partnership with the employees, to engage with the organization and create a strong sense of belonging.
Diversity, equity, and inclusion (DEI): Support virtual employee resource groups that expand awareness and foster open discussions across the organization. Host virtual speaker sessions on DEI topics and use apps that help employees become better global citizens, which also helps attract new employees and retain existing ones.
Conclusion
The rapid pace of change is driving businesses in their evolution toward becoming an autonomous digital enterprise that blends automation into every facet of the organization. It's also changing how and who we hire, and everything related to how HR interacts with employees. More than ever, HR is about creating better experiences and a partnership that's beneficial to both parties. An engaged set of employees helps companies win and retain loyal customers. Building a tech-savvy HR organization that leverages cognitive technologies and fosters ongoing, easy-to-use channels of communication is an excellent place to start.