Women's Equality Day: "Driving Sustainable Progress Towards Gender Equality in the Technology Industry"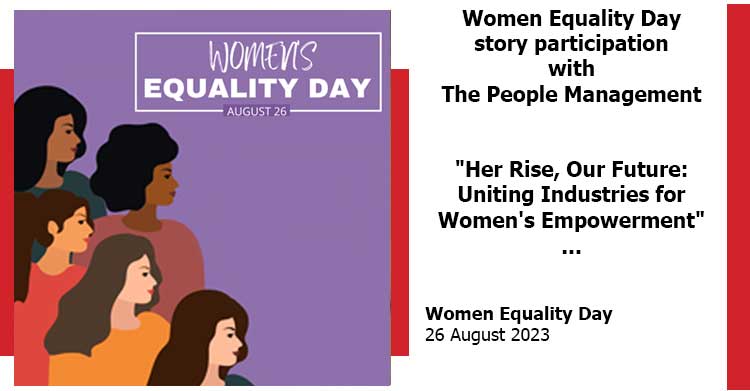 1) Preeti Jain, Senior Manager in Talent Acquisition at Carelon Global Solutions
"We pave the way for a more equitable and thriving workforce by implementing initiatives that foster inclusivity, provide equal opportunities, and amplify women's voices at Carelon Global Solutions. Through our Women Inspired Network initiative, we recognize social barriers that affect women associates and help manage them. Nearly 40% of our 18000 associates are female. We continue to nurture this talent pool through customized learning programs, mentorship sessions, inclusive policies, well-being initiatives and industry-leading benefits, including maternity/adoption leaves. When our associates feel empowered, we unlock associates bringing their best versions to work.
Successfully showcasing women leaders gives room for diverse ideas, leadership strategies and helps to diminish any form of bias within the organization. Nearly 30% of our leadership team are women. Our diversity initiatives are a strategic imperative to our business, and we have been intentional from the start. This focus has helped Carelon Global Solutions succeed in creating an inclusive and safe environment for women and being recognized as one of 'Best Workplaces for Women' among the top 100 best workplaces in the country."
---
2) Olga Lagunova, Chief Technology Officer, GoTo
"India has a robust STEM culture that offers ample opportunities for the growing talent base. Within the country's thriving ecosystem, India's mid-market businesses have 36% of women holding senior management positions, which is 4% higher than the global average of 32%. A strong 21% of the female workforce in India work in core tech companies. While we celebrate these remarkable achievements, there's more work to be done. Women in the industry still tend to face challenges like equitable representation, work-life balance, pay gap, gender bias, societal norms, and more. The true mark of progress is measured not by the pace of innovation, but by inclusivity and diversity. We must consider that quality, relevance, and impact of technology solutions we build today, can be improved by having more women in the team. This Women's Equality day, it is essential that all of us embrace equity and recognise women's contributions, spotlight on need for support on mental health, provide work flexibility and help create opportunities for women to lay the foundation of an equitable future. In the long-term, learning & development initiatives will significantly enhance women's role as force-multipliers behind an economically empowered country."
---
3) Krishna Muniramaiah, Altimetrik Head of HR for APAC region
"In the ever-evolving tech industry, transformation has been our steadfast guide, shaping an exciting journey of growth. It's been a roller coaster ride, opening opportunities for diverse career growth. Once marred by disparities, the tech landscape is now seeing a seismic shift. Women now stand at the forefront of tech innovation – stepping into pivotal roles, driving change, and enriching the industry with their unique perspectives. With abundant resources and the powerful strides made by women, creating a stronger gender-equal future and inclusive workforce is ours to create. At Altimetrik, we are committed to 'Embracing Equity.' We are not just imagining an inclusive future but actively moulding it. We strongly believe in a future-forward vision, committed to empowering women and fostering a culture of inclusivity. Initiatives like WINGS (Women's Initiative for Networking Growth and Success) and MentHerUp, among others, form the bedrock of our culture to foster and celebrate the values of inclusivity and equity. As we celebrate Women's Equality Day in 2023, we want to reaffirm our commitment to empowering our women employees to achieve their highest potential. While we acknowledge that there is still a long way to go to achieve truly equitable representation, with the right technology and a desire to be inclusive, organizations can start making a difference today."
---
4) Sumathi Bhaskaran, Senior Director, Software Engineering at Lowe's India
"Starting from my early experiences in software development and progressing to the role of a senior leader, I've realized that one's aspirations should never be confined by gender. In technology, it is important to be adept at effective problem-solving and bring fresh ideas with out-of-the-box thinking; and that is not gender specific.
In organizations, having equal representation of women prevents potential gender bias and brings in diverse perspectives. Organizations must ensure that women are represented well across levels and build the right ecosystem for women to thrive. We must actively challenge biases, create opportunities and empower women to take every opportunity and become leaders. Sensitivity training to help manage gender bias and creating more women role models could help bridge the gender gap and pave the way for more women leaders.
I'm glad to be part of an organization such as Lowe's where diversity is crucial, and 'equity' is more important than equality. Several of our programs including Bring-Her-Back, Do-It-Herself and our business resource group for Women empower women associates to unlock their full potential."
---
5) Ramesh Kalanje, Vice-President, COE, Commvault
"The past few years have witnessed an increase in conscious women talent hiring, especially in the technology sector. Although change is underway, there more to be done. Organizations need to understand that pursuing women's equality goes beyond moral principles. The sector must embrace the concept of equity to address the imbalance of opportunities available to women. Along with pay parity, equality should be measured by identifying underlying trends such as, unconscious bias, diversity divide, decisions governed by stereotypes, and implicit bias. As technologists, we should consciously try to overcome these notions and create a level playing field.
At Commvault, we believe in making a combined effort to empower women to grow, achieve, and exceed their personal and professional goals. Our 'Women in Technology' (WIT) program is aimed primarily to help women unlock their true potential and reach newer heights, by providing them with valuable networking and learning opportunities. We encourage the power of collaboration over competition to break glass ceilings and create a collective voice. Our Mentorship circles allow women in the workplace to collaborate and combine their strengths, leading to collective empowerment and growth.
Going ahead, we will continue to foster an equitable workspace – where career aspirations are discussed and supported, where differences are celebrated and unique opinions are always appreciated, where innovative strategies are built to create platforms and opportunities for our women Vaulters to feel empowered. A place where we all can make an impact together!"
---