Transform new ideas into tangible business – An Interview With Sameer Bendre| Chief People Officer| Persistent Systems Pvt. Ltd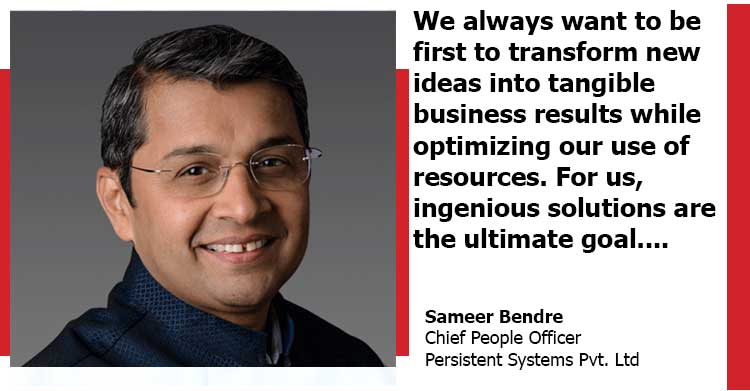 Q1. Persistent has received many Rewards and Recognitions. Can you pls define your company's Core Values?
Ingenious: We always want to be first to transform new ideas into tangible business results while optimizing our use of resources. We are versatile in action and agile in thought because we believe it's important to do more with less. For us, ingenious solutions are the ultimate goal.
Responsible: With our clients' and colleagues' best interest at heart, we act responsibly and communicate with clarity. Our global practice demands respect and openness towards each other, the communities around us and global society at large. We take seriously the trust placed in us and work hard to earn it every day. We never make a promise that we cannot keep.
Persistent: In the face of complexity and rapid change, we are determined to help our customers and our people around the world succeed. The road to joint success may be long but we're persistent where our competitors falter. Our optimism is infectious and helps customers trust in our abilities. Together we build momentum towards our shared goals.
Confident: We meet every challenge with respect and confidence. We trust in our abilities and the difference we can make. We also understand the complexities of modern technology well enough to always keep learning. Every accomplishment and customer success adds to our ability and growth. They deserve to be talked about.
Q2. How is the workforce composition of your industry changing? Do you see non-full-time talent as a strategic part of your talent pool?
It is gradually changing. Individual preferences about their work location, roles are evolving. Similarly business dynamics are evolving too. In the short term there may not be significant change in the full time and non- full time composition as some if it is still driven by customer project needs. However over a period, it is likely to change. Specifically in the Indian context, where new labour code has now acknowledged Gig workers, it may accelerate this shift.
Q3. Organizations are rapidly shifting to a people-first culture as part of the new norm, how do you see that?
At Persistent we have been working with People first culture for few years now. In fact for our HR focus is on 'employee first, customer always', which helps us achieve right balance.
Q4. What is your hybrid work strategy i.e. who will stay remote/ back on-site full time or part-time? Do you believe the office to be an important hub for collaboration, creativity and innovation?
Since early days of last year pandemic we have adopted hybrid work. All our offices have been open and well maintained. Those who wish to and need to come to office have been given flexibility to do so. Those who are preferring to work from home, are continuing. We do believe that social connects at work help develop strong comradery among team members. To that extent teams have been encouraged to use various employee engagement platforms such as meet-n-greet, We Connect.
Q5. Your message to young/ learning HR Professionals?
You are the future of business. Business dynamics have changed significantly in last couple of years. Your ability to keep employee and business connected is going to be very crucial in the organization. Beyond your people skills, learn digital skills, data analytics skills. Develop strong attitude. Learn to weather adversities and rise above.