Shriram Finance – Ensuring access to affordable healthcare for truck drivers | S. Balamurugan | Head-CSR | Shriram Finance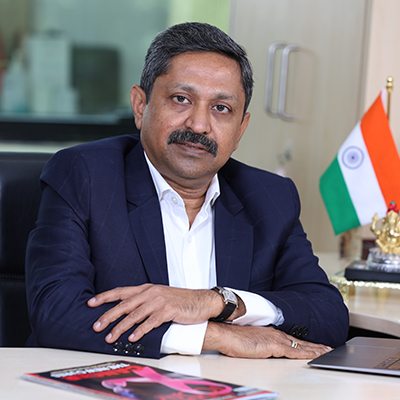 Shriram Finance's Mobile Medical Units: On the move and on the spot – ensuring access to affordable healthcare for truck drivers
Logistics is the life blood that runs through the veins of a nation keeping its industry in robust shape. That being so, the trucking ecosystem ensures that the blood flows through the veins unhindered to keep India Inc., functioning smoothly. Keeping the trucking ecosystem, especially the truck drivers, in good health, then becomes paramount.
The Mobile Medical Unit (MMU) initiative was borne out of Shriram Finance Company's (STFC) conviction that a healthy logistics ecosystem can only be established when the people driving the wheels – the truck drivers, are healthy. STFC, an over four-decade-old and one of India's largest asset financing NBFCs (non-banking financial corporation) specialises in providing holistic finance for commercial vehicles. Truckers are an important stakeholder for STFC. Having studied the commercial vehicle space closely has made us realise that the trucker community is largely cut off from the mainstream healthcare ecosystems due to their occupation. Since they are constantly on the move, they find it difficult to avail preventive health check-ups, consultations, regular counselling, etc.
To provide our truck driver friends with healthcare services at their convenience, we initiated the MMU campaign in 2017 under our CSR agenda. We devised the campaign in consonance with the National Health Mission's (NHM) vision of ensuring that all Indians receive access to quality and affordable health care.
Our MMUs offer free primary healthcare services, including screening for symptoms, diagnosis, treatment, and referral for non-communicable and communicable diseases, and minor ailments. They also carry out awareness, education, and counselling engagements at various locations. The units are on the move and regularly visit places frequented by the truck drivers, such as roadside dhabas, highway hotels, refuelling stations, etc., to provide free health checks, laboratory tests, and medicines to the truck drivers. Although the MMU campaign
significantly focuses on HIV, it also provides basic, crucial and essential medical facilities to the truck drivers.
Since inception, MMU has served ~9.85 lakh beneficiaries, out of which 85% belong to the active trucking community. From April to September 2022 alone, STFC has conducted over 2,000 camps benefiting 93,000 truckers. On an average, over 500 truckers daily receive healthcare services through 14 MMU's and 1 clinic. The medical camps have been conducted on the outskirts of 14 cities namely, Bengaluru, Bhubaneshwar, Chennai, Guwahati, Hooghly, Jaipur, Kolkata, Mumbai, Nagpur, Patna, Ranchi, Silchar, Vapi and Visakhapatnam.
Currently, the MMU campaign covers 11 states. STFC plans to gradually extend the campaign to all states in India. At STFC, we are committed to fulfil the NHM's objective that every Indian should have access to affordable healthcare. We are contributing to it by providing healthcare services to one of our most significant stakeholders. That way, we also ensure that progress flows through India's arteries and veins.