Omega Healthcare to Train 10,000 Rural Youth Under 'Project 10K'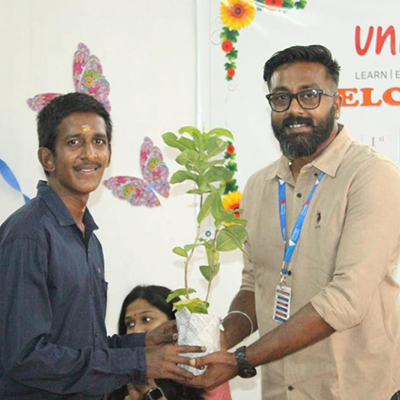 Omega Healthcare, a leading provider of Revenue Cycle Management process and Analytics solutions for the US healthcare industry, has announced its 'Project 10K' to provide holistic skilling interventions to the last mile beneficiaries and first-generation earners across South India. It pledges to train 10,000 youths over the next five years with 21st-century skillsets through a 35-day program to make them industry-ready. The organization will be collaborating with various training partners across southern states to implement this flagship initiative.
The program aims to bridge the skill gap and support youth from low-income families to gain employable skills for sustainable income generation. Under the initiative, youth from underprivileged sections of the society, in the southern parts of India, will be provided with vocational and 21st-century skillsets training that includes training on interpersonal, communication, and English language, digital literacy, confidence building, business ethics, and soft skills.
The flagship skilling program was initiated with a pilot batch of 11 deserving young adults from Tiruchirapalli, Tamil Nadu. This was in partnership with Unnati Foundation, a leading not-for-profit organization well-versed in training youth. The 11 candidates trained at the Skill Center have secured jobs with renowned organizations like Westside and Quess Corp.
On the successful graduation of its first batch under 'Project 10K', Kannan Sugantharaman, Chief Financial Officer, Omega Healthcare said, "Youth is the backbone of the country. At Omega Healthcare, we believe that business should go beyond the company's interest to the larger population and the society we operate in. As part of our 'Project 10K', we aim to create a better tomorrow and help India enjoy its demographic dividend."
"We are delighted to partner with Omega Healthcare in their endeavour to upskill the youth and make them job-ready. It is a proud moment for us as we walk hand in hand with the youth of the country in their journey to achieve their dreams.", said Ramesh Swamy, Director, Unnati Foundation.
Omega Healthcare is committed to its legacy of excellence to transform communities and create a better life for people. Project 10K is part of their CSR (Corporate Social Responsibility) vision of skill development of rural youth. The brand aims to create a social impact by taking skill development for gainful employment to the remotest areas.
Sunanda Rangarajan, Head of CSR, Omega Healthcare added, "It is the need of the hour, given that innumerable youth have lost their jobs during the pandemic. Skill building is the key to successful nation-building. We believe in investing in rural youth, providing them an opportunity to upskill themselves, thus aiding in community transformation."
(For more information, please visit: https://omegacsr.com/)