Omega Healthcare to provide free vaccinations to the economically disadvantaged in Trichy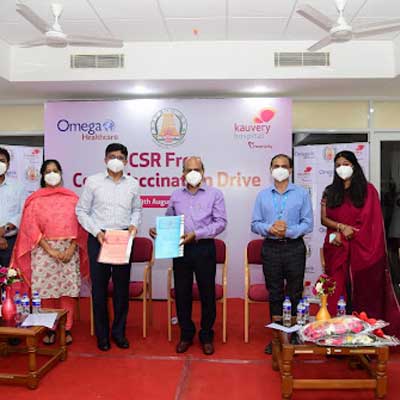 Omega Healthcare Management Services has partnered with the Government of Tamil Nadu and Kauvery Hospital Heartcity to conduct a free mobile vaccination drive for the underprivileged people in the rural areas of Trichy. The initiative aims to reach the financially challenged and vulnerable group of people and help them combat COVID-19.
The initiative was inaugurated by Mr. Kannan Sugantharaman, Chief Financial Officer (CFO), Omega Healthcare Management Services, Mr. Narayanan V – Senior Vice President and Trichy Location Head and Ms. Sunanda Rangarajan, Head of Corporate Social Responsibility, along with the management of Kauvery Hospital Heartcity who included Dr. T. Senthilkumar, Executive Director, Kauvery Heartcity, Dr. R. Shanthi, Medical Administrator and Mr. Androse Nithiyadoss, General Manager.
Speaking of the collaboration Thiru. Ma. Subramanian-Minister for Health and Family Welfare-Tamil Nadu, said, "Our fight against COVID-19 is a united effort. While the government is doing all that is required, our goal to vaccinate the entire population in the state will certainly succeed with the help and support of responsible corporations like Omega Healthcare and Kauvery Hospitals. We thank and appreciate their gesture in partnering with us through this initiative."
Mr. Kannan Sugantharaman, CFO-Omega Healthcare, said, "Vaccination is our only weapon against the deadly virus. Through this initiative, we are doing our bit to enable efficient access to vaccinations for the people in need and especially safeguard the vulnerable groups in our communities against COVID-19. We are happy to collaborate with the Government of Tamil Nadu and Kauvery Hospitals, and continue our CSR efforts on a larger scale."
Dr. T. Senthilkumar, Executive Director from Kauvery Hospital Heartcity said: "We at Kauvery have taken various measures in disseminating the awareness on Covid-19 Vaccine to all the patients and we experience that people started volunteering themselves to have vaccines when they approach us for more clarifications on taking vaccine. Thanks to Tami Nadu Govt. for taking enormous efforts and initiatives towards eradication of COVID-19."
With COVID-19 still being virulent and mutating, vaccination plays a huge role in overcoming this global pandemic. Earlier, Omega Healthcare has successfully conducted vaccination drives across its offices in Trichy, Bengaluru and Chennai. Vaccine doses were administered to the employees and their family members, in-house support staff as well as the neighborhood community of Omega's offices.
About Omega Healthcare Management Services:
Omega Healthcare helps payers, providers and pharmaceutical companies eliminate administrative burdens, accelerate cash flow, and reduce health management costs while enhancing patient care. The company streamlines medical billing, coding and collections processes and also provides virtual nursing services, including triage, care continuation, clinical documentation improvement and re-admittance avoidance. Combining the largest medical coding staff in the world with proprietary technology, analytics and automation capabilities, Omega provides the most comprehensive outsourced solutions in the industry and is ranked among the top revenue cycle management business process services by industry analysts. The company, backed by Goldman Sachs Merchant Banking and Everstone Group, was founded in 2003 and has more than 18,000 employees across India, the Philippines and the United States. For more information, visit www.OmegaHMS.com
About Kauvery Hospital:
Kauvery Hospital grew out of the vision of doctors who chased their dream to provide quality healthcare at affordable costs but with a personal touch, especially to the mid segment of population in cities like Trichy that lacked tertiary care. The hospital commenced its modest operations as a 30-bed trauma care centre in Trichy in 1999. Today, it is a multi-specialty hospital chain with 1500+ beds in five cities including Trichy, Chennai, Salem, Hosur and Bengaluru, where seven hospitals with a workforce of more than 6,000 provide exemplary secondary and tertiary care. Since inception, Kauvery Hospital has been on a perpetual quest to keep up with the ever-changing requirements of healthcare, possibly, always a step ahead.