MediaTek Scales up R&D to Strengthen Presence in India
Aims to solidify position as leading global chipset provider
To hire managerial and technical leaders to expand research & development & design capabilities in India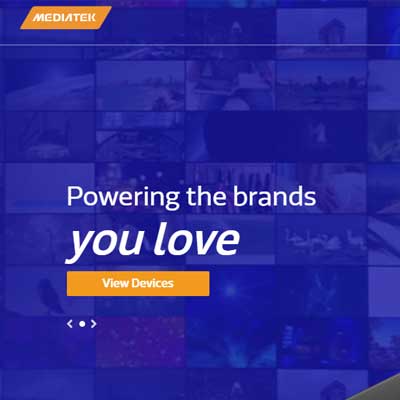 MediaTek, the world's 4th largest global fabless semiconductor company and a frontrunner in the R&D segment, announced significant hiring plans in FY 2022 as part of the R&D facility expansion and commitment to the India Market. With a focus on developing an innovative and comprehensive range of solutions, MediaTek is looking to hire across offices in India, with a focus on AI technologies, smart home/enterprise segments, 5G and wireless communications among others.
MediaTek aggressively invests in R&D and cutting-edge technologies and, in 2020, MediaTek invested approximately US$2.6 billion (24% of revenues) in R&D, which is among the top global R&D spend by semiconductor companies, according to IC insights. In 2021, MediaTek further expanded its R&D budget to over US$3billion for future business growth opportunities. MediaTek leads the market in chipset technology for smartphones, smart TVs, ARM-based computing devices and various AIoT connected devices such as voice assistant devices (VADs) optical and Blu-ray DVD players.
"India is an important market for MediaTek and we are reiterating our commitment and support to the government's Make in India program by investing in local Indian talent and scaling capabilities to drive innovation for India and global markets," said Rituparna Mandal, General Manager, MediaTek Bangalore.
MediaTek recently emerged as the preferred chipset partner for smartphone OEMs in India, and over 92% of all managerial positions at MediaTek overseas sites are locally hired.
"We plan to hire aggressively from Indian campuses this year, to strengthen our research and product design capabilities across research centres in Bangalore and Noida," said Mandal. "People are our greatest asset and we aim to hire managerial and technical leaders who can help us make a quantum leap in innovation and achieve our goals of developing advanced and inclusive solutions. We look forward to welcoming the new members into the MediaTek family."
MediaTek works with the world's biggest brands and gives its partners and customers feature-rich, premium technology spanning backend and frontend hardware engineering. With the new hiring initiative, MediaTek is keen on augmenting skills such as protocol stack development, digital signal processing, Wi-Fi technology and field testing.
MediaTek is known for its focus on internal training and mentorship programs and believes in investing in the growth and development of its employees. The chipset company trains new employees through a two-pronged program that involves partnering with external teams and creating internal training modules. MediaTek also offers employees internal e-learning platforms and regular opportunities for upskilling. Employees in leadership positions are offered technical training sessions relevant to their responsibilities.
MediaTek's human resource management policies are in line with the company's best practices concerning employee wellness. Since the pandemic, MediaTek has offered care packages to all employees, enabling them to manage better in the unprecedented situation. In 2021, MediaTek's care package focused on employee wellness and included yoga classes, fitness and meditation sessions as well as other activities boosting mental and physical wellness.
About MediaTek Inc.
MediaTek Incorporated (TWSE: 2454) is a global fabless semiconductor company that enables nearly 2 billion connected devices a year. We are a market leader in developing innovative systems-on-chip (SoC) for mobile device, home entertainment, connectivity and IoT products. Our dedication to innovation has positioned us as a driving market force in several key technology areas, including highly power-efficient mobile technologies, automotive solutions and a broad range of advanced multimedia products such as smartphones, tablets, digital televisions, 5G, Voice Assistant Devices (VAD) and wearables. MediaTek empowers and inspires people to expand their horizons and achieve their goals through smart technology, more easily and efficiently than ever before. We work with the brands you love to make great technology accessible to everyone, and it drives everything we do. Visit www.mediatek.com for more information.