Managing Talent and Culture in Challenging Times | Brillian S. K. | Sr. V. P & Head Human Resources | Times Professional Learning (A division of Bennett Coleman & Co. Ltd)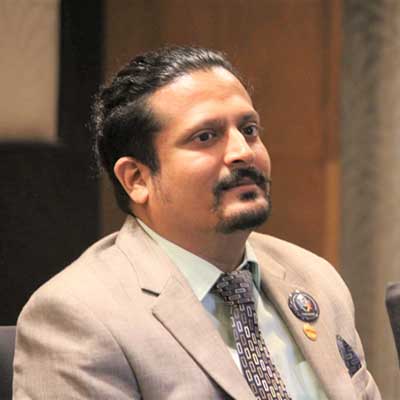 COVID-19 stormed in without any warning signs forcing organisations to rethink on ways to manage talent and culture. This has left even VUCA experts baffled as no one ever created an SOP to deal with such unforeseen disruptions. These are unprecedented times and CHRO's are struggling to find the best way to overcome this unfathomable challenge.
Digital, Online, Automation are the new buzzwords. Organisations need to focus on creating value and sustain growth in an environment that is highly volatile and unpredictable. CHRO's need to Reinvent, Innovate, and Adapt while strengthening a culture that remains focused on People, Performance, and Growth.
Given that none of us had ever faced such challenge, there are no guidelines or ready reckoner available for us to bank on. As HR Leaders, it is time for us to think out of the box and come up with innovative ways to manage the current crisis situation.
Communication is the key. Communication, communication, and more communication with teams at the right time is the key to cut all the negativities. Openly communicating about how the business is planning to move forward helps build confidence in an otherwise gloomy scenario.
More than ever this is the time to connect and engage with your teams, weekly/fortnightly team meetings and even having "fun parties" online is encouraged. Making sure that there are frequent reviews with top/senior leaders aids in bringing back the focus and drive. Talent takes time to build and this is one asset that you want to hold it close to your heart during these times. Not engaging talent continuously with the right communication can expose the organisation to a threat of poaching and/or exodus. Communication channels must remain continuous, open, and transparent at all times.
Going virtual has changed the way we look at culture. Every day poses newer challenges and uncertainties and work from home is testing organisation culture and its ability to adapt, adjust and act. For teams working remotely and managing household chores while balancing work, it is no wonder that stress is bound to pile up. Besides, the new work-at-home culture brings in unplanned disturbances from children, pets, or just about anything. It is therefore important to focus on productivity and performance. The digital world is now an integral part of the culture and is likely to continue for a longer time. This brings forth the need for setting standard guidelines to improve the productivity of work from home teams.
In the BC (Before COVID) era, R&R (Rewards and Recognition) with fan-fare was something that team members looked forward to. In the AC (After COVID) we need to replicate this experience online. Virtual R&R could help build a sense of belongingness, celebrating not just business achievements but stories of our very own COVID heroes and sheroes.
While we are geared up to manage the experienced lot, managing the newcomers' experience is also important. I still remember my experience as a new comer and the excitement of walking into the office filled with people getting introduced to team members and going out for the on boarding team lunch. In a virtual world, newcomer to the team will no longer have this kind of experience, which goes a long way to build bonds and learn about the organisation. Staying connected, handholding and making sure that the newcomers get comfortable are the new challenges for not just CHRO's but team managers as well.
What gets measured, gets done! It is critical for CHRO's to make sure that they have the right metrics in place. Be it productivity, learning hours, employee wellness (a key area that is often overlooked) or revenue per employee that provides insights on how we are performing. It's no longer just about attendance and leave management.
It's time for us to put our thinking hats on managing talent and building a culture that helps us not just to survive this pandemic but to thrive as we get back to normalcy.