Judge India Solutions for The People Management Network | Abhishek Agarwal | President | Judge India – Global Delivery | The Judge Group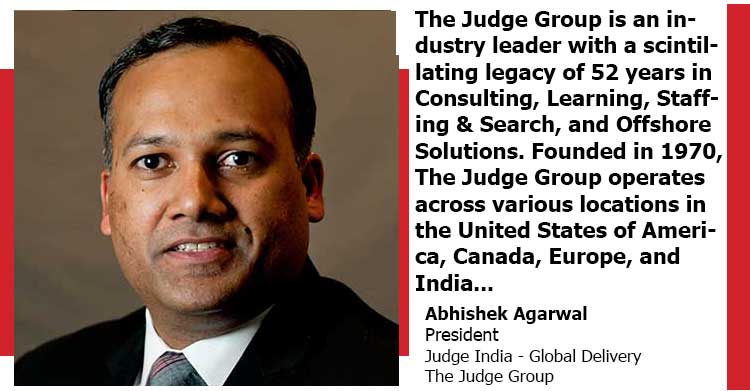 The Judge Group is an industry leader with a scintillating legacy of 52 years in Consulting, Learning, Staffing & Search, and Offshore Solutions. Founded in 1970, The Judge Group operates across various locations in the United States of America, Canada, Europe, and India.
Size- $750MM in revenue and 10000+ Annual Workforce
Footprint- 30+ Offices in the USA, Canada, Europe, & India
Judge India Solutions is a 100% subsidiary of The Judge Group, a seasoned international professional solutions provider with a legacy of 50+ years. We provide solutions for prestigious global brands that include over 60 of the Fortune 100 companies & more. We were established in India as an Offshore IT & Learning Center in 2016 and within this span of 6 years, we're all set to pioneer the field of IT, Learning, e-Governance, and Talent Solutions. At Judge India Solutions, our primary strength lies in the people-powered and people-centric approach that helps us to deliver excellent results.
We started with a small team of 17 employees and today, we are a strong talent community of 500+ experts. We're also expanding to new horizons in the Indian subcontinent with two new offices – in Bangalore and Hyderabad.
Our legacy inspires trust in our clients about our solutions and products. Our consistent growth and expansion across the globe and within India and the growth in our talent community speak volumes about our dedication and commitment to our vision. The value of customer centricity is our business imperative.
As we call ourselves a people-powered organization, our people are our brand. Our core management team of leaders has been hand-picked in a manner that they can cover all the possible shortcomings with experience in their respective departments. All of our leaders bring experience from diverse backgrounds bring business expertise to the table, believe in a collaborative approach, lead a progressive mindset, and that's what makes them uniquely
qualified to run our business successfully.
Services
DIGITAL TRANSFORMATION SOLUTIONS
We help clients in their digital transformation service with our advisory & implementation portfolio across emerging technologies.
IT SOLUTIONS
Focused solutions spread across IT consulting, development, execution, and management of IT applications and Infrastructure
E-GOVERNANCE SOLUTIONS
We have a wide array of solutions available for ameliorating the efficiency and reliability of E-Governance.
LLEARNING SOLUTIONS
Clients can choose from a variety of learning modules curated for their varied needs. From technological learning to leadership programs, we offer it all under one umbrella. Our revolutionary LMS – BRIHHA also makes e-learning accessible with AR / VR & more
TALENT SOLUTIONS
We help companies find the optimum resources for each type of role that needs filling. From individual contributors to C -level executives, our expertise in staffing helps to recruit the best-suited candidates.

Products
Brihha LMS
Brihha is the revolutionary Learning Management System developed to solve the collaboration issue in the online environment for universities and corporates. We focused on designing and building a product that can use by all age groups users in different environments. It provides centralization of all the features that learners and administrators require for knowledge retention
Vardaan
Vardaan is a comprehensive Disaster prediction and management system where government and disaster management organizations can predict future disasters and prepare infrastructure and resource plans to manage relief activities. The solution will provide Incident Reporting, tracking, and resolving framework to the involved authorities and increase engagement.
JeCity
JeCity is an enprovidesd-to-end IoT platform applicable for any scale of enterprise IoT projects for Smart City. It a range of features that enable System Integrators to build advanced applications for smart products, flexibly manage their connected devices via the cloud, orchestrates end-to-end data processing, analyze device telemetry, and many more.
Customized ERP
Customized ERP solutions allow you to extract, automate, and organize such data which helps to develop the insight required for smart business moves. ERP software allows organizations to become more flexible and efficient by making data-based decisions.
Recent Achievements & Recognitions
 The Judge Group India: India's Most Trusted Brand Awards 2022 (India's Most Trusted Consulting, Learning & Talent Solutions Firm)
 Won The Stevie International Business Awards for the "Most Innovative Tech Company of the Year"
 Won AsiaOne "Global Brand of the Year 2020-21"
 Won SKOCH Award 2021 for "Inspirational/Transformational Performance during COVID- 19"