It's a wrong notion that moonlighting is only for money | Brillian S K | Chief People Officer & Head Places and Processes | TimesPro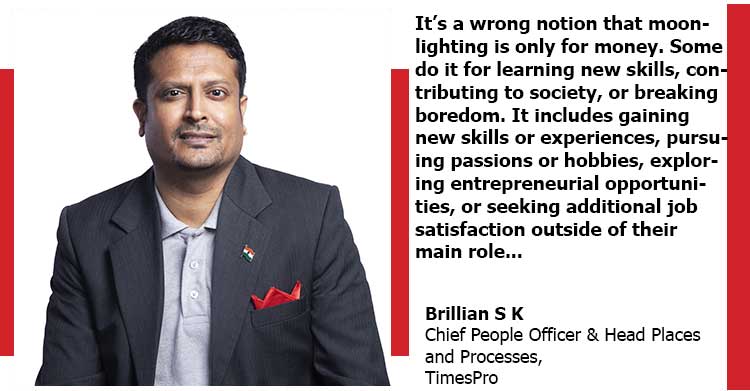 "It's a wrong notion that moonlighting is only for money. Some do it for learning new skills, contributing to society, or breaking boredom. It includes gaining new skills or experiences, pursuing passions or hobbies, exploring entrepreneurial opportunities, or seeking additional job satisfaction outside of their main role."
In Conversation with Brillian S K, Chief People Officer & Head Places and Processes, TimesPro
Q1. Moonlighting has become a big challenge for HR Leaders. Do you think monitoring policies such as moonlighting could be challenging?
Yes, monitoring moonlighting policies can be challenging for HR leaders, especially if it becomes a trend in the organisation and raises concerns, especially with conflict of interest, productivity, and availability. Implementing effective monitoring policies requires striking a balance between respecting employee rights and privacy while safeguarding the interests of the organisation. It can be challenging to establish clear guidelines and ensure consistent enforcement without infringing on privacy and the right to personal time. Employers may define criteria to ensure employees' second job does not interfere with their primary job responsibilities. If we can devise outcome-based productivity tools, many of the issues can be resolved. The problem and the solution lie in finding the sweet spot that balances the interest of all parties involved.
Q2. What is the biggest reason for moonlighting apart from earning extra money?
It's a wrong notion that moonlighting is only for money. Some do it for learning new skills, contributing to society, or breaking boredom. It includes gaining new skills or experiences, pursuing passions or hobbies, exploring entrepreneurial opportunities, or seeking additional job satisfaction outside of their main role. Some employees may also engage in moonlighting to bridge or fulfill specific needs, such as paying off debts or funding education.
Q3. Many of the industry and HR Leaders have accepted the concept of moonlighting subject to a declaration of conflict of interest. Do you think that moonlighting will be the Future of Work?
Although moonlighting can negatively impact a company's culture and the relationship between employees and their managers, some employers believe it may help employees learn new skills, retain talented employees, and stay cost-effective. Whether it will be the future of work or not, depends on various factors and employers' perspectives. With the rise of the gig economy, flexible work arrangements, and the desire for individuals to pursue diverse interests and income streams, organisations and HR leaders are increasingly acknowledging the concept of moonlighting. They are laying out processes requiring employees to declare conflicts of interest to manage any potential ethical or legal issues, allowing individuals to engage in additional work while ensuring transparency and mitigating risks for the organisation. It would not be long before we could all only look for gig workers/project work and lifelong employment may no longer exist.
Q4. After great resignation, quiet quitting came quickly. What are the major reasons for quiet quitting?
There is no straight-line answer, nor would it be exhaustive, however, "Quiet quitting" may be attributed to a lack of job satisfaction, limited growth opportunities, ineffective leadership or management, poor work-life balance, feeling undervalued or unrecognised, or experiencing a toxic work environment. Employees may choose to disengage silently instead of resigning outright due to concerns about financial stability, fear of repercussions, or a lack of alternative employment options.
Q5. However, there are no set solutions for these problems, according to you, what are the best Corporate Practices to control both moonlighting and quiet quitting?
There are several corporate practices that can help mitigate the challenges in organisations.
It can start by establishing transparent guidelines regarding moonlighting and work expectations to ensure employees understand company policies and any potential conflicts of interest. This needs communication of company values, feedback mechanisms, and encouragement of open dialogue. Creating an inclusive, supportive, and motivating work environment that values employee well-being, growth, and recognition and encouraging work-life balance, providing development opportunities, and promoting regular feedback and communication channels will better the organisational ecosystem. Also, ensuring employees are fairly compensated for their work, get benefits that meet their needs, and opportunities for growth and advancement within the organisation. It can help reduce the motivation for employees to seek additional employment elsewhere. Furthermore, supporting employees in acquiring new skills, expanding their knowledge, and exploring their interests within their current roles by offering learning and development programmes can increase job satisfaction and provide growth opportunities.
To gauge employee satisfaction, corporate practices can implement anonymous surveys. This also helps in calculating engagement levels and identifying potential concerns or areas for improvement. Corporate practices must actively listen to feedback and take appropriate actions to address issues promptly. They must encourage and support work-life balance initiatives such as flexible work arrangements, remote work options, and policies that prioritise employee well-being. This can help reduce the likelihood of employees seeking additional employment to meet personal needs. An important point to remember is that the effectiveness of these practices can vary depending on the organisation's culture, industry, and specific circumstances. Regular evaluation, adaptation, and open communication with employees are crucial to effectively address moonlighting and quiet quitting concerns.