Interview with Prof. Sahu, Director, IIITM Gwaliar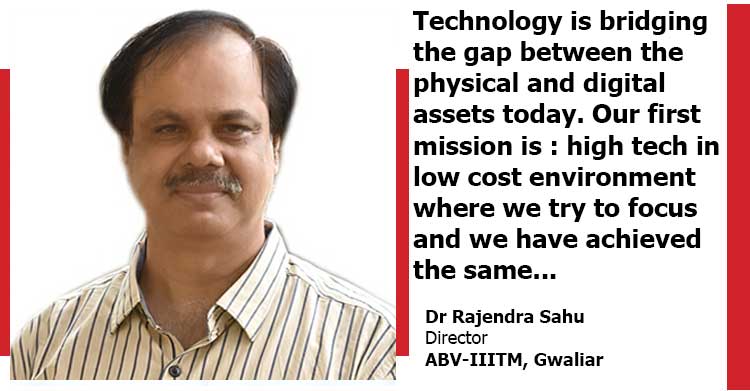 Dr Rajendra Sahu is a Director at ABV-IIITM, Gwaliar. He earned his Ph.D from IIT Kharagpur, after completing his master's degree both in Management and Engineering. Professor Sahu has been awarded as the Best Professor in Knowledge Management by 26th Business School Affairs and Dewang Mehtra National Education Award. He has also been honoured with the prestigious Dr. Abdul Kalam Gold Medial in 2015, as a Lifetime Achievement Award to distinguish and meritorious Indian personalities for his outstanding individual achievements in the field of education and research. He has been associated with various national and international boards.
His primary area of interest are Systems Approach to Management, Business Analytics, IT-enabled Services, ERP, Supply Chain Management, Knowledge Management Data Warehousing and Data mining.
Interview with Dr Rajendra Sahu| Director| ABV- IIITM, Gwaliar
Q1. ABV-IIITM, Gwalior stands as one of the premier Institute in India. How far has ABV-IIITM, Gwalior grown as a center of excellence in different aspects of management education from its establishment?
A1. ABV-IIITM ( Atal Bihari Vajpayee Indian Institute of Information Technology & Management), Gwalior was the first Institute which was developed with area of IT and IT applications into businesses that is why the name appropriately stands is IT & M ie. IT and Management. If we look back, over the years, the global economy and Indian economy today has become more digital. Any sector that is becoming digital, the driver is technology which in turn is IT that is integrating technology. Technology is bridging the gap between the physical and digital assets today. Our first mission is : high tech in low cost environment where we try to focus and we have achieved the same. Moreover, many technologies that we have developed, have become so popular, we really feel happy about it. Our students have become entrepreneurs We focus more on the entrepreneurship spirit or the innovative spirit which is the prime focus of this Institute. Our students are doing very well , particularly into the corporate world. As far as the placement packages part, the Institute is doing very well.
Q2. Is the institute organizing any special training programmes for faculty in terms of blended teaching?
A2. 25% of our faculties are mandatorily visiting faculties because people who are developing these technologies whether they are at corporate level or those who are applying on business level, or are from the research centres which are creating and developing these technologies, we normally have them almost at regular intervals every week. So we have been adapting a practice of having the learning from the corporate world. We also operate trainings on weekends. We have been doing various trainings on a regular basis for all level of faculties.
Q3. Industry has suggestions that universities need to work their part with the students to make them employable. Where do you think our curriculum is lacking in providing the students to make them fit for the Corporate?
A3. The Institute has course curriculum suited for corporate needs. We have designed from the beginning self-taught courses and are upgrading the courses regularly. There are certain industries wherein we have our collaborations and we regularly see where we are moving towards. We have peer mentoring system wherein the students who have passed out or who are in the middle management mentor students because they will be able to coach students better than the very senior leaders. So we have various systems of talking to them, meeting them, corporate meets etc. Also we continuously interact with the corporate world. We put our students into training in various places like initially social systems ie NGOs,. There they would like to see real grassroot problems because it is the people who drive the industry and accordingly they may choose their career. Thus, our course curriculum is designed as per industry demands because if we teach something which is not wanted, then neither students will be happy nor students will be placed. Thus, we want our students to feel happy that whatever they have learnt, they will apply the knowledge in Corporate world.
Q4. India has the world's largest higher education system in terms of number of education institutions, but its presence in the international education system has been abysmally below its true potential. Share your views how Internationalization of higher education can be a game changer for India?
A4. If we look at markets, India is placed highly in terms of investments drives, calling cities SMART etc. Our economy is also coming up We have become a digital power particularly in services and today the world is looking at India as a Services hub. Many of the Govt. of India's initiatives are also in this direction:- Make in India, Made in India.