Impact of Employee Empowerment, Training, Development & Mentorship Program in The Field of Healthcare | Partha Das | Chief People Officer | Manipal Hospitals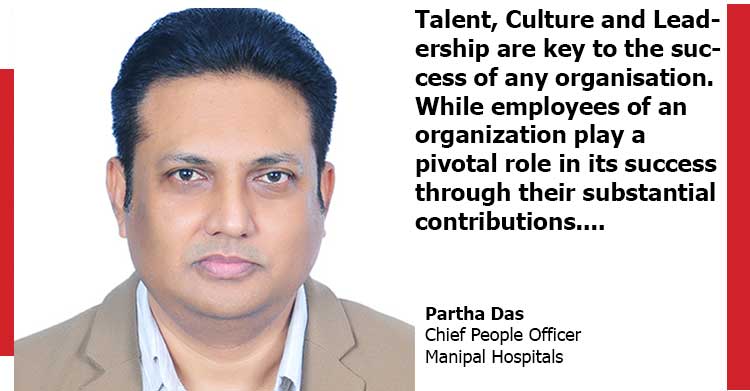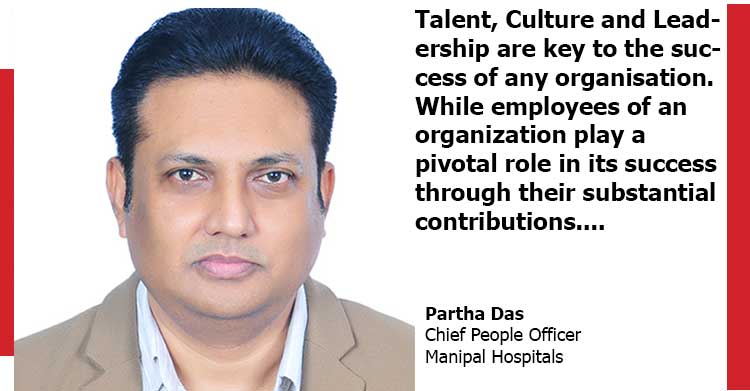 Talent, Culture and Leadership are key to the success of any organisation. While employees of an organization play a pivotal role in its success through their substantial contributions and persistent efforts, a good leader believes in people engagement and connects well with his/ her team members to be able to nurture them. The problems impacting employees also concerns the business leaders as it continues to become a business issue. It is thus crucial to have HR interventions aligned with the employee's growth and build a collaborative organisational climate for HR to achieve this.
Employee brand is linked with organizational brand helping deliver brand promises to customers. Therefore, an organisation needs the right talent, and for that, the right people must be employed in the right positions. Once they are on board, it is important to manage and track their performance to get the best possible outcome. However, they should also be encouraged, motivated, and pushed forth to succeed in their professional endeavors.
The organisation should lay the groundwork for skill development where it is necessary through various Learning and Development initiatives. Overall, having a strong talent management model in place will ensure employees' seamless professional growth.
A firm hand is required to make sure this is implemented right. A good leader here, should be able to lead by example, inspire his team, cultivate effective listening skills, and garner insights from his interactions with them. The team's voice should be amplified by the leader in an effective manner.
A good leader should strongly believe in the philosophy of empowering, guiding, coaching, motivating, rewarding, and mentoring.
Empowering: Empowerment is the first step for a leader in the making. It not only helps the employees to gain confidence, but also acts as a powerful tool to build trust. Employees are often exhorted to believe in making meaningful efforts and taking calculated risks to attain agreed goals. Various surveys have shown that employees perform the best when they are given stretched targets. Naturally, this pushes the employees to work towards their full potential – or go beyond. A cocktail of stiff targets and adequate empowerment can bring out their creative best, helping in achieving tough goals. This could result in failures, too. But it is important to know that every failure is part of a learning curve.
Learning: Learning is a continuous process. It needs to be translated into action and made an integral part of life. L&D are important segments of the employee lifecycle, irrespective of the type of industry. The healthcare industry, which deals with patients and complex situations, offers huge diversity to employees. This in turn provides massive scope for L&D for the employees.
Talent Development: Organisations should have a host of interventions as part of their Talent Development initiatives. High-end external HR consultants should be engaged to support in such initiatives to provide the "outside in approach". Employees, including the leaderships team should be made to attend workshops / programs to spruce up their behavioural and leadership skills.
Mentoring: Offering various forms of mentoring to boost performance and bolster retention impacts positively on the employees. One should try to adopt a participative approach for mentoring. Also, mentors should show their real selves – with success stories, achievements, failures, learnings, and knowledge to establish a strong human touch and connection. Organisations should encourage their leadership team to offer mentorship to the team to leverage on the learning.
All of these factors support the professional development of the employees. In turn, they give best of themselves towards the organisation, ensuring its growth and success.