IMM BeaYOUtiful Colloquium-2022
IMM BeaYOUtiful Colloquium-2022 successfully held on 7th March, 2022 at India Habitat Centre, New Delhi.
The event was organized by IMM, Delhi alongwith the Media Partners : The People Management and Business Standard. Gifting Partners : Puma, Awesome, Burger King, BBLOOM, Better Bites and Other Business Partners : FULKI, Dalchini and others.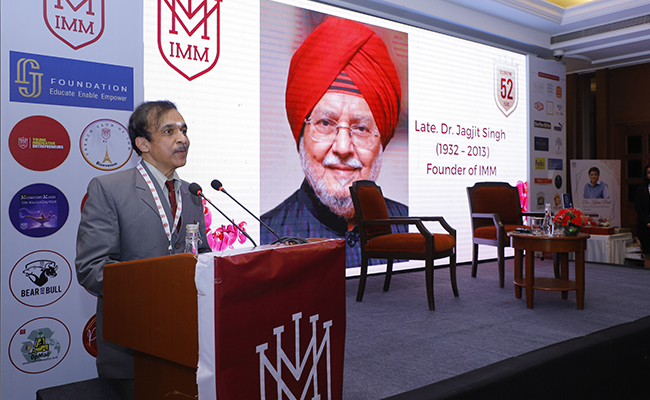 Dr. CV Ramanan, Director, IMM Business School, welcomed Chief Guest, Hon'ble Dr. Kiran Bedi, Former Lt. Governor of Puducherry & IPS (Retd.) and Author – Fearless Governance and all Esteemed Speakers, Invitees, Guests, Corporate Gift and Media Partners.
The First Session was exclusive session with The Chief Guest, Dr Kiran Bedi. Prof. Smita Lal, Dean, IMM Business School also welcomed and invited the Chief Guest Dr. Kiran Bedi and explained the audience about her successful journey and said she is a Role Model for Women in India. After Dr. Bedi's introduction Prof. Lal introduced Ms Uma Arora, CEO & Chief Facilitaror- Idam Learning, President- Asia Pacific Alliance of Coaches for the further interaction and kick start of the First session.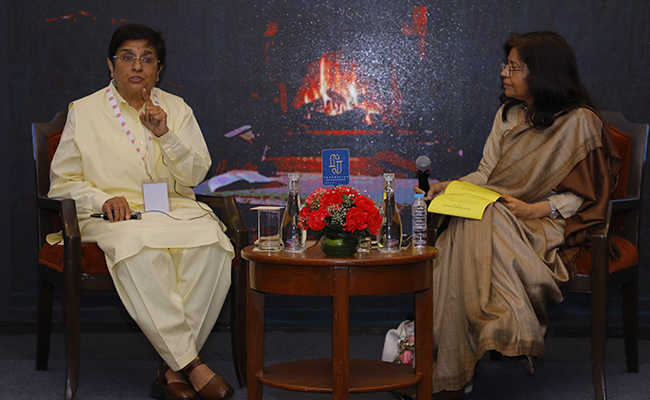 The Chief Guest, Dr Kiran Bedi in her wonderful session talked about diversity and inclusivity. She said the although men and women are studying and growing together thus the professional and personal challenges are same for both the genders. She gave a mantra of "T" i.e. TRUST. She had very well explained about the value of a
"Trustworthy Leader". She further advised the students that they should do their home work before apprearing for an interview i.e complete information about the organization and its profile, rules and regulations with a very clear and crisp mind set. She also pointed out the major upcoming challenge for youth i.e. Parenting Management. She further advised that home management is an art and both partners should participate equally at home too. While addressing the students for future corporate ready, she advised them to read books, newspapers to access more and more knowledge. She also explained about her book
"FEARLESS GOVERNANCE"– the book is all about the right Leadership and Practices thru Fearless Leadership. She further advised to the Management Institutes and Universities to provide these kinds of books to the students for case study purposes not only once in a blue moon but Book of the Month theme basis so that students may read the ground realities, challenges and solutions and can make themselves ready for the Corporate/ Professional front.
Dr. Bedi also talked about the Importance of Sports for students, mentioning that Sports keep a person strong and fit both mentally and physically.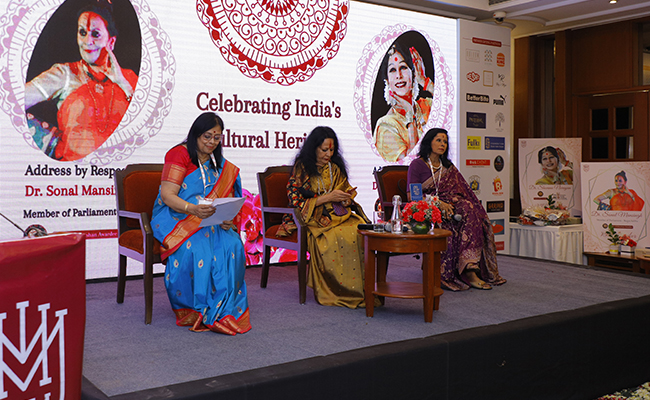 The Second Session was on "Celebrating India's Cultural Heritage" – special interactions with India's eminent Speakers Dr. Sonal Mansingh, Member of Parliament- Rajya Sabha, Padma Vibhushan Awardee, Guru and Iconic Dancer- Bharatanatyam & Odissi and Dr. Shovana Narayan, Padma Shri and Sangeet Natak Akademi Awardee, Kathak Dancer and IAAS (Retd.)
Dr. Sonal Manshingh, the eminent speaker of the second session explained very well about the Faith in task and performance. She said if you have full faith in your chosen career, awards and recognition will follow you. She shared her various professional experiences with audience with her one major experience of an accident and how she returned again for the stage performance, it was only possible due to her faith. She further raised the question specially from Women audience that where is the name of Women in public place? Lastly Dr. Mansingh said that every day, 365 days, are for women, they can achieve any heights with this, she wished Women's Day!
Dr. Shovana Narayan, the second eminent speaker of the second session beautifully explained that Men and Women both are important and plays different roles in the society. They may work together to create equality. She further said Trust and Goal are very important in your life. She advised the girls to object for the dowry system specially when they are very well educated? Girls should come ahead and raise voice against Dowry System and support the Drive "Me Too"!
Last but not least she performed 5 Mudras of "Ghunghat" which was the great attraction in the session which audience liked and enjoyed a lot!
The Third Session was on "Break the Bias- Challenges and Way Forward"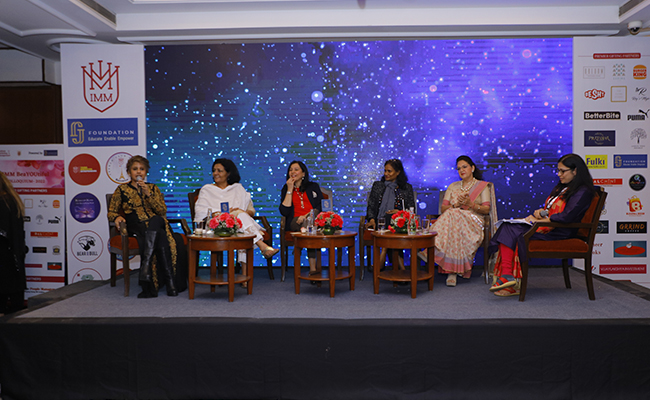 The Session's Moderator was Prof. Rituparna Prasoon, HR, IMM Business School with eminent speakers : Ms Kanta Singh, Dy. Representative, UN Women India Office, Dr. Archana Singh, Lead-Corporate Affairs & Sustainability, Hero Motors, Ms Preeti Gugnani, Educationist & Inner Wheel District- National Vice Representative 2022-23, Ms Jayanthi Jagannath, CHRO, K&S Partners, Ms Anuradha Sharma, Founder and CEO, Fulki Communications Pvt Ltd.
The Session's Moderator, Prof. Rituparna Prasoon welcomed all eminent speakers and throw questions to each experts in the session.
Ms Kanta Singh, Dy. Reprsentative, UN Women India, the speaker of the session said Gender equality is very important for quality work. There are more women professionals in all arena but lot of things to be looked into. Supporting each other is also important to move forward. When asked by Ms Rituparna Prasoon that boys do not have soft skills etc ., she answered very well that boys are equally soft and we are not complete without each other.
Dr. Archana Singh, Lead-Corporate Affaors & Sustainability, Hero Motors beautifully said that barriers can be turned into opportunities when asked by Prof. Prasoon about the barriers and challenges for women in personal and professional life. Further she said all are responsible equally between sexes.
Ms Preeti Gugnani, Educationist & Inner Wheel District- National Vice Representative 2022-23, clearly pointed out that the difference can be seen everywhere whether it is Political status or Business arena. However, women have given different capacity and ability to perform which men cannot do! Further she said that we should think of what we can do and stand for each other.
Ms Jayanthi Jagannath, CHRO, K&S Partners in the session said Inclusion of Women in Board is very important to empower. The
Session's Moderator, Prof. Rituparna Prasoon raised a relevant question that why we say Strong Candidate required in Job Descriptions? Ms Jagannath advised that HR can play an important role to correct these things i.e. in hiring processes, job descriptions etc. Women leaders can also perform equally if given a chance in any area whether politics or in board .
Ms Anuradha Sharma, Founder and CEO, Fulki Communications, the speaker of the session well said that there is no difference between men and women, it is all in mind-set! Further she said that Women prefer jobs and business owner as second option. However there are many societal and financial reasons behind it but women need to negotiate and take forward.
The Third Session was dedicated to the Guest of Honor- Ms Pratibha Advani, Television Producer followed by IMM's 30 Star Alumni Awards- Dazzling Divas and welcomed by Dr. CV Ramanan, Director, IMM Business School.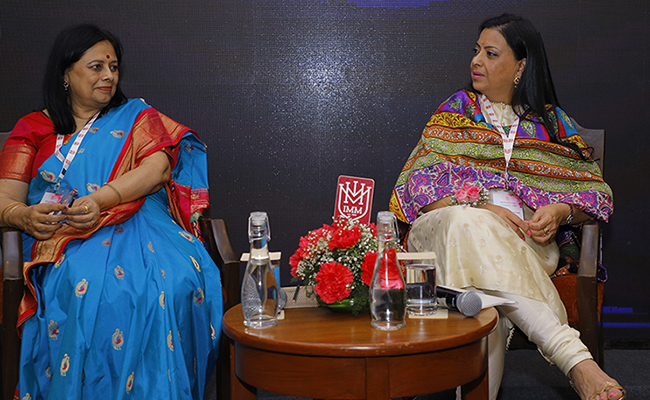 Ms Pratibha Advani while addressing the audience said that why we have to celebrate one day and why not all days? She agreed that many women in the society face discrimination so address this problem is very important. She further explained that one should put whole into work and enjoy so as to get success. Men and Women can make difference together not only to the society but to the Nation itself. We can celebrate Humanity rather. Ms Advani along with the Director presented the Award to IMM's 30 Women Alumini.
Certificates of Participation were provided to all Gift and Media Partners by the Institute.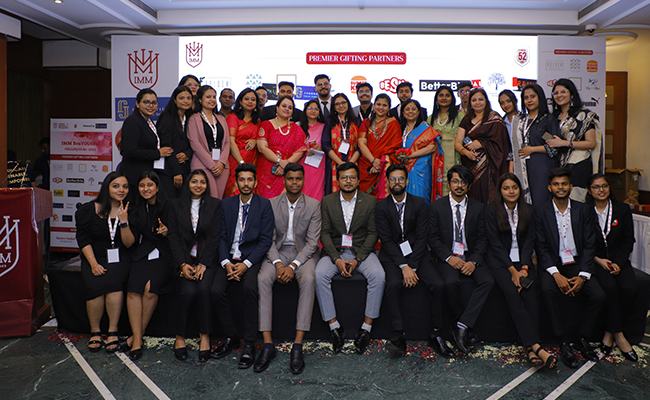 After mind glowing and motivational sessions by Esteemed Speakers, the event was closed.
Vote of thanks was delivered by Prof. Smita Lal, Dean, IMM Business School