IIM Sirmaur Celebrates the Success of its First Chapter Meet at India Habitat Center, New Delhi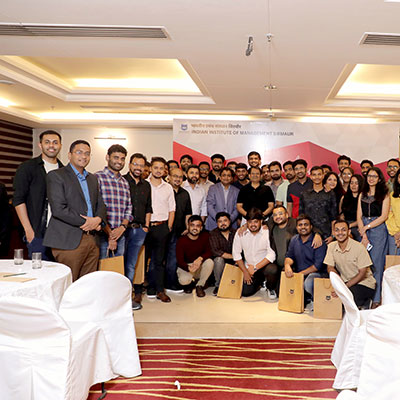 On Saturday, July 15, 2023, the Indian Institute of Management (IIM) Sirmaur organized its first-ever Alumni Chapter Meet at India Habitat Centre in New Delhi. The event brought together the esteemed IIM Sirmaur alumni base for an evening filled with celebration, reminiscence, and networking. The Chapter Meet served as a platform to foster a sense of togetherness and growth within the IIM Sirmaur fraternity. The event commenced with an inspiring address by the esteemed Director of IIM Sirmaur, highlighting the institute's remarkable progress and achievements over the years. The Director's speech aimed to motivate the alumni base by emphasizing the immense potential and opportunities that lie ahead. The address reaffirmed the institute's commitment to nurturing future leaders and innovators. The director acknowledged the achievements of the alumni and encouraged them to contribute to the growth and development of IIM Sirmaur. He lauded the relevance and necessity of alumni in taking any academic institution ahead, and stressed on the need of alums to work together and mutually develop an ecosystem of co-created success. His speech and interactions were laden with inspiring stories from his experience. He instilled the sense of togetherness among the audience who participated in nostalgic event.
The Chapter Meet provided an opportunity for the alumni to cherish and reminisce their memories of their time at IIM Sirmaur. Nostalgia filled the air as old friendships were rekindled, and stories of shared experiences were shared. Alumni took delight in reliving their academic journey and exchanging anecdotes that showcased the spirit and camaraderie that define the IIM Sirmaur community.
The success of the first-ever Chapter Meet of IIM Sirmaur showcased the institute's commitment to creating a vibrant alumni community. The event not only celebrated the accomplishments of the alumni but also reaffirmed the institute's vision of nurturing future leaders and fostering a lifelong association with its alums.