How to Automate Corporate Training with Online Training Software | Elena Salvadori | Director of Sales & Marketing (India) | iSpring Solutions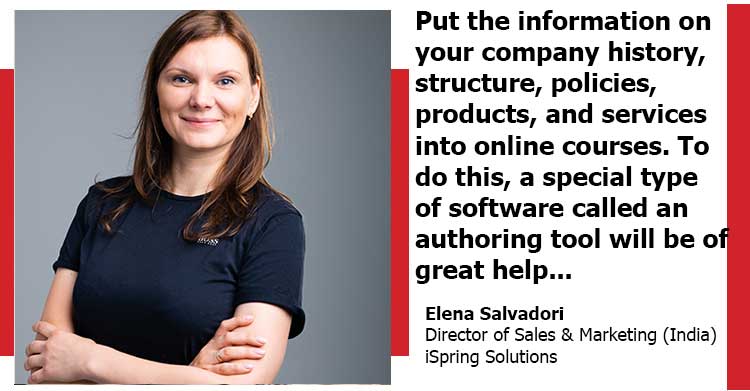 Want to break out of training-related routines? Automate them! Below, you will find a brief action plan on how to get your corporate training automated.
Step 1. Create online courses and deliver them online
Put the information on your company history, structure, policies, products, and services into online courses. To do this, a special type of software called an authoring tool will be of great help. A handy authoring tool will allow you to compose various content pieces like slide-based lessons, quizzes, videos, role-plays, and more into a single course that will be available on all kinds of devices. You can create it once and use it many times in your online training.
To deliver your courses to learners and manage the training process in your organization, choose an online training software. The most common type of such software is a learning management system (LMS).
Step 2. Automate training with an LMS
In an LMS, you can upload and store courses, enroll learners, and see how they perform. This alone will help you lighten your workload greatly and get a bunch of tasks off your table. Learners can access your courses in the LMS anytime and anywhere, even on the go, and you don't have to plan training again and again.
You won't need to monitor who should attend which training, spend half the day separating learners into groups, or notifying them of upcoming deadlines. You'll just need to configure the settings once, and the system will enroll learners, send invitations and notifications, and collect training results automatically.
Step 3. Track and acknowledge learner results
Your LMS will presents all training statistics in clear reports. With the help of these reports, you can see the situation with training across all departments, in a particular team, or get an idea of how individual learners progress in a course.
You can also set your LMS to award learners with points, issue certificates upon course completion, and compile leaderboards of best learners. Thus, an LMS automates the entire training process, so you can focus on the training itself!
To Sum Up
Corporate training is an essential part of business success. Yet, it can be effective only if you do it well. And the best way to guarantee this is to free up time for L&D departments by automating less essential tasks with online training software, so they can dive deeper into designing great learner experiences.
To know more about our Products contact us at:
Email: elena.salvadori@ispring.com
Phone: +91 8667339908
LinkedIn: @ iSpring Solutions
Website: https://www.ispringsolutions.com/