Goldi Solar to train and hire 2000 plus talent by 2025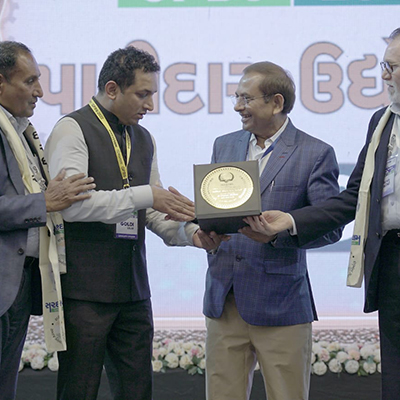 Goldi Solar, a global solar panel manufacturer and EPC provider announced that it will train and hire over 2000 employees by 2025. To encourage India's economic growth while taking a climate-friendly approach, an ecosystem that allows for the creation and growth green jobs must be created. The company will also roll out an initiative to support young micro-entrepreneurs who have innovative ideas for the solar sector.
The company participated at the Global Patidar Business Summit 2022 – a three-day trade expo with the mission to provide an impetus for socio-economic development of Surat. The event was organized by Sardardham.
Commenting on the participation, Mr. Ishver Dholakiya, Founder & Managing Director, Goldi Solar, said "We are excited to be a part of GPBS 2022 and we are aligned with Sardar Vallabhai Patel's vision of contributing to the nation through social development and transformation. Advocating solar energy and making India energy independent is the key to attaining that vision. Training and absorption into the industry is also crucial in this journey."
He further added, "It was very heartening to listen to PM Narendra Modi's vision for the youth. He urged the youth to be more involved with agriculture and food processing industry. He encouraged the young talent to focus their energy and spark to those sectors that need new ideas and revival."
Bharat Bhut, Cofounder & Director, Goldi Solar, said "With Gujarat becoming a solar manufacturing hub, the state will see a rapid transition to solar power. Most manufacturing companies are power intensive and consumption of power is high. The ongoing energy crisis and rising coal prices have affected the profitability of all industries. Solar is the most viable and smart option to reduce costs."
Goldi Solar also recently solarized Sardardham in Ahmedabad, a community center that was built as a tribute to Patel to help ignite young minds through quality education.
About Goldi Solar:
Goldi Solar is one of the leading Indian solar panel manufacturers, EPC services providers and independent power producers (IPP). Founded in 2011, it is an MNC headquartered in Surat, Gujarat catering to several international brands in 20+ countries. We have two facilities of 2.5 at Pipodara and Navsari in Surat, Gujarat. The company is listed under ALMM (Approved List of Models and Manufacturers) and also has BIS (Bureau of Indian Standards) certification.
Website: http://www.goldisolar.com/
LinkedIn page: https://www.linkedin.com/company/goldi-solar-private-limited/
Facebook page: https://www.facebook.com/goldisolar/