Future of Higher Education in India | Prof. Dheeraj Sharma | Director | IIM Rohtak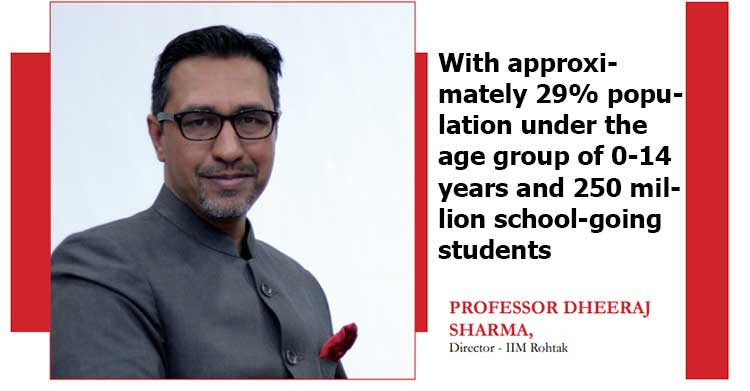 With approximately 29% population under the age group of 0-14 years and 250 million school-going students, India presents immense potential for the expansion of the higher education system. India already has one of the largest networks of higher education institutions, with 39,931 colleges and 993 universities 1 . The new National Education Policy (NEP) launched in 2020 aims to consolidate India's highly fragmented higher education system. The policy emphasizes the establishment of multidisciplinary universities and colleges to fulfil the ever-changing needs of the employment landscape. It also calls for a revamp in pedagogy and curriculum (National Education Policy, 2020). These objectives can only be achieved through the collaboration between the higher education fraternity and industry experts. The thought leaders from both academia and industry need to come together and formulate the strategy for the future of higher education. This collaboration will ensure the development of cutting-edge courses, which will enhance the employability of the youth.
In order to meet students' expectations and the ever-changing needs of the employment landscape, the instructors should experiment with new and innovative learning platforms and techniques. They may focus on making the learning more immersive and interactive. It should develop essential skills such as critical thinking, problem-solving, and collaboration among the students along with developing "weltanschauung". Weltanschauung essentially may be defined as generalized world-view about individuals, society, and world at large. It may also be termed as a cognitive orientation. Therefore, while essential skills may be honed and developed through specific courses but weltanschauung can be developed by undertaking live projects, internships, and case studies.
The current pandemic provides an impetus for the adoption of blended education in India. A combination of online and off-line education seems to be acquiring some momentum in recent times. Artificial Intelligence (AI), Internet of Things (IoT), and Big data may play a crucial role in enhancing the quality of education in the future. The AI may influence various aspects of higher education such as teaching and learning experience, evaluation of the learning, and overall management of this new learning system. When used correctly, AI and big data analytics can help create a personalized learning experience for the students. This may ultimately result in improving their level of engagement. Although technology plays a crucial role in improving education effectiveness, the best results can only be obtained by the optimal mix of human skills and technology. The technology can assist the instructors in delivery of material and the creation of an optimal learning environment.
Though several thinkers and followers of the classical model of delivery of education may not share the favorable opinion about the online education models, one thing is extremely clear that one has to adapt. COVID situation presents a number of opportunities for both educators and learners to blend online education with offline interactions. The systems developed by the institutes and corporates are helping to create an inclusive ecosystem of learning for students. It is evident, in the post COVID era, that the field of education will witness an enormous transformation towards online learning and self-learning. I believe the ideal situation will be to marry the two and proffer blended education. Specifically, online and offline modes need to be combined in the future of education. Also, I believe blended education, which leverages technology, can also allow educational institutions to grow without substantial infrastructural constraints. In addition, technology will play an instrumental role in connecting Indian institutions to global educators, thinkers, and researchers. Also, Indian institutions can take advantage and offer education to countries in
the neighborhood. India can lead the way in South-East Asia and Middle-East by leveraging on the right combination of online and offline platforms. Hence, I believe that in the post – COVID environment, we will observe an upsurge in blended learning models, which includes the use of both traditional and online learning platform.
There is UN Policy brief that states that approximately 24 million school students globally have dropped out of school owing to COVID pandemic. Therefore, I believe that the government needs to step forward to improve and increase the reach of open education resources, affordable devices, and internet connectivity. In India, PM eVidya program has been envisaged to encourage digital education and improve the accessibility and usability of e-learning for both students and instructors. It is envisaged that this scheme of 'One Nation, One Digital Platform' will offer e-content and QR code enabled textbooks, thereby changing the education landscape in India.