Engage Motivate Reward GRG India | Charoo Aggarwal | Managing Director | GRG India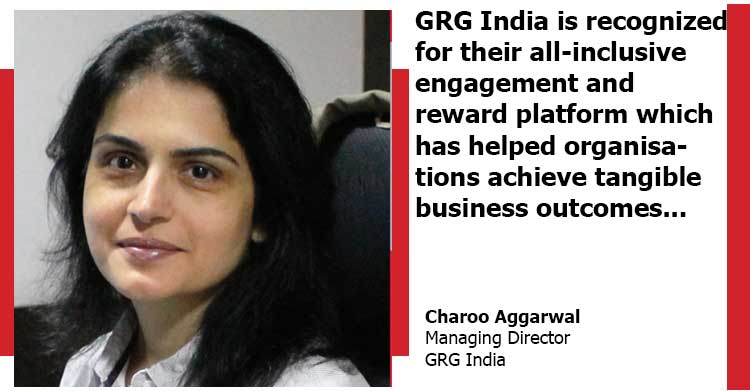 GRG India is recognized for their all-inclusive engagement and reward platform which has helped organisations achieve tangible business outcomes by optimizing the performance of their employees, channel partners and customers. Founded in the year 1998 by Charoo Aggarwal as an e-commerce platform for non-resident Indians to send gifts to their friends and family in India, it soon evolved into a leading provider of engagement and reward incentive solutions and products.
For over a decade, with innovative solutions, top quality brands and best-in-class service, GRG India has helped some of the biggest and the best-known organizations maximize sales, productivity and loyalty. Trusted by clients with their three most valuable assets: their people, their customers and their brand.
With a strong, collaborative team and secure, robust and cutting-edge technology platforms GRG India offers 4 highly scalable products:
1. Let's Buzzz
Popularly known as Buzzz, a platform designed to engage, motivate and reward employees. Buzzz is a comprehensive reward and social recognition platform designed for both small and large enterprises. It helps C suite Executives and HR leaders to drive a motivated workforce, cascade values and foster a performance driven culture. With many key features such as communication, social feeds for recognition, celebrations, badges, certificates, mood o meter, nomination events, leaderboards it helps employees engage meaningfully with their peers and aligns them with the organisation's values and behaviours. Other than that, it helps execute key activities such as budget automation and approval workflows and reward management.
Clients have seen a considerable increase in Employee Engagement after implementing Buzzz.
2. My Incentives:
Incentives platform to drive performance for different stakeholders in Employee as well as channel space – Sales Teams, Channel Partners, Dealers, Retailers, Influencers, etc. It can integrate with your sales data to provide real-time dashboards, point conversion and multi wallet functionality for different campaigns. Gamification with leaderboards, target meter, milestone-based journeys drive engagement and accelerate achievement.
Other features include a role based multi-level hierarchy structure with flexible configuration of approval workflows, built-in KYC and TDS management. Instant or approval-based reward mechanism and flexible catalogue curation from a wide choice of gift cards, vouchers, coupons, cash payouts, travel, merchandise, experiences, etc.
My Incentives has made it much easier for clients to execute sales incentive programs effectively and plug leakages in incentive distribution.
3. My Supercheques:
Dynamic and scalable reward platform designed to incentivize and recognize in real-time by issuing digital e-codes. These e-codes can be plugged into any campaign for employees, retailers, distributors, sales teams or end consumers. My Supercheques allows participants to convert their digital e codes / codes / supercheques for cash or other digital rewards like retail brand gift cards, etc.
4. Tolshop
It is the backbone of GRG India Products and Services. It enables end-to-end reward, order and vendor management for simple as well as complex business requirements.
These products are all easy to use, highly secure, scalable and can be integrated seamlessly with different existing platforms. With over twenty years of experience in loyalty and reward solutions, GRG India has handled 1000,000+ participant accounts across leading Multinationals, Top Indian Leading brands and public sector companies. With over a hundred clients across the globe, several of our programs have been recognised as benchmarks within the industry and have won noteworthy awards year on year.
To know more about our Products and Platforms contact us at:
Email: contactus@grgindia.in
Phone: +91 22 40301111 | 9819880129
LinkedIn: @grg-india
Website: www.grgindia.in | www.letsbuzzz.com