Employers: Is your workplace safe for employees to return?
brand-comm Connect, a webinar that inspires change, kicks off with its first chapter, 'Is your Workplace Safe for Employees to Return?'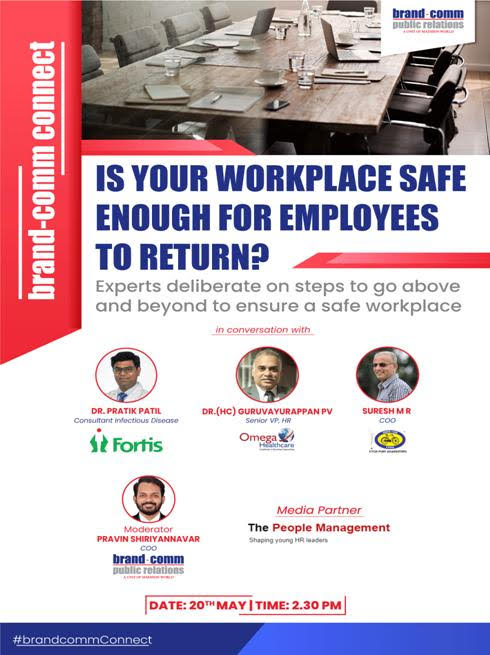 Bengaluru, May 20th: Eminent infectious diseases consultant from Fortis Hospitals Bangalore gave valuable insights and advice for employers to follow before 100% operations begin. Integrated brand-comm Pvt. Ltd. launched its webinar series — brand-comm Connect, with the first episode that went live on May 20th. The first episode, 'Is your Workplace Safe for Employees to Return?' was the first of a series of webinars bringing industry leaders together to discuss the hottest trends and changes in the market.
Episode 1 was hosted in partnership with The People Management and saw Dr Pratik Patil, Infectious disease consultant, Fortis Hospitals, Bangalore in conversation with Dr Guruvayurappan PV, SVP & HR, Omega Healthcare and Mr Suresh MR, COO, NR Group on how to ensure a safe workplace.
The webinar aimed to educate and initiate a conversation with HR professionals and industry leaders on the best practices employers should follow to ensure employee safety whilst navigating the pandemic for the foreseeable future. Issues ranging from basic safety measures to restrictions and guidelines needed for a safe and optimal return back to work.
The panelists highlighted a few important points that employers need to take into consideration while reopening their workplaces:
While it has not been proved that Air Conditioning units cannot transmit the virus, it is still advisable to ensure natural airflow into the working area;
Don't use spray disinfection procedures indoors, instead use a cloth dipped in disinfectant and wipe down surface  areas;
Ensure face masks or paper tissues are available for all at the workplaces, for everyone and people who develop a runny nose or cough at work in particular, along with closed bins for hygienically disposing them off;
Promote good respiratory hygiene in the workplace – Display posters promoting respiratory hygiene;
Wear disposable gloves while in the factory area, ensure minimal contact and avoid touching the face while wearing gloves;
Ensure people wear different colouredured masks on different days of the week while at the factory;
Common washrooms to be cleaned on a frequent basis during the day. Door knobs also to be cleaned on a regular basis;
Glass doors and office doors to be kept open at all times;
Avoid touching the common areas in and around the working area;
A shower with 30 seconds of running water with a good soap lather is sufficient to clean off the virus;
Avoid sharing food during meal times although there is no evidence of transmission through food;
Clear communication to employees that they will be able to count the time off as sick leave;
Employees must stay home (or work from home) if they have had to take simple medications, such as paracetamol/acetaminophen, ibuprofen or aspirin, which may mask symptoms of an infection; and
Employers should ensure that the same is communicated properly to their employees and pinned to the official notice boards.
Speaking on the initiative, Mr Pravin Shiriyannavar, COO, NR Group, said, "brand-comm Connect is our exciting new venture in the space of communications. We aim to create a platform for knowledge-sharing which allows industry thought leaders to engage with each other to inspire change. Episode 1 was conceptualised keeping in mind the current global pandemic and the need of the hour for industries across the country. Through this, we hope to educate businesses and organisations on simple steps that can be taken to ensure employee safety once they return to the workplace."
About brand-comm
brand-comm is a leading communications consultancy headquartered in Bangalore with operations in six cities (Bangalore, Delhi, Mumbai, Chennai, Kolkata and Hyderabad) and a strong presence through affiliates in all Indian states. Founded in 1998 by Ramanujam Sridhar, a veteran in the advertising industry, their range of integrated services include comprehensive consultancy across Public Relations, Digital Marketing and Brand Advisory. Adjudged the Agency of The Year in 2010 by Public Relations Council of India (PRCI), Brand-Comm has consistently created value for clients in industries as diverse as Technology, Retail, Infrastructure, Fashion & Apparel, Education, Healthcare and FMCG.
For queries – contact Apoorva C | apoorvac@brand-comm.com || Janice Vaz | janice@brand-comm.com