Dialpad and Living Food Co. team up for its Global Annual Day Celebrations to promote healthy gifting options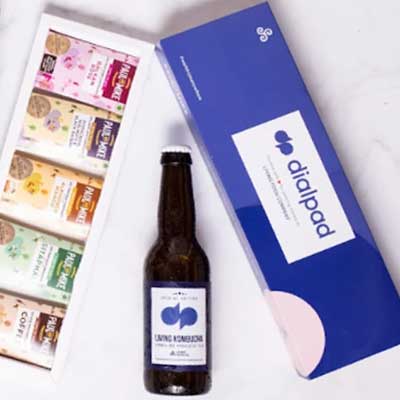 Living Food Co, India's leading food marketplace, was the official gifting partner of Dialpad's employee annual day celebrations. A cloud-based AI-powered communications platform, Dialpad raised a toast to its employees with a symbol of gratitude in the form of artisanal kombucha and homegrown chocolates from Living Food Co.
This partnership was in alignment with Dialpad's goal to create a physically and mentally nourishing environment for its employees. With the increased focus on a healthy lifestyle and food being at the forefront of pandemic trends, Living Food Co. was the most obvious choice for their annual day celebration and employee outreach programme with its sustainable, healthy and absurdly fresh range of products. Living Food Co. was instrumental in creating a holistic sensory experience for Dialpad employees across the country, with customized offerings to accompany their global virtual event. The ornate gift hampers from Living Food Co. were delivered to all employees across the country.
Commenting on the unique initiative, Mr Akash Sajith, Founder & CEO, Living Food Co. said, "Our overarching goal was to carefully curate a memorable experience for employees at Dialpad. Keeping in mind convenience and safety, we put forth the idea of artisanal chocolates with unique Indian flavours, paired with our iconic Kombucha, that has been widely appreciated by consumers and critics alike. We at Living Food Co., ensured that all products were sourced from our sustainably conscious vendors, who we selectively onboard on our platform."
Commenting on this recent successful association, Mr Amit Kaul, India Country Manager & Vice President Engineering, Dialpad said, "With the pandemic induced lockdown and work-from-home becoming the norm, employee experience became a priority for companies from across sectors. For us, the idea was to create a one-of-its-kind sensory experience for our employees on the occasion of the annual day celebration. We wanted to express our gratitude by sending a personalised gift that was both wholesome and unique. Akash and his team at Living Food Co. successfully curated a package with a customised company logo that went on to become a prominent and memorable souvenir for the event itself. They truly helped us deliver happiness to our employees."
To make the association successful and bring joy to Dialpad employees, Living Food Co. tastefully customized packaging with Dialpad colours and the company logo on the locally flavoured artisanal chocolates and on bottles of Kombucha made from the choicest tea leaves from Darjeeling estates. The image of Living Food Company's popular Kombucha in a champagne glass coupled with chocolates was the perfect means to spread happiness among the employees' friends and families. Furthermore, the kombucha bottles also went on to become memorabilia for the event, as several employees retained them as a souvenir.
Through this partnership, Living Food Company successfully provided Dialpad with safe, delectable and unique locavore and unforgettable gifting experience for its employees, thereby introducing its range of products to a new audience.
For more information on partnerships and collaborations, please visit: https://livingfood.co/
About Living Food Company:
A Bangalore-based online marketplace selling fresh, organic food that brings maximum health to you, with minimum damage to the planet. They ensure the food is pesticide-free, sustainably produced and ethically-sourced, meeting and exceeding the highest quality standards in India – without compromising on flavour. Absurdly fresh and healthy food delivered right at the doorstep
Living food Co. delivers freshly produced and harvested products from microgreens, handcrafted tofu, baked goods, vegetables, vegan cheese and butters, gourmet spreads , freshly grounded spices, and kombucha to name a few across Bangalore from in-house and partner brands. All the products are prepared only on demand hence staying true to our pillars of Innovation, Health, Hygiene, Sustainability.
An Amasia backed company, it was founded in 2018, by Akash Sajith, Living Food Co. is the first company in India and the No. 1 in Bangalore in creating a revolution in the food technology industry with zero food wastage, smallest supply chain, partner with world class artisans for production with a loved customer base and aims to provide only the cleanest, freshest food – with a low environmental impact and be the pioneer in the market.