Celebrating, empowering women every single day | R Poornakala | Head of Women Empowerment | Eastman exports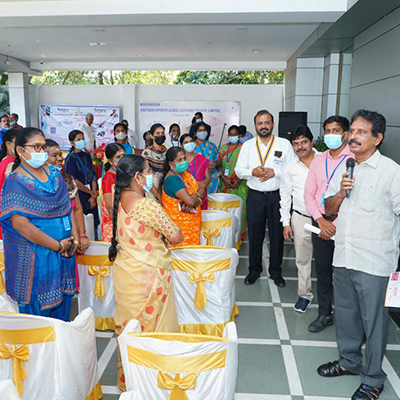 The International Women's Day on March 8 is a day to commemorate and celebrate social, economic and political achievements of women, demand gender equality and reflect on the progress made in providing equitable platforms for women. However, it does raise a pertinent question – why not celebrate womanhood round the year? After all, the real essence of marking a special day is to commemorate the achievements all year round and ensure that they are in a better place than 365 days ago.
Largely, women empowerment in India till date is often symbolised through mythological characters representing power, money and knowledge. Unfortunately, the larger picture to ensure their overall betterment is often missed.
However, some sectors such as textiles come as a silver lining as they have long recognised the true potential of women, and this has reaped them rich dividends. The cash-rich and labour-intensive textile sector boasts of being the largest source of employment for women, especially in rural areas.
Eastman Exports, one of India's largest apparel manufacturers and exporters, based out of Tiruppur in Tamil Nadu is a testimony to this. The group employs 70% women, at least 10% higher than the industry average. Not alone this, it has been living up to the true meaning of celebrating womanhood by carrying out numerous initiatives to better their lives round the year.
One of the first initiatives undertaken by Eastman Exports was a gender sensitisation programme – women empowerment and gender neutrality will only remain aspirational human-development indicators if men do not actively participate in them. The program started with a signatory campaign where male workers pledged to address and stop gender-based violence. Awareness was created through a mix of traditional and modern art forms like street play, role-play, mime shows, puppet shows etc. As reports and research suggest, audio-visual art forms seldom fail to encapsulate moods of heterogeneous societies.
The awareness plays are till date effectively helping Eastman Exports educate both men and women workers about Gender-Based Violence (GBV), Workplace Sexual Harassment and available Grievance Redressal Mechanisms (GRM).
Notably, the most effective programs jointly run by Eastman and one of its clients is the Personal Advancement and Career Enhancement Program (P.A.C.E), which aims to build the capacities of women garment workers by enhancing their technical and life skills that help them become bolder, braver and capable of negotiating their problems more effectively.
P.A.C.E is a three-month-long educational workshop that trains women on various life and social skills. One such skill is financial planning, where they learn about better managing their finances and increase savings. Also, the Water, Sanitation, and Hygiene (WASH) curriculum in this program is an effort to address water challenges and strengthen their lives.
Financial planning is an imperative skill set for any aspirational woman, and more so for those coming from remote areas and do not have access to about the modern high-yielding saving methods.
"In this program, I learned how to break the communication barrier in my personal and professional life and the importance of being Brave. Also, they taught me many saving methods. I was so careless about my spending and future planning. Now I can plan and manage my salary effectively and save some part of my salary," said Nadhiya, a P.A.C.E. graduate working in the checking section. Through P.A.C.E, they learn how to start saving even while earning small.
The program also imparts confidence-building training to them so that they communicate effectively and stand for their rights in the society. Eastman Exports has imparted this training to more than 2,000 women and conducted workshops in regional languages like Bengali for better and more fruitful participation.
"The workshop was truly motivating and made me realize who I am and what I want to be. I was a person with low a self-esteem but this training improved my self-confidence level and I'm ready to face any challenges," said Vijayakumari, an employee.
Additionally, the group has also undertaken a Personality Enhancement Program where women learn to stay positive and look at the brighter side of life.
Since the daily struggle of simply coming to work can affect their mental health, Eastman Exports also conducts off-work interactive sessions where women colleagues are divided into small groups and are asked to talk about their daily issues. This has been one of the most effective programs as colleagues come up with the most effective solutions, sometimes more effective than the ones provided by counsellors.
Workplace violence
A study conducted by the UN International Labour Organisation in association with Lloyds Register Foundation and Gallup reported that over 22% of the nearly 75,000 workers surveyed from 121 countries had reported workplace violence. Sadly, most of such cases go unreported.
To counter the problem of workplace violence not being reported, Eastman Exports introduced a digital and web application, WOVO, that allows employees to report their grievances without revealing their identity. The group has also introduced a toll-free number that enables employees to connect with the top management directly and report the abuse.
Eastman Exports has been creating awareness about breast and cervical cancers too. Psychosocial factors, one of the major barriers for women to visit the screening camp have changed during this year. Increased awareness campaigns help our women benefit from the 'Mammogram & Cervical Cancer Screening' camps by the company in association with Rotary Tiruppur and Kovai Medical Center Hospital.
In 2023, the group decided to introduce sustainable female hygiene methods and arranged for an interactive session with a gynaecologist. These methods are cost-effective and convenient for women who work long hours.
Efforts put forth by companies such as Eastman Exports truly drive India to becoming Atmanirbhar by focusing on the overall holistic development of their women employees, small yet significant measures, one step at a time.