Building Top IIM Brand | Professor Dheeraj Sharma | Director | IIM-Rohtak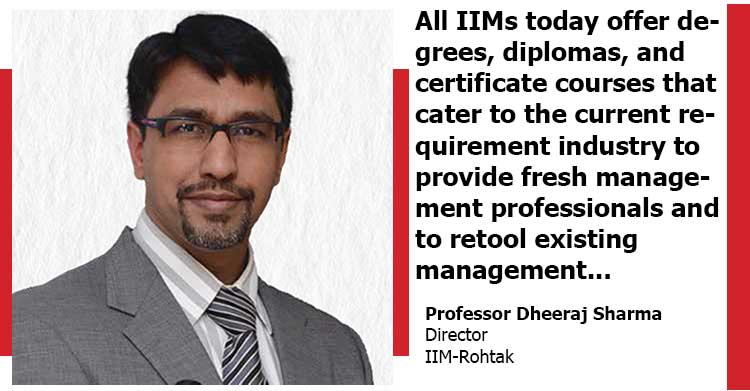 Indian Institutes of Management are the most prestigious business and management schools in India. Between 2008 to 2015, fourteen new IIMs were established to cater to increasing demand for management professionals in India. One IIM per large state was implemented as a norm by the Government of India. Therefore, all IIMs today offer degrees, diplomas, and certificate courses that cater to the current requirement industry to provide fresh management professionals and to retool existing management professionals. Amongst all the IIMs, Indian Institute of Management Rohtak has recently emerged as one of the best management institutes in research, placement outcome, student size and student diversity.
However, "it was not an easy task to bring IIM Rohtak to where it is today. Institute did not have a full-time Director between 2015-17 and IIM Rohtak became the centre for anti-national and anti-institutional activities. The anti-national atmosphere was created by a small group of faculty who coordinated and encouraged people from other institutions from all over Haryana to form an association," says Prof. S K Pandey, Dean at IIM Rohtak and faculty for more than a decade in the institute. Student learning outcomes were compromised resulting negative perception of IIM Rohtak. "The negative environment in the institute disoriented the institute, institute lost its research focus, and no campus development took place for several years at IIM Rohtak. So much so, the institute had just nine female students in the MBA programme and less than 10 regular faculty members," says Prof Praveen Srivastava, former Admissions Chair.
"The institute witnessed a complete turnaround in the last five years. We can proudly say that today we stand as the top management institute in the country. IIM Rohtak is ranked 8 th  among public B Schools in India as per Outlook India ranking 2022. This is an exceptional achievement that has been attained only after making strategic changes in the operation of the institute." Says Prof. Koustab Ghosh, Dean of Academics and one of the oldest faculty who has witnessed this turnaround of the institution. "IIM Rohtak Director took several strategic and tactical decision in the last five years, to make the institute reach height it has reached now," says Shri VP Mahawar, former member of BoG, IIM Rohtak.
The first of the many significant steps was to priotize building construction in its campus allowing the institute to shift to the campus quickly. "More than 80% of the project work of phase I was completed in the record duration between 2017-18. Also, the institute was able to save a huge amount from the funds allocated for the construction of this project. The permanent campus was inaugurated in 2018" said Col. Tilak Bose, Chief Administrative Officer, IIM Rohtak.
Second major step was to expand the student intake at IIM Rohtak. "IIM Rohtak decided to provide opportunity to the large number of students by introducing several new and innovative programs in various domains and allied areas" says Prof Agrata Pandey, Chairperson, MBA Program. She further added that institute took advantage of tremendous social capital of its leadership to get large visiting faculty from across the globe to deliver in new and expanded set of programs offered by IIM Rohtak." IIM Rohtak is now the largest IIM in the country with 1600 students in various long duration programmes. IIM Rohtak was the first IIM to introduce BBA+MBA degree programme in 2018. And now, IIM Rohtak has been the first and the only IIM to start BBA+LLB Integrated Degree Programme in 2021. In addition, IIM Rohtak is the only institution that offers a two year Post Graduate Diploma in Sport Management in 2018.
Third, IIM Rohtak leadership implemented the 'Beti Bachao, Beti Padhao' initiative of the government, in full spirit. "We conducted interaction sessions in major cities and periodic online seminars to encourage women students to apply to IIM Rohtak. Further, we offered assistance to them in availing various state and central government scholarships. Next, we invited eligible women candidates along with their parents to visit the institute and interact with IIM Rohtak community members. Institute administration provided AC 3 tier fare, local transportation, and campus stay facility for their visit. Finally, institute administration organized four major banks that process large number of education loans within 24 hours of application," says Prof. Deepika Jain, Controller of Examination, IIM Rohtak. Today, 70% of the students in its flagship MBA programme are women. Also, back to back three years, IIM Rohtak has had more than 50% women participants in its MBA program. Today, IIM Rohtak stands as number one in the world in terms of women representation in any MBA programme.
Next, IIM Rohtak decided to deepen its industry connect by launching a weekly lecture series, offering management conclave for academe-industry interactions, launched more than 10 short duration programs for working professionals in the domain of analytics, and offering 10% of the sessions in MBA courses to industry experts. With increase industry interaction, the footfall of companies for placement increased. Consequently, IIM Rohtak has done 100% placements for five years in a row now. Its average salary and highest salary offered has also increased by more than 35% in the last few years. Thus, the institute provides excellent return on investment as compared to other peer management institutes. "Today, the recruiters find the students of IIM Rohtak more employable, better trained with latest skills and knowledge about the business. The institute has been able to achieve this through extensive industrial relations developed and nurtured by the faculty and students of IIM Rohtak," says, Mr. Nikhil Sahni, Division President, Mastercard.
"IIMR provided me with excellent opportunities to grow and learn by creating an enabling environment using state of the art classrooms and learning technology, IT and Library infrastructure along with an excellent faculty and course curriculum that gets revised to reflect industry requirements. The large campus comes equipped with a sprawling learning and academic block, the dorms and the sports and activity centre which give us ample opportunity to learn, grow and explore. The professors create a holistic classroom environment where peers can debate their ideas and explore conflicting perspectives", said, Mr. Shriraj Gandhi, IIM Rohtak Alumnus. One of the current student Ms. Sweta Sinha said, "IIM Rohtak has played an instrumental role in shaping my research acumen. The faculty are research oriented, which has kept me focused towards my goal.
The institute provides all necessary resources and stat-of-the-art infrastructure required, supplemented by several other learning opportunities such as organizing events and assisting the faculty in various projects"
Finally, IIM Rohtak decided to re-orient itself to be a research focused institute. "In last five years incentive were introduced for publications in high quality journals, workshops were organized to improve research outcomes, interactions were facilitated with large corporates and government bodies to obtain data by the institute's administration, which helped institute's faculty and students publish in high quality journals like never before," say Prof Amol Singh. "A large number of research papers are being published each year in FT-50/A/A* international journals. One of the recent research works on the food grains supply network by faculty of IIM Rohtak has been recognized by the World Health Organization," said, Prof Ashwini Kumar, Chairperson of Doctoral Program.
"The research experience at IIM Rohtak was truly fulfilling with highly motivated and encouraging faculty members. A unique aspect of IIM Rohtak's Ph.D. program is that the students are provided with a myriad of research opportunities in the form of industry and government projects. I have significantly benefitted from it and have learned the basic tenets of research through such academia-industry immersions. Overall, this program has shaped me as a better teacher, researcher, and learner", said Dr. Shivan Patel, former research scholar of IIM Rohtak.
IIM Rohtak is operating efficiently and effectively with no financial support from the Ministry of Education for last several years. Institute has been able to increase its revenues, increase the student strength, and produce highly impactful research. To attain a larger footprint in the sphere of Management Education, institute is setting up a new campus in the heart of Gurugram. "Gurugram campus of IIM Rohtak has the potential of becoming a global epicenter of management education. The Gurugram campus will be developed as a state of art facility in the near future." JR Shroff, Chairperson, BoG, IIM Rohtak.
Prof. Dheeraj Sharma, said "I hope IIM Rohtak will become the largest, most diverse, and even more impactful management institution in the coming years."