Ability Foundation in Association with CavinKare Organizes EmployABILITY 2023, a Pioneering Job Fair for Individuals with Disabilities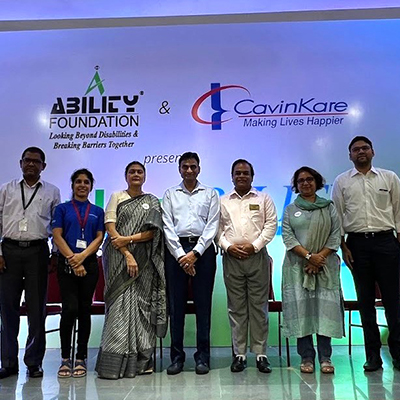 Ability Foundation, in association with CavinKare Pvt Ltd., proudly presented the eleventh edition of EmployABILITY 2023, a groundbreaking job fair dedicated to qualified individuals with disabilities. Held at Rama Kalyana Mandapam in Nungambakkam, Chennai, the grand event witnessed participation of around 300 individuals who have possessed at least a graduate-level qualification, including over 250 individuals holding postgraduate degrees or higher. As of 2 p.m. on the event day, 13 candidates received direct job offers, while 156 were shortlisted for further rounds.
The grand event also featured 57 companies from varied sectors across India, including IT, Data analytics, Retail, Pharmaceuticals, Banking, Finance, Research and Consulting, EdTech, NGOs, Manufacturing, Automobiles, and Hospitality, who positively came forward to this recruitment drive.
Commenting on the occasion, Mr. CK Ranganathan, Chairman and Managing Director CavinKare Private Limited and Trustee Ability Foundation said, " Ability Foundation's unwavering mission is to foster an inclusive society where every individual's potential can shine. The organization, with this singular focus, has been a catalyst for numerous trailblazing initiatives, and EmployAbility stands out as a transformative force in the lives of many. I extend my heartfelt gratitude to everyone, who has played a pivotal role in this monumental endeavor, including the exceptional dedication of our 200 volunteers. Collectively, we are empowering individuals with disabilities to embark on a life-changing journey through this career drive. I want to express my sincere appreciation to the organizations that have come together with a shared commitment to giving back to society. By participating in this job fair, they are not only providing valuable opportunities but also championing the cause of equal access for all. Together, we are shaping a more inclusive society where every individual has the chance to thrive and contribute to the betterment of our communities."
Adding to this, Ms Revathy, Trustee Ability Foundation, said "I would like to extend my heartfelt appreciation for the active participation of the companies and candidates, as their presence serves as a testament to their shared commitment to creating a more inclusive world. With this pioneering initiative, we witness a convergence of efforts aimed at breaking down barriers, challenging stereotypes, and dismantling obstacles that hinder the full participation of every individual in our society".
Ms Jayshree Raveendran, Founder and Managing Trustee, Ability Foundation said, "Employment is not just about livelihood; it's a fundamental right, a source of self-esteem, and a key to overall well-being. It's crucial for candidates not to let disabilities define them; rather, they should view it as a unique thread in the rich tapestry that makes each person who they are".
Additionally, Rotarian Ravi Sundaresan, President of the Rotary Club of Madras, Ms. Apoorva Manichander, India Country Lead CSR at Grundfos Pumps India Private Limited, Mr. Balasubramanian, Senior General Manager at Redington Limited, and Mr. Prathap Murali, Business Head at WorkEZ, collectively expressed their delight at being involved in this initiative and conveyed their commitment to its continuation in the years to come.
EmployABILITY 2023, a flagship endeavor launched by Ability Foundation, has become a trailblazer in the realm of employment opportunities for individuals with disabilities. This pioneering initiative has established novel benchmarks by harmonizing the distinctive skills and qualifications of candidates with the specific requisites of participating companies. Through this innovative strategy, candidates can engage with multiple interviewers within a single day, significantly amplifying their chances of securing substantial employment.
EmployABILITY 2023 was jointly presented by Ability Foundation and CavinKare Pvt Ltd., in collaboration with pivotal partners, including Naukri.com, NHRD Chennai, NHRD Pune, the Rotary Club of Madras, and Ramsahaimal Sahuwala and Sons Charitable Trust, Chennai. The event's triumphant outcomes were made attainable through the generous patronage of Grundfos Pump India Limited, A.V. Thomas Group, Sathyabama Institute of Science and Technology, Redington Group, Nilpeter India Pvt Ltd, WorkEZ, and Congruent Solutions. EmployABILITY 2023 persists as a frontrunner in advocating inclusivity and equal opportunities for individuals with disabilities in the job market, exemplifying the unwavering dedication of Ability Foundation and its partners in forging a more diverse and inclusive employment landscape in India.
For more information about EmployABILITY 2023 and the work of Ability Foundation, please visit www.abilityfoundation.org.