9th Annual HRM Summit 2020 Dubai, October 2020
9th Annual HRM Summit 2020, Dubai
www.hrmsummit.com
A NEW AGE OF A NEW AGE OF HR EHR EVENTS HAS BEGUNVENTS HAS BEGUN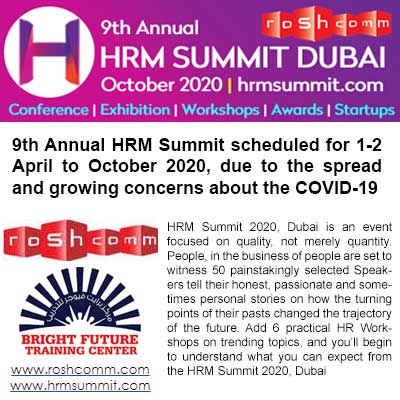 2020 marks our Ninth year of hosting incredible HR events in the region. Drawing many of the world's HR leaders together to learn and do business, HRM Summit combines carefully curated content with unrivalled opportunities to make connections.
From entrepreneurs to administrators, HR Directors, CEOs and policymakers, all of our attendees are looking to stay on top of the latest trends, meet their next client or partner, and connect with other people interested in the future of technology, innovation, learning, strategy and imagination.
What about you?
TIME TO CHANGE THE HR CONFERENCE SCENE
This October, we will get into the habit of rewriting the conference rule book. Over the past 8 years, we have reinvented the art of attending a Conference. We ask, why should it be expensive? Now it's time to change the UAE HR conference scene.
HRM Summit 2020, Dubai is an event focused on quality, not merely quantity. People, in the business of people are set to witness 50 painstakingly selected Speakers tell their honest, passionate and sometimes personal stories on how the turning points of their pasts changed the trajectory of the future. Add 6 practical HR Workshops on trending topics, and you'll begin to understand what you can expect from the HRM Summit 2020, Dubai.
Bring your business cards. It's time for you to build HRM Summit 2020, Dubai.
The 9th Annual HRM Summit 2020, Dubai is the region's leading event dedicated to the specialized needs of a fast-developing marketplace. It is the only integrated networking event that is focused on providing deep insights into the Human Resources Development and management life cycles, with particular emphasis on the application of international best practices tailored to the Middle East market. HRM Summit 2020 incorporates 3 Breakout Summits featuring 50+ international HR though Leaders, 6 Workshops, 40+ Exhibitors, Startups Zone, HRM Summit Awards, HR Deep Dive Sessions and a unique HR Tech Collaboration Zone for HR Vendors.
To learn more and to register, please visit hrmsummit.com and take advantage of the Super Early Bird tickets! See you at the HRM Summit 2020, Dubai