Women need to first break the glass ceiling in their minds | Srabani Banerjee | CEO | Swaranya Consulting Services LLP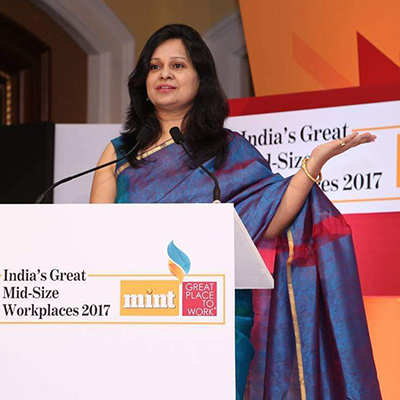 It was a historic moment when Finland's Sanna Marin became world's youngest woman prime minister at the age of 34. She made it to the headlines for selecting 'all women' cabinet, all in their thirties. Finland has topped 'World Happiness Index' four years in a row! Moreover, almost half (47%) of the country's parliamentarians, are women! Does that tell a story?
After 75 years of independence, India's representation of women in Parliament continues to be less than 10% and merely 17% on boards of corporate India. Not surprising, India ranks 139 th out of 149 countries in the UN World Happiness Index 2021.
There is a silver lining! First time, this year India has surpassed its negative sex ratio, clocking 1020 women per
1000 men. Has it translated into more women joining the workforce? Answer is no. World Bank data reveals how participation of Indian women in workforce has shrunk from 32%(2005) to 18.6% (2020). With 50% women dropping out by mid-levels, gender inequality is widening like never before. According to World Economic Forum, we are unlikely to see gender equality in our lifetime!
Are we in a vicious circle headed nowhere? Who is going to break this? While we can blame it all to male patriarchy and stereotypes operating around women impacting subconscious biases that exist at workplace, it is us women who can rewire our mental maps by #breakingthebias. Marshall Goldsmith & Sally Helgesen's research clearly showcase 12 habits women carry to work, that prevent them from reaching the top. "Women need a certain infrastructure but they are hesitant in demanding it " – said Arundhati Bhattacharya , first woman chairman and MD of India's largest bank SBI, in her book ' a slice of life', sharing how she addressed these gender issues and ensured women don't freeze in boardrooms. She calls out, how her husband Pritimoy chose to leave IIT, to avoid a split family. Equality begins at home and yes there are a bunch of men too, behind every successful woman. It's time we celebrate these heroes, to erase existing stereotypes.
What are some best workplaces doing differently to eliminate gender inequality? SAP uses machine learning to constantly call out & eliminate unconscious bias at workplace. Amex D&I team inspire women with external networking opportunities. Intuit provides coaching & mentoring support to buddying women leaders. Google
conducts equal pay audit.
By making pay & performance data 100% transparent, organisations are designing gender agnostic fair processes. Adobe's policy of 'no previous pay questions asked', and commitment to match salary of new hires with peers, is significantly bridging the gender pay gap. Indian Oil was the first PSU to make performance data transparent to all its 33,000 plus employees, making leaders accountable for any unfair treatment. Some of their petrol pumps in Hyderabad are serviced by women prisoners who head back to their dark cells post work. Recently, ONGC created history by promoting Alka Mittal as the first ever woman MD. The CEO of a CK Birla Group company calls parents of women labourers to check if their daughters felt safe in its manufacturing premises.
The winds of change have started blowing. Both men & women need to fuel the change and rally everyone towards an equal world.
Let's #breakthebias and come out to celebrate women's day everyday!