Why Leaders need to be Rewarded | Abhishek Banerjee | Director | Rewards – Detection and APAC | Smiths Group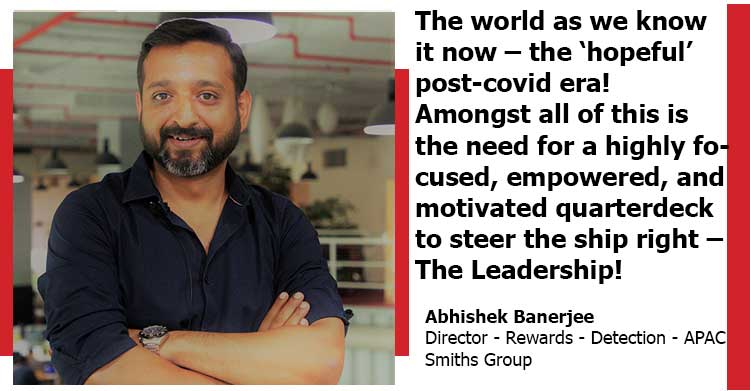 The world as we know it now – the 'hopeful' post-covid era!
People are gradually returning to workplaces, economies are picking up, industries are gearing to get back to normal, governments are aiding trades to bounce back, availability of a low-cost remote workforce, war for talent, digitization, globalization, change in societal norms – A new 'dynamic' normal has sprung up!
Amongst all of this is the need for a highly focused, empowered, and motivated quarterdeck to steer the ship right – The Leadership!
History has taught us the ROI of a highly motivated leadership in various challenging times. A committed and engaged leadership is the engine to drive the establishment in a direction, what we would call successful – an enhanced reputation, increased brand value, customer and shareholder trust and greater talent attraction.
But what would help have an engaged and motivated leadership?
The answer, I believe, lies in Rewarding and Recognizing the leader right.
Rewards
While we have various 'tools' in place like Competitive Salaries, Bonuses, Long term incentives, Benefits, Executive perquisites and, or even to the extent of, having 'golden parachutes', it is imperative to get these right… And probably add to it.
With the ever changing and evolving workforce we are constantly seeing a change in the demographics of top executives, be it in terms of age, gender, orientation, ethnicity, or operating location – and hence the need to have a tailored solution. With that done right, you have a leader focused on growing the establishment and working for it with all his / her pledge and might.
Recognition (the one lesser talked about)
Somewhere down the line, after a tenure, a leader becomes the face of the organization and vice-versa. The industry starts to believe the 4 Ps – philosophies, principles, performance, and potential of either are deeply interrelated. Hence, when an establishment celebrates the success of a leader publicly, the industry gets a message – here sails a capable ship with a proficient captain.
Rewards and Recognition has a manyfold impact.
First – the leader, who also happens to be an 'employee', has this sense of belonging and being appreciated – Attraction & Retention.
An article I read by Kendra Cherry outlines it in so many words, "The need to belong, also often referred to as belongingness, refers to a human emotional need to affiliate with and be accepted by members of a group." Which brings us to closely associate Maslow's Hierarchy in the corporate world as well. With Physiological needs and Safety been taken care of by Compensation and Benefits, one looks at Belonging and Esteem – in that order. And this is where recognition steps in to bump it up a notch.
Second – Recognition exposes the leader to kinds akin and leads to overall development of the individual in terms of personal growth and latest industry trends, norms, and opportunities.
What this entails in for the four pillars – Employees | Investors | Customers | Society – is trust in the 'system' for stability, growth, and returns. Bringing us a full circle back to a successful organization building value and $$s for all.
My watch out to Rewards professionals – while we might have a great EVP in place for our employees and mid
management, its high time we recognise the time, effort and results put in by the top brass. It goes a long way in steering the ship right! Hence, the need to adapt and reinvent. Afterall, there is no point being the best typewriter maker in today's world!