The People Management HR Events – II, 2023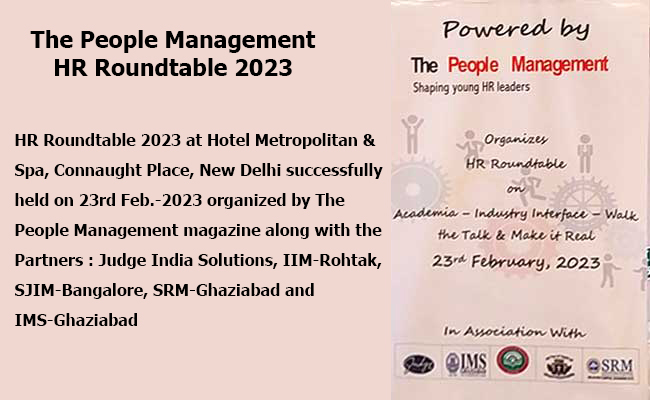 The HR Roundtable was focus on:
i) Academia-Industry Interface-Walk the Talk
ii) How can Academia & Industry build mutually beneficial links?
iii) What are the best practices for Campus Hiring for Corporates & Educational Institutions?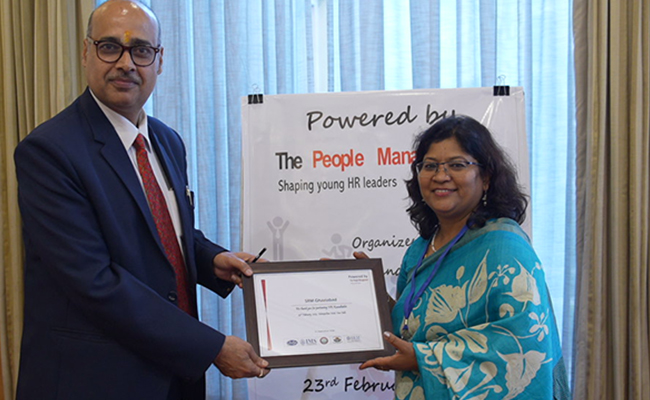 Eminent Speakers from leading Organisations and Institutions like Mr Nitin Khindria, CHRO, Dalmia Biz, Mr Hemanth Mundra, Sr. Director & Global Head HR, Qentelli, Mr Appaya Chenanda, National Director, People and Performance, Colliers India, Mr Vijay Kumar, MD, Flexi Managers, Ms Rita Misra, VP- & Head HR & Admin, Tata Housing Developing Co.Ltd., Ms Ruchika Sharma, Head HR, Michale Page India, Ms Sunanda Rao, Head HR, Aaveg Management Services, Dr. Tapash Dey, Group Head HR & HOD HR academics, MERI Group of Institutions, Mr Srikanth Reddy, Manager Talent Acquisition, Progress, Ms Gayatri Kriplani, Manager HR, Oldendorff Carriers India, Ms Rozi Singh, Manager-HR, Ingenuity Gaming Private Ltd. , Ms Neeru Monga, HR Lead – Talent management and development, Deliotte, Ms Neeru Anand, Director, Acreaty Consulting, Mr Ravinder Singh Bisht, COO, Principle Security And Allied Services, Prof. Dr. N.M. Mishra, Dean Management Studies, SRM Institute of Science & Technology, Prof.(Dr.) Shaveta Bhatia, Deputy Director,Centre for Distance and Online Education, MRIIRS, RK Mishra, Professor, NTPC School of Business participated in the event.
All the Eminent Speakers were welcomed and addressed by Aparna Sharma, Consulting editor of The People Management. The eminent speakers of the session shared their vast experiences and thoughts on how Academia & Industry build mutually beneficial links?
Mr Nitin Khindria suggested that Organisations must hire the right graduate for right work. He further added that Companies should ask Management graduates or Engineers to perform data entry work.
Ms Neeru Monga explained her experience that the Corporates have to invest a lot in terms of time and training for grooming students. A big gap of skills can be seen when student enters in Corporate world. Putting Students in Live project, Practical knowledge is important for students to transit from college to corporate.
Dr Shaveta added that Industry needs to collaborate with Universities. She said that companies should not come only at the time of final placement but must provide proper internship before they are placed in the organisation since it is the part of curriculam.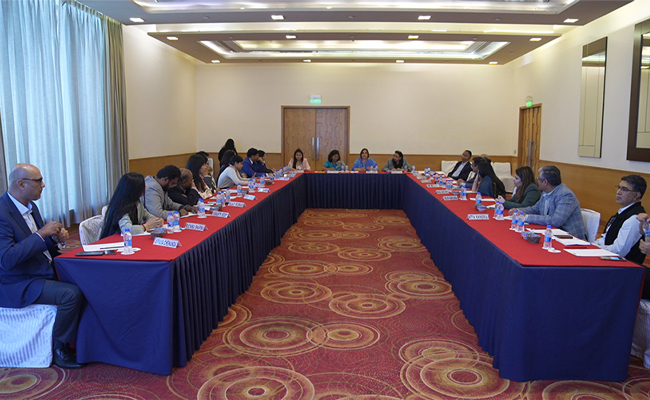 Ms Sunanda Rao shared that a huge skill gap can be seen in students. She further said that students are not even trained for basic skills of communication. Students does not know even how to prepare business letters, business mails etc. She further added that her company is hiring freshers, however the challenge for her is from which BSchool she should hire?
Mr Sanjay Kapoor advised the Organisations to hire freshers. Train, coach and mentor them and get them ready. He further said that Industry cannot survive without freshers.
Ms Ruchika Sharma added that it is important to engage with academia on a regular basis not only at the time of placement. Michale Page have selected 5/6 colleges for their hiring needs.
Mr Srikanth Reddy commented that the Universities/ Institutions must follow best practices to trained their students specially in skill development and customer faceing/ interpersonal skills.
Mr Appaya Chenanda commented on both Academia and Corporate perspectives. He advised that the duration of internship should be for a long time for the practical exposer for the students. On other side he said that the companies should have a complete plan to teach and coach them.
Mr Ravinder Singh Bisht added that the discipline should be the part of curriculum apart from other learnings so that students may maintain the same when they enters in the corporate world.
Ms Neeru Anand added that parents plays important part to groom the child apart from Institutions.
Dr Tapash Dey advised both Academia and Industries to come together and exchange the ideas. He rightly said that companies should select 3 or 4 universities/ institutes for their regular hiring needs. This process will help each other to understand the demand and supply needs.
Ms Rita Misra said that today's students are totally different. However, we as industry have to adapt to ensure how we can engage them and can bring them into the workforce. She further commented that Engineers are not willing to work on shop floors which is their core area of work and only want to be available in office.
Prof. Dr. N.M. Mishra mentioned about the word CASH – ie : Knowledge, Attitude, Skill and Hobby. He further said that 100% Placement is a challenge for almost all Universities and Colleges.
Mr RK Mishra added that it is very important for the institutions to have experienced and competent teachers for quality education.
Mr Vijay Kumar commented that early engagement with each other (industry and university) is very important to understand the requirement of each other.
Ms Gayatri Kriplani also agreed that both Academia and Industry should work together closely.
Ms Rozi Singh commented that both the sectors should aligned their priorities to give best to each other.
After mind blowing session and debate on Academia-Industry Interface-Walk the Talk has touched upon several aspects both from Academia and Corporate Leaders. Some Corporate leaders advised Institutions to improve Skill and communication part of Students for easy transition from college to corporate. However, Academia Leaders advised the corporate leaders to hire interns for long duration for practical exposer. Some other Leaders commented that regular interaction, engagement, adoption is very important to understand each other's requirement to lead smooth and easy transition for both the sectors.