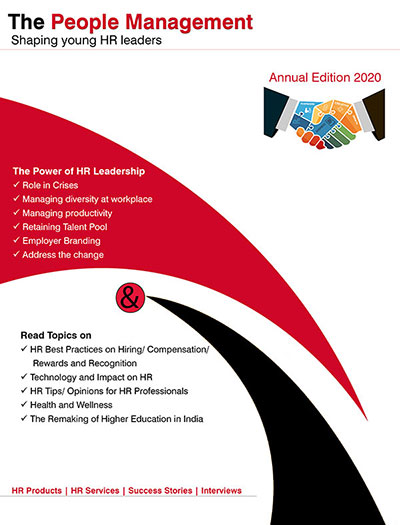 The People Management –  is a digital media company. We focus  on Corporate HR business, HR Technology, Recruitment Strategies, Talent Management and helping HR professionals stay abreast with news and information.  We also share valuable insights by HR Leaders/ Captains of Industries/ HR Business Partners via our E-newsletters. Our valuable Corporate HR Leaders share their success stories, experiences and challenges.Our website / E-newsletter covers  all the topics related to HR industry ie  industry trends, new HR Tools,  HR Best Practices by industry leaders on PAN India basis via their articles/ stories  and interviews.
We wish to announce our upcoming print edition of HR magazine – The People Management to be released in June 2021.
The contents and topics have been curated by 150 Senior HR leaders from all over India, industry commentators and experts on various HR topics:
 The price for One copy is Rs.499/- including shipping charges (Special and Annual Print edition).
Book Your Copy Now:
Or you can send cheque also. The cheque to be prepared in the name of "S&D Media" and to be couriered  at our below mentioned address.
Payment can be made through RTGS/ Cheque in favour of :    
M/s. S&D Media,
Bank Name: Oriental Bank of Commerce
Bank A/c. No: 08981132001200
RTGS Code: ORBC0100898
Branch: Sector Gama-I Greater Noida, G.B Nagar Uttar Pradesh
Also send your complete address with pin code to courier the magazine .
More than 1500 copies have already been booked by our Corporate HR professionals on PAN India basis.