Subscreibe Magazine – The People Management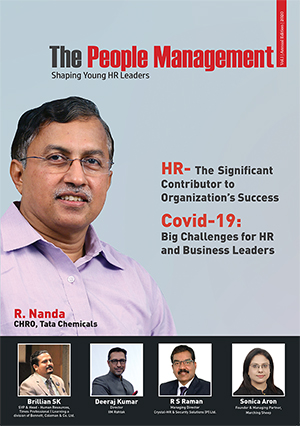 About The People Management – is a digital and print media company. We focus on Corporate HR business, HR Technology, Recruitment Strategies, Talent Management and helping HR professionals stay abreast with news and information. About The People Management is a Bi- Annual Magazine which covers Industry's Best HR practices, success stories, HR Technology, HR Opinions, HR Tips, Talent Management, Interviews of HR Leaders on Pan India basis. The articles, HR Success stories, Best Practices, HR Tips are shared by Industries Senior HR Professionals, experts and decision makers. Our e-newsletter and website covers all the topics related to HR industry ie industry trends, new HR Tools, Case Studies, HR Best Practices. Our fortnightly e-newsletter helps HR professionals stay on top of emerging workplace issues and provides news, trends and analysis.
Our fortnightly e-newsletter reaches to more than 30,000 HR professionals/ Captains of Industries on Pan India basis.
Follow us: Linkedin | Facebook | Twitter|
Contact Us: S & D Media, Plot No. C- 74, Beta I, Greater Noida – 201 308, Distt. Gautam Budh Nagar (Uttar Pradesh), India
Website: Visit website for http://thepeoplemanagement.com
Editorial: Contact at info @ thepeoplemanagement.com
Advertising: Contact for advertisement in Print Magazine/ website/ e-newsletter – info @ thepeoplemanagement.com
Subscribe Magazine: Subscribe our Bi-Annual editions (June and December 2021 respectively) @Rs.900/- . In case you wish to purchase Dec.-2020 edition and Subscribe Bi-Annual editions(June and Dec.2021) , pay Rs.1399/-
The cheque to be prepared in the name of "S&D Media" and to be couriered at our below mentioned address.
Payment can be made through:- RTGS/ Cheque in favour of:
M/s. S&D Media, Bank Name: Punjab National Bank Bank A/c. No: 08981132001200 RTGS Code: PUNB0089810 Branch: Sector Gama-I, Greater Noida, G.B Nagar Uttar Pradesh
OR Pay Online: