SpringPeople Partners with Google Cloud to Close the Cloud Skills Gap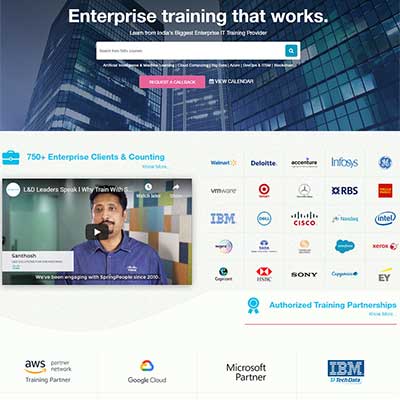 Bangalore, 19th May, 2020: Against the backdrop of the global COVID-19 pandemic and the consequent impact on growth and hiring across industries, SpringPeople, a Thought Leader and pioneer of Enterprise Training based in Bangalore, has partnered with Google Cloud to deliver highly in-demand training to help people skill-up on the cloud. This partnership is aimed at equipping the existing workforce in Cloud skills, one of the most coveted skills as per global IT demand today.
The disruption caused by the pandemic has impacted the hiring schedule and budget of companies. In order to sustain their business and minimize the impact on their employees amidst the slowing global economy, many organizations have started to freeze or reduce their hiring as their cost-cutting measure. With industry reports revealing that more than 50% of Indian companies are planning to pause hiring for the next six months, lack of skilled talent may set back organizations.
Taking cognizance of this situation, and identifying cloud talent as one of the top in demand skills recruiters are hiring for, SpringPeople has partnered with Google Cloud to deliver Google Cloud training in key areas, such as Infrastructure, Google Kubernetes Engine, Google Compute Engine, Cloud Architect training, and more.
Elaborating further on this development, Ravi Kaklasaria, SpringPeople Founder & CEO, said, "In this challenging time, we want to assist enterprises to continue growing even in the absence of fresh talent. This partnership with Google Cloud is one example of the various measures that we are adopting for upskilling and reskilling the existing employees in skills that are in demand today."
As a part of this partnership, SpringPeople will facilitate Google Cloud's official trainings including 'Google Cloud Fundamentals: Core Infrastructure' which teaches about implementing, deploying, migrating, and maintaining applications in the cloud and offer hands-on experience along the way, 'Architecting with Google Cloud Platform: Design and Process' which equips students to build highly reliable and efficient solutions on Google Cloud using proven design patterns, 'Architecting with Google Kubernetes.
Engine' which introduces participants to deploying and managing containerized
applications on Google Kubernetes Engine (GKE) and the other services provided by Google Cloud Platform, 'Architecting with Google Compute Engine' which introduces participants to the comprehensive and flexible infrastructure and platform services provided by Google Cloud, with a focus on Compute Engine and a training Preparing students for the Professional Cloud Architect Certification Exam.
About SpringPeople:
Founded in 2009 by IIT alumni, SpringPeople – a Thought Leader and pioneer of Enterprise Training 2.0, is today the biggest enterprise IT training provider in India. 750+ enterprises across India bank on SpringPeople for enterprise enablement, including Fortune 500 giants such as Cisco, Walmart, IBM, GE, HP, Intuit, major IT service companies such as Infosys, TCS, Wipro, Cognizant, Mindtree, Accenture and big brands from e-commerce, travel, hospitality, BFSI, telecom, manufacturing and automation.
In addition, global technology leaders like AWS, Oracle, Github, IBM, Microsoft, Red Hat, EMC, VMware, MuleSoft, Elastic, Lightbend, RSA, Axelos, CompTIA etc have chosen SpringPeople as their master certified training partner to deliver their authentic, certified training, to enterprises and IT professionals across India.
Website: https://www.springpeople.com/