Shoppers Stop, Recognized by Great Place to Work India among India's Best Companies to Work For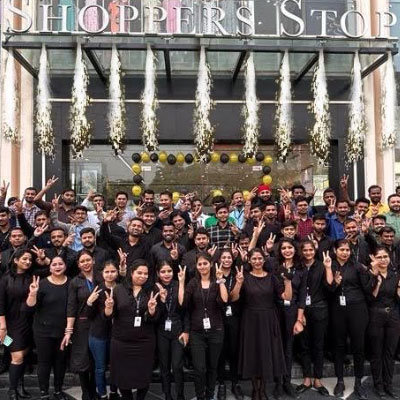 Shoppers Stop has been recognized by Great Place to Work® India among – India among India's Best Companies To Work For.
Shoppers Stop is committed to providing its employees with a range of opportunities for professional and personal development. We invest in training programs, workshops, and mentoring initiatives to empower its workforce and nurture their skills. By fostering a culture of continuous learning, Shoppers Stop ensures that its employees are equipped with the knowledge and resources to thrive in their roles.
In addition to career development, Shoppers Stop recognizes the importance of work-life balance and offers flexible work arrangements, menstrual leaves, employee wellness programs, and initiatives that prioritize mental health. These efforts promote employee well-being, happiness, and job satisfaction, which contribute to the overall positive work environment at Shoppers Stop.
Backed by 30 years of data, Great Place to Work is the global authority on workplace culture. Through its proprietary For All™ Model and Trust Index™ Survey, it gives organizations the recognition and tools to create a consistently positive employee experience. Its mission is to help every place become a great place to work for all, driving business growth, improving lives, and empowering communities. Through globally recognized and coveted Great Place To Work Certification™ and highly competitive Best Workplaces™ Lists, Great Place To Work enables employers to attract and retain talent, benchmark company culture, and increase revenue. Its platform enables leaders to truly capture, analyse and understand the experience of every employee, and compare outcomes with data collected from more than 100 million employees in 150 countries worldwide.
Great Place To Work's For All™ Methodology is based on the fact that fast-changing competitive landscapes, need for speed & agility indicate that doing healthy business is about improving results by creating workplace cultures where leaders empower all individuals to reach their full potential and where every employee feels a sense of belonging regardless of their demography.
All organizations that nominate themselves for India's Best Companies To Work For list undergo an assessment. This assessment aims at studying the ways in which organizations fully channelise the people power and create inclusive workplaces through effective leadership, meaningful values and a culture where all employees experience high levels of trust, such that each employee is able to bring their best self to work.
As part of this assessment, all organizations are studied through two lenses. The first lens measures the quality of employee experience through our globally validated survey instrument known as Trust Index™ survey and carries 75% weightage. The survey helps is seeking anonymous feedback from employees and aims to measure the core of what creates great workplaces — key behaviours that drive trust in management, connection with colleagues, and loyalty to the company. The For All™ model not only looks at the aggregate employee experience of an organization but also measures the differences in survey responses across demographic groups and roles within each organization to assess both the quality and consistency of the employee experience.
The second lens is called Culture Audit™, it is a proprietary tool of the Institute that evaluates the strength of the leadership as supported by meaningful values & philosophy and quality of the practices & programs that shape employee experience, build consistent levels of trust and enable each individual to use their potential to better organizational performance. This carries 25% weightage. This tool comprises of six essay questions that provide greater insight into how, and why the organization is great for all people.
The Institute undertakes a robust validation process on the data gathered through the assessment process. The cumulative score of Trust Index and Culture Audit determines an organization's position in the ranking scoreboard and helps in identifying India's 100 Best Companies To Work For. No individual or jury has a say in who makes it to the Top 100 list—only employee feedback and quality of Culture Audit determine if an organization is a great workplace.
"In a fast-changing and competitive landscape, it takes more than just traditional business strategies to succeed. It requires a focus on creating workplace cultures that empowers individuals to reach their full potential. At Great Place To Work, we believe in the For All Methodology, where leaders embrace diversity and foster a sense of belonging, irrespective of one's demography. We take immense pride in being the gold standard for evaluating workplace cultures in India, and our position to hear employee voices from 150 countries gives us a unique opportunity to witness global and India Inc trends.
During the assessment process, we thoroughly examined how your organization channels the power of your people and nurtures an environment of inclusivity. We evaluated the effectiveness of your leadership, the significance of your values, and the culture you have fostered, which has resulted in a deep sense of trust and loyalty among your employees. We understand that in the midst of significant economic growth and a promising outlook for the future, maximizing the potential of your human resources is vital for every business leader.
Our globally validated Trust Index survey, which carries 75% weightage, has revealed the essence of great workplaces. It assesses crucial parameters such as Credibility, Pride, Respect, Camaraderie, and Fairness. Additionally, the Culture Audit, carrying 25% weightage, evaluates the strength of your leadership through meaningful values and a clear philosophy.
Our recent study, India's Best Companies To Work For – 2023, showcases the remarkable impact of providing a great workplace experience. Regardless of the industry, we have observed that when organizations "Pay fairly, Treat fairly, and provide a better work environment," the overall experience improves by a factor of five or more. Ensuring equal opportunities for all demographics not only results in 8% higher productivity but also drives a 10% increase in innovation. Embracing For All Leadership has, on average, led to 63% more employees finding meaning in their jobs, making a difference, and creating a better future.
Your participation in this study has showcased your commitment to creating exceptional workplace cultures. You have demonstrated that you value your employees' well-being, growth, and success. Your dedication to fostering inclusivity and empowering individuals has made your organization a true leader in the industry.
Congratulations once again on this remarkable achievement. May your continued efforts to create great workplaces inspire others to follow in your footsteps. Together, we can build a future where every organization embraces the For All approach and creates workplaces where everyone feels a sense of belonging and realizes their full potential."
– Yeshasvini Ramaswamy, Serial Entrepreneur & CEO, Great Place to Work® India.
"Being recognized as a Great Place To Work is not only a testament to our commitment towards fostering a workplace environment that values diversity, equality, and the overall well-being of our employees, but it is also a reflection of our unwavering dedication to excellence. We deeply value diverse views and treat all individuals with the utmost dignity and compassion; hence take immense pride in our initiatives aimed at promoting our values that include innovation, growth, respect, integrity, and inclusivity. As a progressive organization, we started menstrual leaves for women almost a year ago as these are a tangible representation of our dedication to creating an inclusive workplace." said Mr. Venu Nair, MD, CEO, Shoppers Stop
In India, the Institute partners with more than 1800 organizations annually, across over 20+ industries, to help them build High-Trust, High-Performance Cultures designed to deliver sustained business results. Hundreds of leading CXOs from India Inc. are part of the great place community that is committed to the vision of making India a Great Place To Work For All™.
Learn more at https://www.greatplacetowork.in/ and on LinkedIn, Twitter, Facebook and Instagram.